Rotary Peace Fellowships
August 29, 2017 Leave a Comment
By: Stephen Kent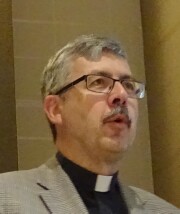 Andreas Teich
Andreas Teich
spoke to Rotary about
Rotary Peace Fellowships
, a program of Rotary International's Peace Centers Program. The vision of that organization is for sustainable peace "encompassing a network of peace builders and community leaders dedicated to preventing and resolving conflicts across the global community."
The Peace Fellow program partners with seven leading universities around the world. They strive for global impact, academic training, empowerment, building capacity, and being a catalyst. The institutions include Duke in the USA, Bradford in the UK, Uppsala in Sweden, Chulalongkorn in Thailand, International Christian University in Japan and the University of Queensland in Australia.
Up to one hundred peace fellows are selected each year. Fifty of these are young professionals who enter a 15 to 24 month Master's program. The other fifty are experienced professionals who enroll in a three-month professional development program with two sessions per year.
The average funding for the master's program is $80,000 and the Certificate fellowship is about $11,000. This covers all expenses and is underwritten by the program itself. About 57% of the Fellows are female. They represent 85 citizenships and average 35 years of age. The largest number (38%) work for NGO's with another 20% for government agencies.
Andreas highlighted a couple of fellows, talked about how Rotary Clubs can help promote and support the fellowships. He then played a short video from Rotary International.
---
CLUB NEWS and ANNOUNCEMENTS
Tuesday was the monthly Birthday Recognition day. The club wishes a happy birthday to a large number of members born in August!
Andrea Hales
announced that our next exchange student, who goes by the name Darlene, arrived the night before. More information will be presented soon.
Harry Farris
and
Dee
were at the meeting and Harry announced that one of his relatives was helping take care of him and recently bought him a motorized chair. That relative as "Uncle Sam".
Chris Girard
reported on the preparations for the
Zombie Run
. He is working on a "Zombie Apocalypse" package to promote the event. Rotarian "Patron" sponsorships for the Zombie Run are available for $100.
Your name appears on the web site.
Your name will be on the event banner at the event.
Contact Andrea Hales for details.
Brenda Scramlin is recruiting volunteers to work at the event.

REMINDER The board will meet next week, September 5, to accommodate the visit by District Governor Pat Post.

Current and past DISTRICT DISPATCH newsletters are available on the District site shown in the LINKS section below.



---
---- DATES TO REMEMBER ----


Board Meeting - Sept 5 - 11:00 am before regular meeting. - Everyone invited.
Note: This is one week early to Board Meeting - Sept 5 - 11:00 am before regular meeting.

September 5, 2017 - District Governor Pat Post visits our club.


Board will meet today, one week early, to accommodate Gov. Post.



October 14, 2017 - ZOMBIE RUN Bigelow Park.

November 7, 2017 - Vocational Day


---
Upcoming Programs
(See the official schedule at RotaryBayCity.org )


Sept 5, 2017 District Governor Pat Post to visit.


Board will meet today, one week early, to accommodate Gov. Post.



Sept 12, 2017 Grant Update from CANN Council.

Sept 19, 2017, MI MADE MARKETPLACE, a collaboration festival organized by Jessica McQuarter, Laura Horwath, Tara Welch and Tosha Lijewski. The event is coinciding with Hell's Half Mile Film and Music Festival, September 30 and October 1, 2017, in downtown Bay City.

Sept 26, 2017 "Hiding Place" As a young girl growing up in Nazi-occupied Holland in the 1940's, Anneke Burke-Kooistra lived in a small townhouse with her parents and two younger sisters. And a houseful of strangers. But she never knew it until World War II ended. Join us to learn from Anneke as she describes her parents' decision to harbor eight Jews in their home during the Nazi Occupation in the 1940's.

October 3, 2017 10 Minute Rotarian


---


Rotary Bay City on Facebook!
Click on the Blue Facebook to visit us there.

Remember! Check attendance sheets at the front desk.
---
LINKS
---
---

Stephen Kent




Steve Kent and his family have lived in Bay City for 30 years. He is VP of Technical Services at MMCC which produces MyBayCity.Com. Kent is active in many Bay City civic organizations.

More from Stephen Kent
---
Send This Story to a Friend!
Letter to the editor
Link to this Story
Printer-Friendly Story View
---
--- Advertisments ---