MEADE GOUGEON: His Contributions to Boat Building Technology Live On
September 9, 2017 Leave a Comment
By: Dave Rogers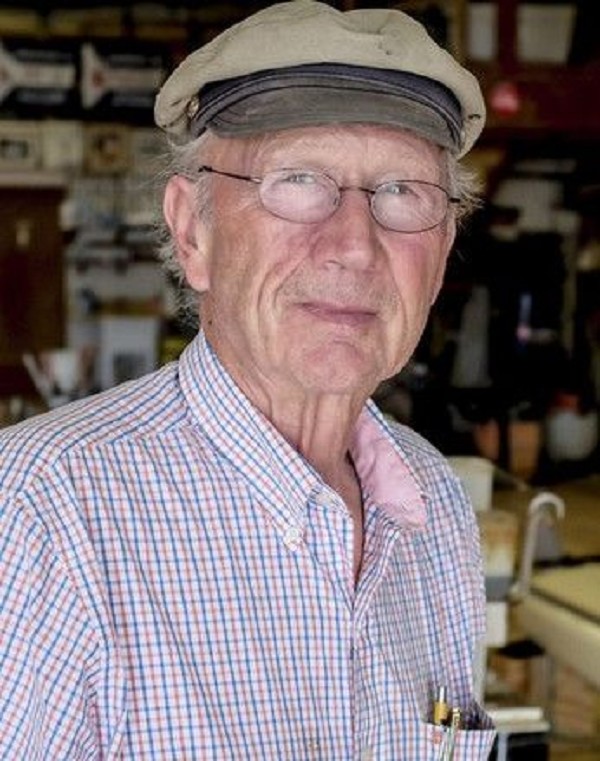 Meade Gougeon
.
Meade Gougeon, whose celebration of life was held Saturday, was an author of a technical book that has more than 100,000 copies in print.
The book is part of the reason what the Gougeons have accomplished in the past half century has spread to help create a worldwide revolution in the way wood is joined -- appropriate to say the least in a community whose economic fabric was built on wood beginning in the mid-1800s.
The book, "The Gougeon Brothers on Boat Construction: Wood and WEST SYSTEM® Epoxy," was first published in 1979 and has gone through five revisions.
No less important to the Gougeon heritage is their ice boat and sailboat construction as well as their ability to compete and win in ice boating and sailing events worldwide. Among stunning boat building accomplishments of the Gougeons have been ultra-fast trimarans like Adagio and Rogue Wave and monohull Canada Cup winner Golden Dazy as well as dozens of other craft. Meade and Jan were inducted into the National Sailing Hall of Fame in 2015.
The firm comprised originally of three brothers, Meade, Joel, and Jan, has put Bay City, Michigan on the map in the tradition of other local innovative companies like the Bay City Dredge Works, whose "walking" dredges helped open Florida and California to cultivation and development; Aladdin, Liberty and Sterling ready-cut Homes; Industrial Brownhoist, manufacturer of the world's largest steam-driven cranes; Bay City Shovels, whose logo on diesel-powered earth movers was seen throughout the South Pacific and elsewhere in World War II; Bay Cast, Inc., specialty foundry whose products are used in spacecraft; Newcor, Resistance and United Welders; and Davidson, Wheeler and Defoe who led the shipbuilding world in both wood and steel.
Mostly forgotten are the early days of Gougeon Brothers, Inc., when the firm used wood laminated with their epoxy to make wind generator blades that superseded those put together by major aerospace firms. While the rival blades, mostly of metal, cracked and shattered under the pressure of turning the wind into power, Gougeon's laminated wood blades continued to spin. The fact that the local product cost far less was frosting on the cake.
Gougeon was forced to abandon the production of wind generator blades when the price of oil dropped, reducing the economic benefits of wind generation.
But that facet of the maturation of the company was vital to the firm's reputation that spurred sales of the WEST System Epoxy that became its major product.
"This boat construction book was an introduction to the techniques of "modern" wooden boat building popular from 1960-1980, states the company literature. "Its focus was how to mate wood with epoxy to form a composite that has physical characteristics superior to either component by itself and is stabilized from the effects of moisture. This development of wood/epoxy composites revolutionized the use of wood as an engineering material."
"The original boat construction book was well received, and we updated it in 1982 and 1985 to reflect changes in materials and techniques," said Mr. Gougeon, who died recently at age 78. "It has continued to sell well and has introduced thousands to wood/epoxy construction techniques. It has also been used by marine trade schools and apprentice programs as part of their curriculum."
In short, The Gougeon Brothers on Boat Construction book has become a respected member of the canon of boat building books, according to the firm.
"Much has changed since 1985 as modern wooden boat building has evolved," Mr. Gougeon observed. "Several of the methods we discussed, such as variations on strip planking and hard-chine construction, have become more popular. Others, such as the mold and stringer-frame methods, are now used infrequently except for molds and prototypes. In 2005, aerospace composites are in common use. Hybrids using wood and advanced composites, including aramid, S-glass, and carbon fiber, are being explored. So too are the uses of non-traditional wood species. Such uses are possible because of the ability of epoxy resins to protect and bond wood and overcome traditional durability concerns. In short, the choices for the wooden boat builder and customer in the early 21st century have grown immensely.
"Nonetheless, the techniques described in The Gougeon Brothers on Boat Construction have stood the test of time."
Technical writers and corporate technologists alike will be lauding the work of the Gougeons far into the future and the positive effects of Meade Gougeon and his little company in Bay City, Michigan, will continue to be significant.
###
---
---

Dave Rogers




Dave Rogers is a former editorial writer for the Bay City Times and a widely read,
respected journalist/writer in and around Bay City.
(Contact Dave Via Email at carraroe@aol.com)

More from Dave Rogers
---
Send This Story to a Friend!
Letter to the editor
Link to this Story
Printer-Friendly Story View
---
--- Advertisments ---