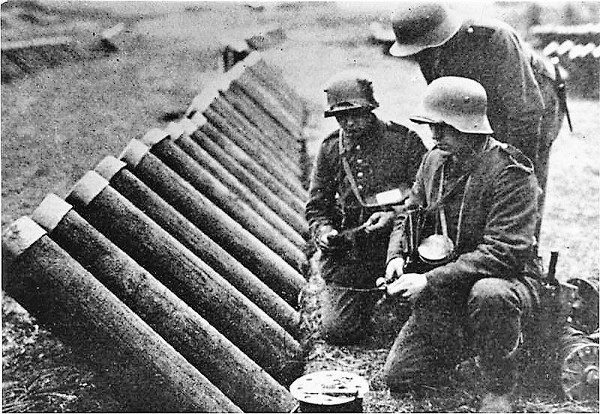 German troops use tubes to deploy mustard gas during World War I. (Bundesarchiv Photo)
---
POISON ON TWO FRONTS: Haber's Ultra Toxic Mustard Gas Joins the German Army
October 27, 2017 Leave a Comment
By: Dave Rogers
(This is the fourth in a series of articles dramatizing the days of World War I, both here and abroad. It is based on factual events but since this is a semi-fictional account, the names and some of the details have been changed.)
After the body was removed, he composed himself and dressed quickly. It was the uniform of a captain. He had been commissioned an officer in the Imperial German Army, a most unusual honor for a scientist. The Kaiser himself had signed the order.
Who's the Kaiser? I queried innocently, betraying a dreadful lack of knowledge. "Well, he's a king, even more, powerful than a king, an emperor like Napoleon. Hank, just listen to this "what the Kaiser said -- in this magazine article I just got:
"I rule Germany by the direct will of God, and you must willingly obey my commands, even though I require you to shoot down your own fathers and brothers in response to my dictates," Kaiser Wilhelm II, had said in a speech to recruits at Potsdam, 1891. The Chief's face darkened as he snapped: "That's the kind of power he has, like the federal government here when they took away all our land -- millions of acres for pennies -- and left us with just a small reservation.
The Chief said, according to news reports, Haber did not let Clara's death bother him hardly at all because he was so dedicated to his country. With no delay for mourning, Capt. Haber got in the truck loaded with long tubes for gas attacks and ordered the driver toward the Eastern Front. Three fellow scientists from his Berlin laboratory joined him to direct the gas over the trenches toward the Russians.
Huge five-mile gaps were created in the lines of troops enveloped by gas; the evil mist settled into the trenches and caused injuries even several days later. The ground became saturated and still was dangerous to unwary soldiers for months.
At Ypres in 1915 the Kaiser's troops had used chlorine, mainly causing confusion but also capable of killing. Allied troops facing chlorine gas attacks soon learned to cover their mouths and noses with cotton pads soaked with urine that neutralized the gas, an obnoxious enough remedy in itself. But chlorine was child's play compared to the new weapon -- mustard gas -- that Capt. Fritz Haber and his men unleashed in 1917 against the French.
As the Chief said, warfare had taken on an evil new dimension. Haber's mustard gas burned the lungs and blistered skin, even penetrating uniforms. It infused the respiratory system and any exposed, moist skin and especially the eyes, lungs, armpits, and groin. Men bleeding internally and blistered on the outside suffered excruciating agony.
He showed me a picture of victims blinded by the gas lock-stepping in gruesome Conga lines, each injured soldier shuffling awkwardly with hands on the shoulder of the man ahead, to the rear first aid stations. Those barely hurt would be out of action several months. For the worst affected, the gas produced a lifetime of misery, if they recovered at all.
Doctors said symptoms usually did not appear for two to 24 hours, causing severe cell damage in the meantime. Then came hoarseness, coughing, and sneezing followed by blistering, blindness, nausea, vomiting and respiratory distress. Chemical pneumonia and pulmonary edema left victims at risk of serious infection.
Ultimately, gas would cause about 90,000 deaths and 1.3 million casualties in World War I. The Chief really knew his numbers as well as his history dates. He wrapped up his tale as we walked with the other men toward the plant gate in the setting sun at the end of the day.
The Satanic mist Haber had created in the service of the Kaiser would trump his most amazing effort on behalf of mankind -- the synthesis of nitrogen that fertilized vast agricultural areas and helped feed half the world that otherwise might have starved. The formulation of deadly mustard gas as Clara Immerwahr Haber, Ph.D., had said, proved it could be turned to Satan's devices as well.
Our boss, Mr. Aldridge really didn't like the Chief. He would listen to some of his stories and sputter: "That's a lot of craappp, craappp, Chief!" He liked to emphasize the "aapp" -- it was his favorite saying although he had no real basis for his opinion; he just didn't think, apparently, that Indians should know anything except what he told them, I guess. I heard he was a member of the Klan like many folks in town. That was supposed to be a secret, too, but all the secrets came out that summer.
It was a long summer, too, me waiting to go overseas with the National Guard 128th Ambulance Company. I was overcome with fear that perhaps I would get a whiff of that mustard gas, or worse, a bullet, a bayonet thrust or shrapnel from the blast of a German 77.
My older sister Dorothy, they called her Dotty for short but not because of her personality -- she was 24 and a graduate of Brinewell Center High School and the North East Business College over at Big Harbor -- worked in the Woodland office on blueprints for the construction of plants. She overheard the big shots talking and told me about this conversation:
"Can we make it, Leland?" asked Whittaker Barnes, founder of Woodland Chemical Company. She said he was looking anxiously over his spectacles as I had seen him do at town meetings.
"The mustard oil, like Fritz Haber's, I mean. President Wilson is asking for 1,000 tons a day. The military is pressing him and there is no other supply. The British and French have only been able to make small amounts. We will lose this war if we cannot match Haber's mustard gas production."
Dotty pursed her lips and blinked as she recalled what Chief Chemist Leland Barlow, a distinguished white-haired scientist had said in reply:
"Dr. Adams is coming here from Case and he says if we have brine, alcohol, clay and enough power, it can be done."
Breathing a sigh of relief, Barnes noted cooly: The Army is asking for seventeen more brine wells to be drilled here to obtain the necessary bromine, according to the telegram from Major McPherson. We're going to run a pipeline to Pleasantville twenty miles west and drill more wells where there is a good supply underground."
"A couple of squads of soldiers are en route from the Edgewood Arsenal in Maryland to do the work and we'll have to put them up in the Stag Hotel; there is no other place with space for them. They can get their meals there too, but we can serve lunch on the job."
The following recollection of Dorothy's squared with what the Chief had said:
"This has to be a top-secret plant," Barlow advised. "McPherson fears if the German aliens working in the plant find out they might let the cat out of the bag to their relatives back home. We can't let the news people know anything either, especially that nosy reporter Harrison from the Weekly Republican."
The pair agreed, in the interest of secrecy and security, to use government code for mustard oil, G-34. The pilot plant would use the old aspirin production facility that was fairly well equipped. "I'll talk to Chip's father Stan Harrison about the need to keep military secrets, just in case he sniffs anything out. I know his father from Rotary and church; he won't write anything and he may be sent off to the front soon anyway. Judge Yardley from the draft board will see to that."
Barlow paused, rubbed his nearly bald head, and observed gravely: "Mr. Barnes there are going to be casualties, too, I need to warn you. In the plant, they call these formulations "bad actors" because they are so unpredictable. I've taken the liberty of employing a registered nurse with appropriate experience, Miss Bridget Riley, and she is hiring seven other girls from the nursing school over at St. Mary's Hospital in Saginaw."
"Let's do any treatments necessary right here, set up a clinic in the plant," said Barnes. "Keep any injuries out of the public eye and the press. Doctor Howley can superintend; he's the best we have around here despite his age. He's now over 60."
Dotty said she was amazed by that conversation -- and I was too, mainly that a handful of neophyte chemists in a rural backwater decided they would challenge the scientific might of Germany, centered, as the Chief said, in one of the world's most celebrated academic environments -- Berlin, Germany, capital of Prussia.
The contrast between Brinewell Center and Berlin was a tiny hill to a soaring mountain. Brinewell was a municipal dot in a forest of deciduous abundance, the north woods of Michigan. The confluence of three sluggish rivers had attracted natives who had inhabited crude shelters, fishing, hunting and gathering plants for centuries dating back to the mound builders of antiquity.
A visit by Jesuit missionary priest Henri Nouvel in 1675 had signaled the onset of civilization. That the meeting place of the three rivers was to be one of destiny was indicated by the 22-day canoe trip in the cold of November that brought the black robe through icy waters from the Straits of Mackinac to the Indian camp at The Forks. He spent a cold winter there - in an Indian hut - before moving on to St. Joseph far to the south. From then more than 200 years elapsed before the next significant outsider arrived.
In 1887 Whittaker Barnes, with high starched collar, handlebar mustache and round-rimmed eyeglasses, qualified only by a bachelor's degree in chemistry, arrived by train. From his studies, he knew the government's experimental salt well, sunk in 1849, had discovered vast reserves of brine from which bromine could be distilled.
(To be continued.)
###
---
---

Dave Rogers




Dave Rogers is a former editorial writer for the Bay City Times and a widely read,
respected journalist/writer in and around Bay City.
(Contact Dave Via Email at carraroe@aol.com)

More from Dave Rogers
---
Send This Story to a Friend!
Letter to the editor
Link to this Story
Printer-Friendly Story View
---
--- Advertisments ---