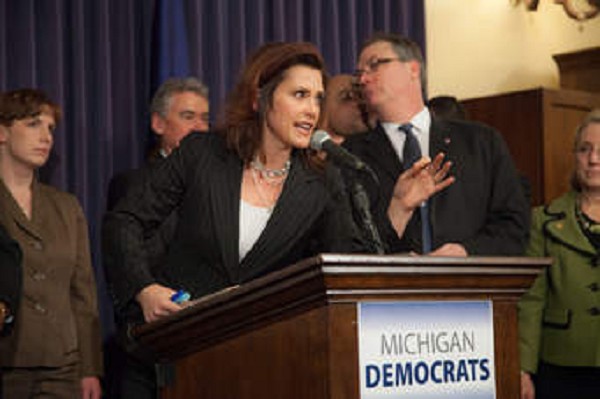 New governor Gretchen Whitmer talks education.
---
SCHOOL FUNDING: Michigan's Penurious Effort = Poor Student Learning?
"Cradle to Career" is New Gov. Gretchen Whitmer's Mantra
February 1, 2019 Leave a Comment
By: Dave Rogers
Does the level of school funding determine how well students learn?
A more important factor may be the educational level of parents, a theme we have explored previously in this corner and one that is stressed by advocacy groups such as Child Trends of Bethesda, Maryland.
In our view, the key cause of Michigan's less than stellar educational performance that made headlines recently is the fact that 20 percent of high school seniors do not graduate with their classes.
Therefore, this 20 percent is shunted aside by employers who are mainly reluctant to hire them and they don't qualify for higher education or specialized training. They are consigned to the underclass, with attendant high costs of welfare and corrections. Plus, in general, they are not as supportive of their children's education as parents in higher income groups. and, since the economic realities of today require both parents to work to maintain a home the children of these poverty unions are further shortchanged.
But wouldn't the better part of wisdom would be to view children as a commodity to fuel our industries and economy while making a better life for themselves? This seems to have been lost through the last two decades and, like water torture, the drip, drip, drip of lost school revenue and impoverishment of the working class continues to eat a hole in our society.
The cumulative effect of the undermining of the social structure through inadequate education is compounding regularly, driving the state lower and lower in education and workforce capabilities.
No less an authority than Henry Ford commented in the press 100 years ago about inequities in education and mused about how this could be reversed.
Michigan is in the second generation of a change in the way schools are funded, generally referred to as the Proposal A. watershed since it has put schools under water.
In our book, Proposal A gets a solid "F" in its results supposedly aimed at equalizing the cost burden of schools among economic groups>
By taking the decision in school funding away from parents and local taxpayers and shifting it to legislators and Lansing policymakers, schools became less important and ended up in competition with tax cuts allegedly to boost industry and workers.
This idea was a bust on two fronts since tax cuts ended up benefiting mainly affluent families and the gutting of school funding has undermined educators' attempts to shape a viable a working class so the state can compete in the global economy.
Michigan needs to reverse its funding priorities, say several education experts.
"While funding alone cannot fix Michigan's troubled education system, there is no question that adequate and equitable funding is particularly important for raising the teaching and learning levels of Michigan's vulnerable students," said Amber Arellano, director of Education Trust-Midwest, a Michigan-based advocacy group. "Indeed, research supports how critical well-invested, adequate and effectively spent funding is for low-income students."
"Michigan ranks among the bottom five states for funding equity between districts serving the highest percentages of low-income students and districts serving the fewest," Arellano said. "In fact, Michigan is one of only sixteen states that provides less funding to its highest poverty districts than to its lowest poverty districts, according to a recent national report.
Said David Arsen, the MSU author: "The state has focused on accountability and (school) choice policies, with the idea that we could leave funding aside, and we've been kidding ourselves. Honestly, when you have policymakers obsessed with grading schools, but all the schools are sinking compared to other states, we should be grading the policy. And we're not doing too well."
The 2017 report from the Gov. Rick Snyder's 21st Century Education Commission put it this way: "The urgency could not be greater. While it is difficult to face, the data are clear: Michigan children are falling behind."
The Michigan League for Public Policy has definite thoughts on how to address the crisis:
"Educational level strongly influences how much money a worker will earn and the likelihood of the worker being in poverty, but only 37% of Michigan residents age 25 or older have an associate's degree or higher.
"Many working parents find it difficult to balance work, school, and family, and those who go back to school after being in the workforce sometimes need remediation.
"Yet in Michigan, tuition for higher education is among the highest in the country, there is no financial aid for those who have been out of high school more than 10 years, and there is far too little adult education accessible to prepare adults with basic skills for post-secondary education or occupational training."
The remedy is clear: we need to focus on non-graduates and training for jobs.
New Governor Gretchen Whitmer's "cradle to career" approach is right on.
She says: "Continuing to grow support for project-based learning -- like STEAM and Robotics -- while investing more in skills and technical trades and job training programs. This will ensure Michigan is building a talented workforce that can compete for high-skill, high-wage jobs of tomorrow."
If she can shepherd these ideas through a contentious legislature, Gov Whitmer will put the state back on track for the top 10 states in educational achievement, a lofty goal so sought by former Gov. Rick Snyder. ###
---
---

Dave Rogers




Dave Rogers is a former editorial writer for the Bay City Times and a widely read,
respected journalist/writer in and around Bay City.
(Contact Dave Via Email at carraroe@aol.com)

More from Dave Rogers
---
Send This Story to a Friend!
Letter to the editor
Link to this Story
Printer-Friendly Story View
---
--- Advertisments ---