Tall Ship Celebration Topic Of Rotary Program
March 19, 2019 Leave a Comment
By: Stephen Kent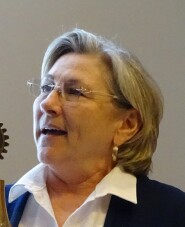 Shirley Roberts
Shirley Roberts
Executive Director of Bay Sail, and former member of this club, spoke to the club about the upcoming
Tall Ship Celebration
which returns to Bay City this summer. The event, which occurs every third year, has a long relationship with the organization, going back 20 years. The City has been named Port of the Year more times than any other city and is well known on the circuit to be their favorite ports of call.
This year marks a new beginning as Bay Sail and Tall Ships formally merged last year. Bay Sail has also agreed to manage Saginaw Bay Community Sailing. This new relationship means that the organizations will have year-round paid staff.
Also significant is that Bay City will be the only port on the port on the lakes. Chicago is building a new hotel complex on the pier normally used for the Tall Ships and they won't be able to do that and have the ships this year.
Bay City is known for "doing it right". Bay Sail's objective is to make present Bay City as a world-class venue and they are known for spending more on promotions than anyone else. To date, the total exceeds $700,000.
The key to a successful Tall Ship event has always been the volunteers. "We do things nobody else does", said Roberts. With over 500 volunteers each year, it a big undertaking. Rotarians are well aware of this many members have returned year after year to work the event.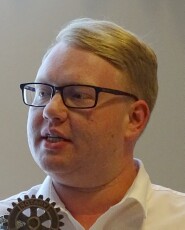 Scott Ellis
Besides volunteers, commercial sponsors are key to success. Putting on the event is not cheap. Sponsors will be spending $20,000 and more. The cost of parties and other events is just extra.
Kroger stores will be a new major sponsor this year. Tickets will be sold in all Kroger stores, which will extend the reach.
Besides Bay Sail's two ships Appledore IV and V, the Tall Ship fleet will include twelve boats. Scott Ellis showed pictures of each ship and told a little about it.
Of the dozen ships, a few are returning favorites and others are new to this year's event. Roberts noted that most ports will contract with ships then will go out and try to find sponsors. Bay Sail does it the other way and makes sure they have the sponsor before signing up the ships.
The Appledore's are scheduled to spend the event taking people on cruises. Princess Wenona and Islander tour boats will also work within the event area, which will help limit the times the bridges must open.
Many additional events are planned to accompany the event. International maritime music is, as always a major part of the festivities. Groups are coming from far and wide to participate.
For more information visit
tallshipcelebration.com
.
---
CLUB NEWS and ANNOUNCEMENTS
A note to all members.
Dues invoices
for the January to June term have been e-mailed. Please take care of this as soon as possible.
If you did NOT receive our invoice, please contact the secretary.
In the day's "
Rotary Foundation Minute
"
Cathy Schell
said that when she joined Rotary she didn't know a lot about the international work Rotary does. Her Dad was a Rotarian and part of the reason she joined was to make her Dad proud. What Rotary does was impressed on her when she and her husband went to India, where he was teaching medical procedures. They met an American doctor there who saw the problem locals had with their eyesight. He worked with Rotary International to create an eye hospital that today provides service to those people. Most Rotarians know about Rotary's Polio campaign, and the pure water work, but this is yet another program that uses your contributions to bring aid to the world.
The club will meet off-site on these dates:
April 9
June 4
June 18
July 30
Jeff Yantz announced that a new sponsor level has been added to the Mitten State Music Revival. For $100, anyone can be designated a "Friend of the Festival". They will receive two tickets as well as the designation.
---
---- DATES TO REMEMBER ----
June 24, 2019: Golf Outing
- 9:00 am Maple Leaf Golf Course

Mitten State Music Revival
22 ACTS!
4 STAGES
One Night May 11, 2019
---
Upcoming Programs
(See the official schedule at RotaryBayCity.org )
March 26, 2019: Do-All Inc.
Do-All's transition to community based projects.
April 2, 2019: Active Shooter
With a career in Law Enforcement Henry Reyna returns to Rotary with his wealth of knowledge on the subject of How to survive an Active Shooter Incident
April 9, 2019: National Public Health Week
Joel Strasz, Public Health Director, will tell us all about National Public Health Week and update us on what is going on in Bay County health wise.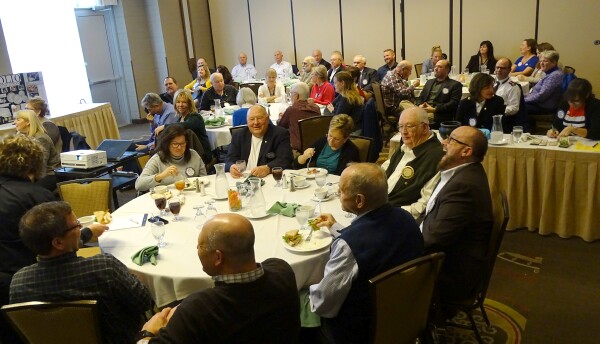 Rotary
is an intimate affiliation of carefully selected business and professional people,
having as its objective the promotion of high ethical standards in private, commercial
and civic life, and dedicated to the ideal that the basis of all worthy endeavor is unselfish service.
---
Current and past
DISTRICT DISPATCH
newsletters are available on the District site shown in the LINKS section below.


Rotary Bay City on Facebook!
Click on the Blue Facebook to visit us there.

Remember! Check attendance sheets at the front desk.
---
LINKS
---
---

Stephen Kent




Steve Kent and his family have lived in Bay City for 40 years. He is VP of Technical Services at MMCC which produces MyBayCity.Com. Kent is active in many Bay City civic organizations.

More from Stephen Kent
---
Send This Story to a Friend!
Letter to the editor
Link to this Story
Printer-Friendly Story View
---
--- Advertisments ---