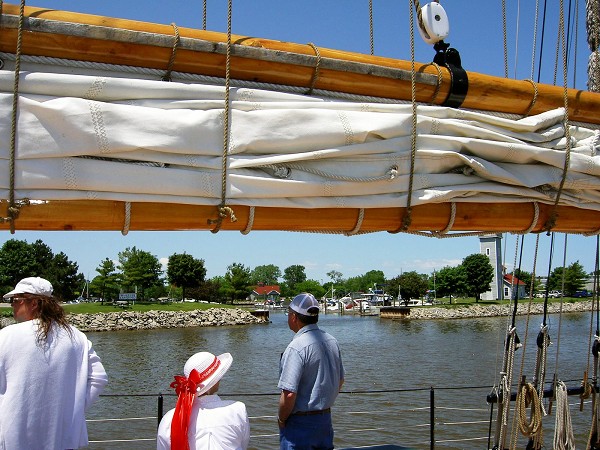 The gathering is the Green and Blue Summer Meeting of the Council of Michigan Foundations.
---
CLEAN WATER: Philanthropists Here Aug. 27-28 For Close Look at Saginaw Bay
July 2, 2015
By: Dave Rogers
Philanthropists will learn about water quality problems throughout the Great Lakes at a convention in Bay City Aug. 27-28.
Speakers will include regional experts and representatives of local groups that are working to protect clean water.
The group will test and look at water quality first-hand on Saginaw Bay from the tall ship Appledore.
The gathering is the Green and Blue Summer Meeting of the Council of Michigan Foundations.
Thursday evening will be a subscription dinner at the Stein Haus located at 1108 N Water St.
Speakers:
--Cameron Davis, Senior Advisor to the Administrator, U.S. Environmental Protection Agency
Mr. Davis is senior advisor to the U.S. Environmental Protection Agency Administrator. In that capacity he provides counsel to the EPA Administrator on the Great Lakes Restoration Initiative. His job includes coordinating Great Lakes policy and funding initiatives valued at more than $1 billion since FY10 with more than a dozen federal agencies and with state, municipal, tribal, business and civic stakeholders. He also served as a lead negotiator on the U.S. negotiating team for the 2012 U.S.-Canada Great Lakes Water Quality Agreement.
--Mary Fales, Project Director, Saginaw Bay Watershed Project, The Nature Conservancy
Mary oversees the agricultural conservation work throughout the Saginaw Bay Watershed -- the largest watershed in Michigan. Her work is heavily focused on agricultural conservation and she is particularly drawn to understanding what drives individuals to voluntarily take costly steps to minimize their environmental impact for the good of the whole community.
Mary earned a bachelors degree in environmental studies, as well as a second bachelors in fisheries and wildlife, from Michigan State University. She then earned her Masters degree in Aquatic Ecology from Grand Valley State University.
--Jason Hill, Manager of Conservation Programs, Ducks Unlimited
Jason Hill is Ducks Unlimited's Manager of Conservation Programs and is responsible for DU conservation programs in Southeast Michigan with staff oversight in Wisconsin and Michigan. His strengths and responsibilities include complex wetland restoration and associated upland habitat project delivery, land and easement acquisitions, public policy, grant writing, initiative-based fundraising and volunteer and conservation partner relations.
Jason has worked for DU since 2000 and has served as Program Biologist overseeing private land conservation programs in Michigan and as Regional Biologist for Indiana, Southwest Michigan, and Wisconsin. He is a graduate of Michigan State University, where he earned both a Bachelors and a Masters degree in Fisheries and Wildlife Management with a focus on wetlands and waterfowl.
--Katy Hintzen, Extension Educator, Michigan Sea Grant, Saginaw Bay District In her role as the Extension Educator, she develops and provides Extension education and outreach programming focused on the natural resources in the greater Saginaw Bay area, its watershed and coastal communities.
Hintzen's expertise includes economic development linked to aquatic habitat restoration and coastal tourism, coastal resiliency, experiential education programs and outreach to communities, governmental agencies, schools and other non-governmental organizations. Before accepting this position, she completed an internship in policy and communications with the National Oceanic and Atmospheric Administration (NOAA), and was the Habitat Blueprint coordinator, developing strategic plans for NOAA research, restoration and outreach activities in the Muskegon Lake area.
--Michael Kelly, Director, Great Lakes Office, Conservation Acquisition
Michael manages the Saginaw Bay Watershed Initiative Network, one of The Conservation Fund's longest running watershed restoration and sustainability programs. WIN includes a variety of corporate and philanthropic partners and is administered through a unique partnership with the Dow Chemical Company. Michael is also responsible for real estate acquisition and land conservation financing projects, in partnership with other regional offices throughout the Great Lakes region.
###