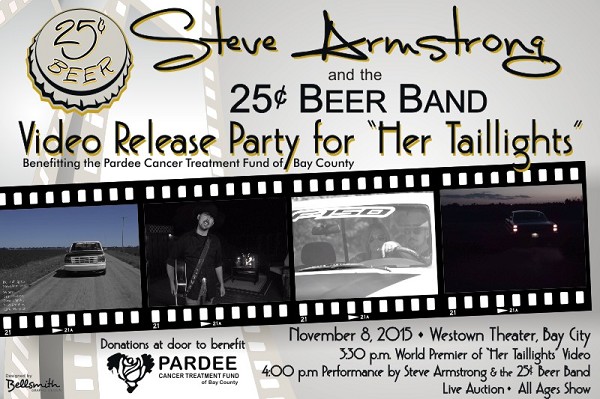 Steve Armstrong & The 25 Cent Beer Band Premier New Video
October 16, 2015
By: Josh Sharrow
Steve Armstrong & The 25 Cent Beer Band just finished production on their brand new video "Her Taillights" and want you to be the first to see it! A video release party has been scheduled at The Westown on Midland Street in Bay City, for Sunday November 8th 2015.
Admission is FREE! (A donation to The Pardee Cancer Treatment Fund of Bay County is appreciated!) A small live auction will take place and a 45 minute performance by the band!
Pardee Cancer Treatment Fund reimburses medical expenses related to cancer treatment for patients in Bay County.
Special thanks to The Westown, Bellsmith Graphic Design, Our emcee Josh Sharrow, The Greene Group Detroit, Bissonnette Sound & Lighting & Platinum Line Studios.
For more details visit https://www.facebook.com/events/1637613879852217/1637616826518589/