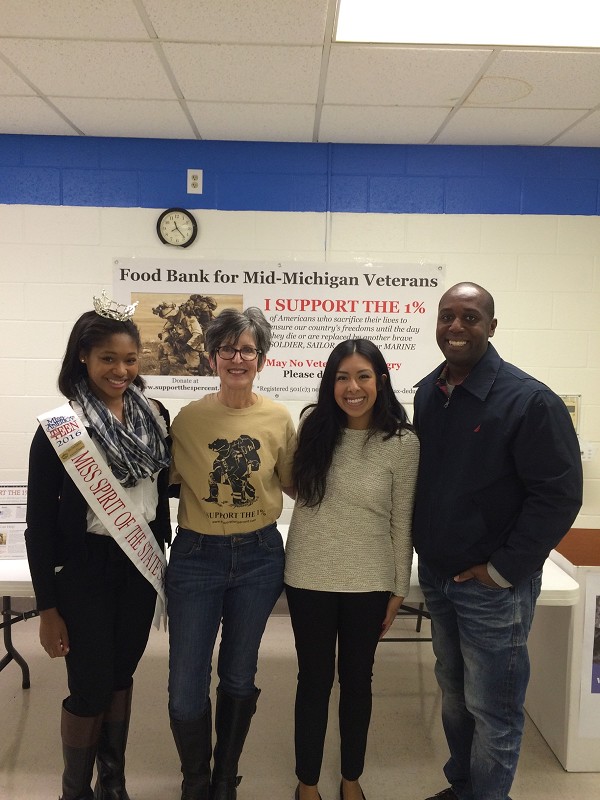 Delyn Owen Robinson (Miss Spirit of the State Outstanding Teen 2016), Mary Moylan (President, I SUPPORT THE 1%), Vanessa Guerra (95th State Rep), and US Army Capt. Corey Waiters
---
Bay City Mall to Host Food Drive With "I Support The 1%".
December 3, 2015
By: Josh Sharrow
The Bay City Mall is partnering with "I Support The 1%", a non-profit food pantry for Michigan Veterans, National Guards and Reservists of all Military Branches, on Monday, December 7th; Pearl Harbor Remembrance Day.
I Support the 1% is a group of concerned citizens who have become aware of the economic hardships suffered by many of the military members stationed in our area.
Because they are called to leave home at a moment's notice, many find their jobs taken by others when they return. Many have a hard time finding gainful employment due to prejudice against their military requirments and/or the poor economic reality of this area.
Many are homeless, are tortured by memories of the battles they were in, and have difficulty readjusting to civilian life.
Captain Waiters will be present to talk about the program and to answer any questions. Organizers encourage people to bring canned meats, chili, canned fruits & coffee. Please visit www.supportthe1percent.com for a full list of preferred food items to donate.
For information about this group, please contact the organization at foodpantryforveterans@gmail.com or call (989) 823-2078.
The Bay City Mall is owned and managed by Michigan based Lormax Stern Development Company.