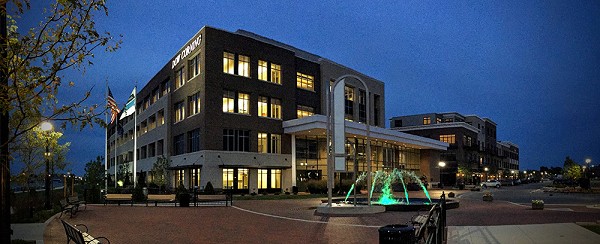 Uptown at RiversEdge is a shining gem on the Saginaw River, cited by leaders at a community luncheon last week.
---
ROAD MAP: Projects Unveiled by Finn, Hickner at Chamber State of Community
New Culture Being Instilled in Government Workforce
February 19, 2016
By: Dave Rogers
A new city and new county!
That was the picture that emerged under the baton of the Bay Area Chamber of Commerce's Master of Ceremonies Mike Stodolak and President Ryan Carley at last week's community gathering at the Bay Valley Resort Hotel.
(You can view Bay3TV video of the meeting at https://www.youtube.com/channel/UCZyUB-UGWm9BpqTEsTslmTQ/playlists)
With U.S. Rep. Dan Kildee, D-Flint, in attendance as an honored guest, the assets of the community such as a new water plant and supply system to Lake Huron at Whitestone Point, touted as the finest in the state and perhaps the nation, were put forward.
The Road Map to the Future drawn in 2014 is on track to peak in 2024 with the Bay community recognized throughout the state as a place where great things are happening, enthused Mr. Carley, adding
We are creating an exceptional place to live, raise children and grow the workers of the future."
All the speakers noted the importance of local educational systems, a key aspect of economic growth, inter-governmental cooperation and assistance to existing businesses where 80 percent of job growth occurs.
City Manager Rick Finn and County Executive Tom Hickner enumerated the elements of progress made in community development.
Results of county strategic planning and waterfront task force in the 1980s are coming to fruition now, Mr. Hickner said, noting "the waterfront today does not look like it did in 1984; we now have a marina, RiverWalk, pier and Uptown along the riverfront."
Mr. Finn tore the curtain off the Uptown at RiversEdge development that has transformed the old site of the Industrial Brownhoist factory site into a $50 million multi-faceted complex with an estimated 600 jobs.
And more to come, according to Mr. Finn.
States Shaheen Development: "One of Michigan's best tracts of land along the picturesque Saginaw River, the potential for Uptown is incomparable. Join global corporations, local healthcare leaders and large-scale companies in this state-of-the-art opportunity to Live, Work and Play in Uptown."
In two years on the job come St. Patrick's Day, Mr. Finn said he is hard at work on creating a city government culture change based on customer service, he said, improving communications with the public in innovations such as a public safety officer stationed in the lobby of city hall and a new policy of fixing problems in three days.
The new Public Safety Department, combining police and fire personnel, is saving $2 million a year in the city budget, Mr. Finn said.
He noted that there were 24 cross-trained personnel at two house fires in recent weeks.
Among bricks and mortar advancements cited by Mr. Finn were:
*The Bay City Inn, formerly the Bay City Holiday Inn, will open June 1 ahead of schedule with $5.4 million in renovations.
*Times Lofts will soon be providing more market-rate housing downtown.
The venerable City Service Building, a Depression-era WPA project, on Water Street will be relocated to make way for more riverfront housing.
*Downtown streets will be milled and resurfaced before the Tall Ships Celebration in July.
*Johnson and Midland streets will be resurfaced this year and Trumbull Street will be resurfaced in 2018.
*A $500,000 ten-year citywide sidewalk repair program will be launched this year to make the city more pedestrian friendly.
*Battery Park and Wenonah Park are on the drawing board for redevelopment, the former in cooperation with the city, county, library system and new Bay Veterans Foundation, the latter with a skating pavilion.
*Imagination Station, an outdoor play structure, will be built in Bigelow park near the Boys and Girls Club by spring of 2017.
A combined Farmer's Market and citywide beautification are on the drawing board, said Mr. Finn, along with surveillance cameras in city parks, efforts to double the recycling and removal and replacement of city-owned lead water service pipes.
Mr. Hickner noted the county's record of balancing the budget every year and a stable tax rate.
The county continues to focus on restoring the beach at the Bay City State Park, a goal also cited by Mr. Carley, and development of a public access point at the end of State Park Drive.
County Animal Control continues to work with the Humane Society to improve the adoption rate of animals, he said.
Veterans services are being ramped up in cooperation with the new Bay Veterans Foundation with the goal of moving them to the next level, said Mr. Hickner.
The county continues to focus on improving communications with the public through Bay3TV, the county website and e-newsletters.
New software for the 9-1-1 system now links Bay County with Midland, Arenac, Iosco and Sanilac and provides necessary redundancy in case of emergencies, said the county executive.
Staff training for disasters is another facet of county operations along with a wellness clinic that provides free service and generic drugs to county employees. "Several employees may not be walking the streets today had we not had the wellness clinic," he commented.
Mr. Finn said he supports historic districts, now threatened by a bill in the State Legislature that would sunset them every 10 years and require a re-vote.
Street improvements and amenities will create a surge in downtown growth, aided by a spinoff from Uptown, said Mr. Finn, commenting: "We are on the map, people are looking and people are excited."
###