Addyson Tomczak Reaches Career 1,000 Point Scoring Mark at BCC
Joins Select Group of Bay City Central Wolves High Scorers
February 20, 2016
By: O. J. Cunningham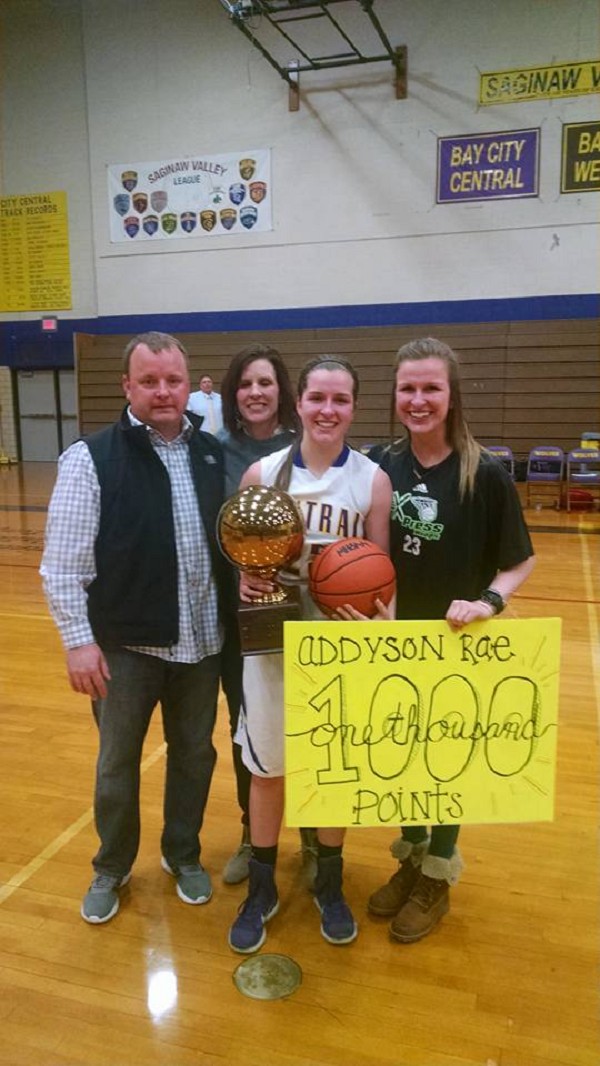 1,000 Point Career --
(Left to Right) Chris (Dad), Stacy (Mom), Addyson holding trophy, Saige (Holding Sign).
There used to be only 4.
Now there's 5.
Addyson Tomczak is the 5th Bay City Central basketball player (and only the second girl) to score 1,000 points (all-time) during her 4-year stint at the Columbus Avenue campus.
Tomczak joins the illustrious group comprised of Kelly Spielhaupter, and boys Eric Spielhaupter, Princeton Jiles and Eric Devendorf in this select group of basketball star athletes. No Central player has approached the girls' 1,000 career mark since 1994 when Kelly Spielhaupter, posted the all-time girls' career scoring total of 1,698 points
Coach Todd Thunberg had nothing but smiles and good things to say about Tomczak's career at Bay City Central. "Addyson is a dedicated, hard-working person who sets high standards for herself in everything that she does," Thunberg said after the game. "This accomplishment is just another reminder of her desire to succeed."
Friday night (February 19, 2016) Tomczak scored 14 pts against Saginaw High to push her over the 1,000 point mark. Tomczak has at least 3 games left in 2016 -- with the third game being the first game of district play. Tomczak will continue her basketball career at Siena Heights to play. Her parents are Chris and Stacy Tomczak. Other family members are an older sister, Saige, and a younger brother Brenden.