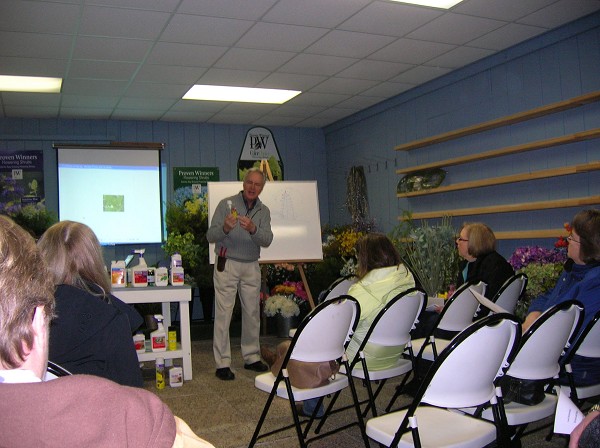 Jim Begick hosts classes for eager gardeners
---
Forget the snow - Spring Has Sprung at Begick's Nursery
March 7, 2016
By: Pati LaLonde
Forget the snow - spring has sprung at Begick's Nursery, Floral & Garden Center, 5993 West Side Saginaw Road.
Beginning Saturday, March 5 staff and guests will be hosting Saturday Spring Seminars through April 16. 'This is geared for the home landscaper and home gardener," said Jim Begick, president. The seminars kick off with insect control at 10 a.m. and pruning at 11:15 a.m. Pruning Your Plants focuses on flowering shrubs, including hydrangeas, and evergreens.
"I'm going to explain how to prune the different groups of plants," he said. "I get tons of questions on hydrangeas. They need to be treated differently. People are so afraid they do nothing, and some do too much." Begick along with general manager Ray Schwall present a show and tell on their favorite gardening tools at 10 a.m. March 12.
"We're going to show our favorites and the things we like to use," said Begick. "Just because they are old timers doesn't mean they are obsolete. Sometimes the old timers are still the best." They will also show off some new items including power tools.
The 11:15 seminar focuses on pollinators from bees to butterflies."We're going to talk about what we can do to make a better home for them," said Begick. "It's a big deal the trouble bees are having right now. Without pollinators we don't get flowers, vegetables - we don't get anything. We're going to show what pollinators are and the 10 to 12 key plants that draw those pollinators in."
The seminars are free, but registration is requested by calling 684-4210. Refreshments will be served.