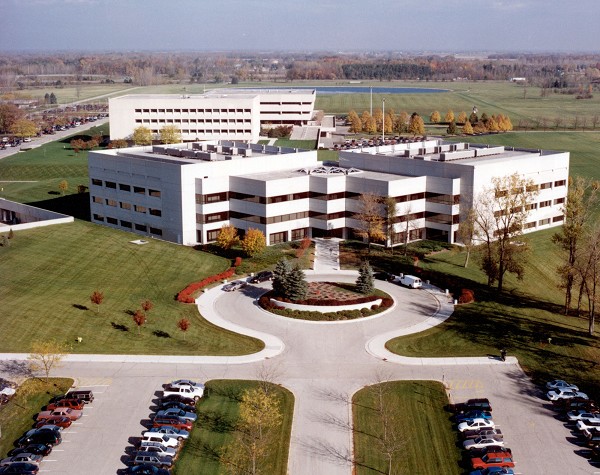 Dow says it will keep the former Dow Corning corporate center in Williams Township, Bay County.
---
DOW TAKES OVER: Joint Venture with Corning, Inc., Ends This Year
March 14, 2016
By: Dave Rogers
Dow Corning, a 73-year-old joint venture, said to be the largest and most successful in U.S. business history, is reaching a new plateau.
The Dow Chemical Company of Midland is assuming full control although Dow Corning will continue as a separate business and its headquarters will remain in Auburn.
Dow Chemical Co. and Corning Inc. announced the firms have signed agreements to restructure the ownership of their silicone joint venture Dow Corning Corp., with Dow gaining full control of the venture for about $4.8 billion in cash.
Dow spokesmen said the transaction is highly complementary to the strategic objectives of Dow and offers significant potential to enhance value for shareholders.
Under the terms of the agreement, Dow will become the 100 percent owner of Dow Corning, currently a 50:50 joint venture between Dow and Corning. Dow and Corning will maintain their current equity stake in Hemlock Semiconductor Group.
With Dow and Dow Corning coming together, Dow will extend its participation in Consumer Solutions and Infrastructure Solutions segments by increasing Dow's product offerings in several attractive end-use applications such as building and construction, consumer care, and automotive.
Dow is uniquely positioned to capture $400 million in annual cost and growth synergies from the restructured ownership of Dow Corning. The transaction is expected to yield more than $1 billion in additional annual cash flow in the first full year after the close of the transaction.
The move effectively ends the joint venture, pending customary closing conditions and regulatory approvals. Dow said in a statement that the deal is expected to close by mid-2016 and that Dow Corning will continue to operate as a separate business.
Dow said that the two firms will maintain their equity stake in Hemlock Semiconductor Group, a polysilicon manufacturer comprised of several joint venture companies currently owned in majority by Dow Corning.
"Today marks a pivotal moment in Dow, Corning and Dow Corning's history as it represents the transition of a successful and thriving relationship in a joint venture that Dow and Corning built together from the ground up," Andrew N. Liveris, Dow chairman and CEO, said during a joint teleconference regarding the transaction. "Corning has been a great partner to Dow and will always be a great partner to Dow."
A Corning spokesman said Corning is exchanging its 50 percent interest in Dow Corning for 100 percent of the stock of a newly formed entity that will become a wholly owned subsidiary of Corning. This newly formed entity will hold about $4.8 billion in cash and its existing 40 percent stake in Hemlock Semiconductor Group.
Corning's spokesman added that Dow Corning will be allowed to continue to use the Corning name for at least several years.
Analysts said by gaining full ownership of the joint venture, Dow Corning also can take full advantage of Dow's strong marketing network to expand its silicones business, utilizing the parent company to bring its silicone technologies to markets where it currently does not sell the product.
"For Dow, owning 100 percent of Dow Corning's silicones business is the next step in our portfolio evolution as we drive higher, more stable, earnings, deliver strong cash flows and release value for our shareholders," Liveris said.
For 2014, Dow Corning posted net income of $513 million on sales of $6.22 billion, according to information posted on its website. Through three-quarters of 2015, sales dropped 8 percent to $4.18 billion, with the decline attributed mainly to a strong U.S. dollar. Net income fell 22 percent to $370 million. It employs 11,000 worldwide at 62 manufacturing sites and offices. The firm said in its third quarter report that its silicones unit saw increased business in its -- most differentiated and innovative product lines -- which are also the most profitable --allowing us to offset some of the negative currency impact.
IHS analysts projects the silicones market to grow at about 5 percent per year on a global basis with regional growth in the developed regions -- such as the U.S., Western Europe, and Japan -- growing along gross domestic product rates. Demand in the developing countries should be in the 6-10 percent range with China at the high end.
Dow recently reached an agreement to merge with DuPont Co. and break the combined business up into three separate businesses with a focus on agriculture, commodities chemicals and specialty chemicals. DowDuPont is valued at about $130 billion. Dow Corning's silicones products will significantly strengthen the DowDuPont product portfolios in several major industries -- like construction, automotive, electronics and personal care products.
Corning CEO Wendell Weeks said Dow Corning's silicones business lies outside of the core technologies and manufacturing and engineering platforms at the core of its strategy and capital allocation framework.
Corning's net sales decreased by 11 percent while its net income dropped by 79 percent in the third quarter of 2015. Sales decreased in all of its segments except Optical Communications, which increased by 7 percent.
It reported $53 million in equity earnings from Dow Corning, which was a 22 percent decrease compared to the third quarter of 2014. Through the first three-quarters, Corning has reported $167 million in equity earnings from its stake in Dow Corning, which is a decrease of $9 million compared to the first three-quarters of 2014.
Corning cited lower-than-expected sales of polysilicon for a 14 percent decrease of its Dow Corning equity in its first quarter financial statement for 2015. It said in its second quarter financial statement that its $63 million in equity for the second quarter met expectations. The new structure of Dow Corning's ownership will not affect the ownership structure of Hemlock Semiconductor. According to Hemlock's website, Dow Corning is the majority owner of the venture at about 80 percent, 40 percent of which will transfer to Corning with Dow retaining its half through Dow Corning. Shin-Etsu Handotai Co. Ltd. also owns a minority stake in Hemlock Semiconductor.
"Hemlock's products and manufacturing processes complement Corning's," Weeks said. "It offers market access for the solar and semiconductor industries, which are relevant to several current and emerging growth programs at Corning. We see additional upside in Hemlock as the solar industry recovers."
Hemlock Semiconductor is a leading provider of polycrystalline silicon and other silicon-based products used in the manufacturing of semiconductor devices, and solar cells and modules. The firm employs more than 1,000 at three locations -- a manufacturing facility in Hemlock, Mich., a sales office in Tokyo, and a sales office in Seoul, South Korea.
###