Izy Has Shot at Olympic Medal by Qualifying for Finals in 5000 Meter Relay
U.S. Short Track Team Posts Best time in Semifinals
February 15, 2006
By: Dave Rogers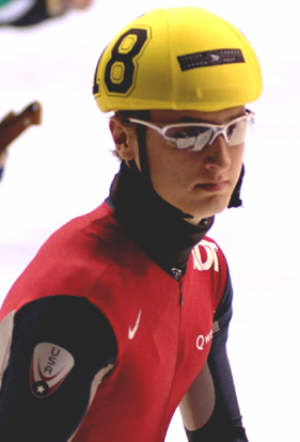 Bay City's Alex Izykowski readies for the 5,000 meter relay semifinals on Wednesday.
Alex is going for the gold!
Ten days from now five four man teams from the United States, China, Canada, South Korea and Italy will toe the mark in two heats of the finals in the 5,000 meter short track speedskating in Turin, Italy.
One of those 20 skaters will be Alex Izykowski, 22, of Bay City, Michigan. He carries local hopes for the first speedskating Olympic medal from this area in 38 years, since Terry McDermott won silver in 1968 in the 500 meters.
The U.S. team ofIzykowski, J.P. Kepka, Rusty Smith and Apolo Anton Ohno finished in 6:55.082, less than half a second ahead of China in the semifinals on Wednesday.
The Chinese team clocked 6:55.476 in the same heat as the Americans.
The two leading teams left the other contenders, Canada and South Korea, far behind, the Canadian finishing in 6:57.004 and the Koreans in 7:01.783.
With 30 laps to go, Onho swept past the Korean and Chinese skaters to grab the lead. Cheers greeted his dramatic move from third place to a victorious finish.
"It was the right move at the right time. It was perfect," said Rusty Smith, teammate who preceded Ohno in the race. "They slowed down a little bit, and we took advantage of it."
The leaders were alone at the end since teams from Japan and Italy had crashed with 21 laps to go. However, Italy was reinstated for the finals because Japan was disqualified.
"It's awesome for me and Apolo to make another Olympic final together," Smith said breathlessly. "We've been in this sport for a long time, and neither one of us has gold in relay. We have at least one more final in us."
Ohno especially is medal motivated since he faltered earlier in his specialty, the 1,500 meters. Izykowski led a heat in that race for several laps but finished out of the money.
For Bay City's Izykowski, it is his first Olympic experience and hometown folks who raised $30,000 to send he and his family to the games are estatic. Signsare posted all over town: "Go Izy!"
Bay City won instant international fame when NBC interviewed family members about how townsfolk had rallied behind their favorite son, skater Alex Izykowski.
Smith predicted a close race for the gold medal. Final B will start at 3:17 p.m. on Saturday, Feb. 25, followed by Final A at 3:26 p.m. The lineup is is to be announced later by Olympic officials. Best time will determine the winner.
Many Bay Cityans recall fondly the outpouring ofenthusiasm for McDermott's gold medal in 1964, the only gold won by an American that year in Helsinki, Finland. Thousands jammed Center and Washington avenues in a public welcome the likes of which this town has not seen before or since.
They only hope to reprise the experience this year for Izykowski.###