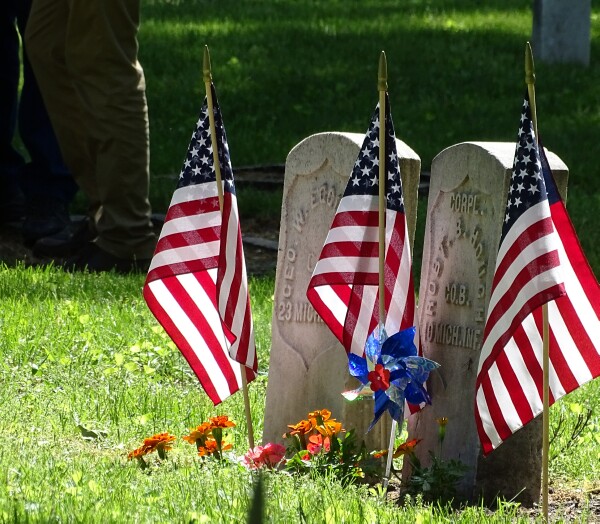 Memorial Day Ceremony Held at Pine Ridge Cemetery / Soldiers Rest
Civil War Headstone Dedicated
May 30, 2016
By: Stephen Kent
The
Friends of Pine Ridge Cemetery
held Memorial Day ceremony at the historic cemetery today. Events started at 10:30AM under a bright blue sky accompanied by mild temperatures and a light breeze. One could hardly ask for a better day.
Members of the Sweet Adelines performed patriotic songs prior to the service starting. Gerald Schroder, President of the Friends of Pine Ridge then welcomed the visitors. "It's nice to have a parking problem, " Schroder said to this reporter. By some estimate, there were over 100 people in attendance.
Eric Jhlha presented remarks on the origin of Memorial Day. Following that, the Sons of the Union Veterans, a local group, did two dedications based on vintage ceremonies. Each was followed by a rifle salute. Other ceremonies were held in adjacent cemeteries and the sound of rifle salutes and taps drifted over the area at various times.
One dedication was for the grave site of James VanKleeck. Researcher Clara Pasko had gathered information and researcher Jim Petrimoulx had been looking for relatives when he met a family member looking in turn for information. Another, more recent family burial is in another section of the cemetery. Petrimoulx needed a family member's permission to petition the Federal Government for a military headstone. All of that was accomplished and the headstone was dedicated today, with family members in attendance.
According to Eric Jylha, Petrimoulx's research showed that "James VanKleeck enlisted as a drummer for the 17th Michigan at 16 years old. At Antietam, he was shot twice and left for dead. But, he was found alive and recovered at a church turned hospital. When wounded, he lost the testament he had been carrying. In 1894, this book was returned to him by a Captain in the 4th Pennsylvania Infantry. He found a letter in the book signed by James sister and use it to find James. the pages were stained by the blood he had shed on the battlefield.
James returned to Michigan, became a lawyer and set up practice in Midland and later Bay City by 1885. He became the Bay County Prosecuting Attorney and President of the School Board. He was the Commander of the local Grand Army for a number of years and dies in 1923. He will now have a headstone."
A second dedication was held for the plaque donated by the Questors Wenona Chapter 1437. It lists the names of 22 Civil War Veterans that are buried at Pine Ridge in unknown grave sites.
Certificates were presented to Ron Graham who is the de-facto custodian of the Cemetery. Ron puts in untold hours maintaining the grounds on his own time. The recently organized Friends of Pine Ridge are now his helpers. A second certificate was presented to Jim Petrimoulx for all of the research efforts.
Pine Ridge and Soldiers Rest, is an abandoned cemetery. Nobody really wants ownership. Under the guidance of the Friends and a loyal group headed by Ron and Jim, the history is being uncovered every day. Much of Bay City's history lies within these grounds and waits for today's volunteers to uncover and honor it.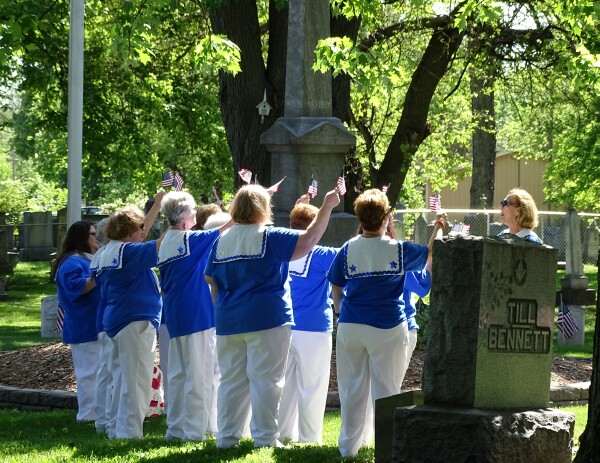 Sweet Adelines present patriotic songs



Vintage text is used at dedication of new headstone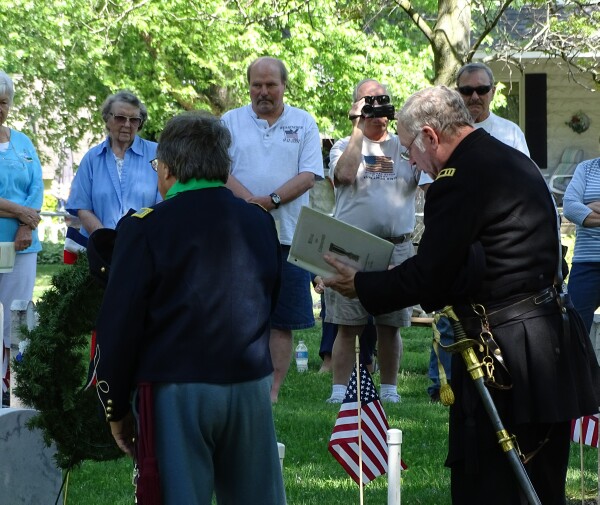 Historic prayers follow using words recited for so many soldiers gone before.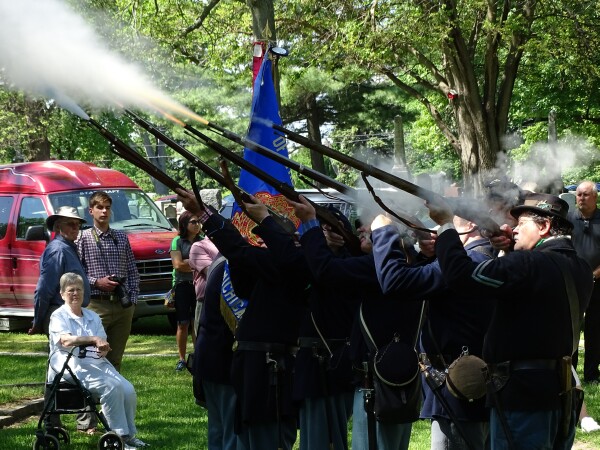 Re-enactors fire rifle salutes to the fallen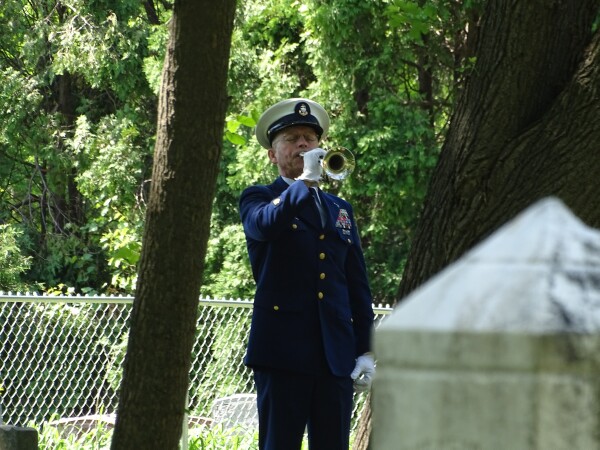 Paul Cormier plays taps from a small rise above Soldiers Rest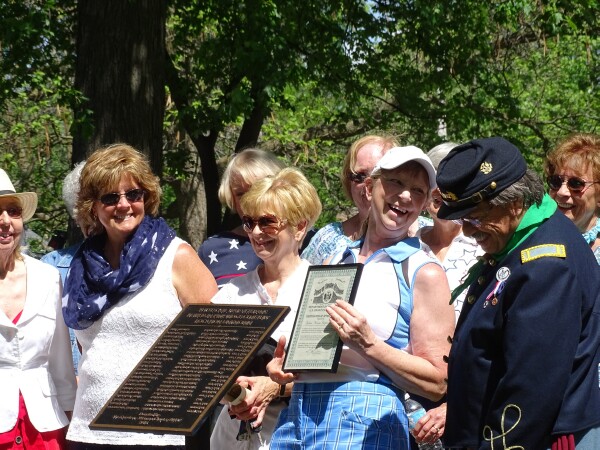 Questors Wenona Chapter receives certificate at the dedication of the plaque they commissioned.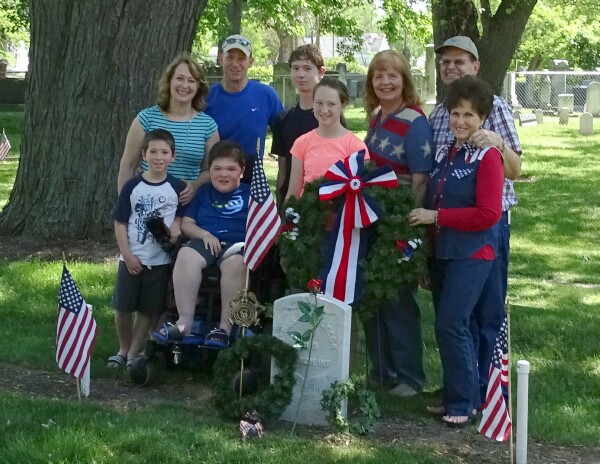 Family of James VanKleek pose at newly installed marker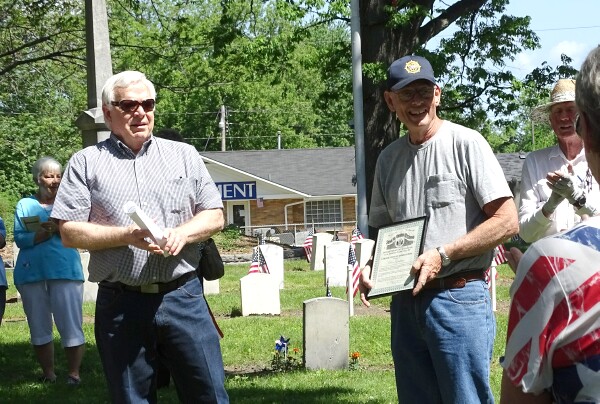 Jim Petrimoulx (left) presents certificate to Ron Graham (right)
before receiving a certificate himself.