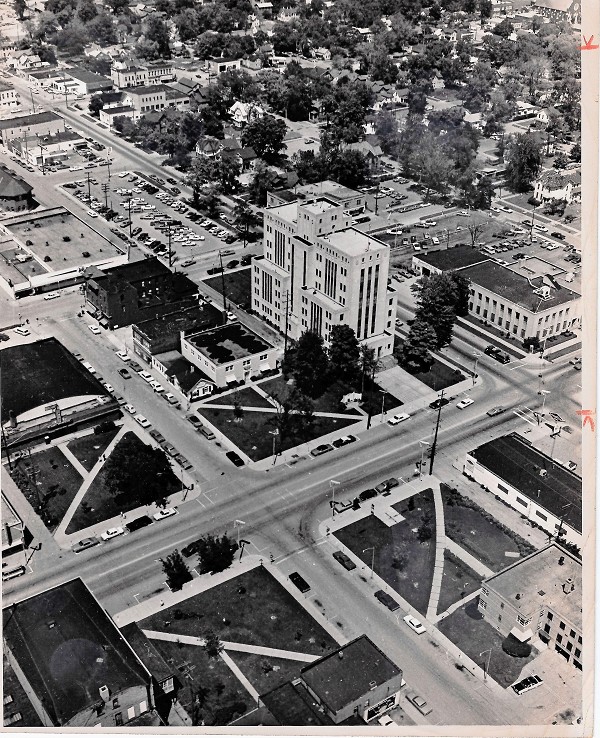 Aerial photo taken in the 1970s clearly shows the four quadrants of Battery Park; old county jail is at right, Elks building at left, Alert Lanes top left, with Club Avenue to its left, and Davis-Hill Arcade, top right.
---
BATTERY PARK: Restoration Project Displays Spirit of Historic Bay City
Bay Veterans Foundation Joined by Community Partners in Project
June 8, 2016
By: MyBayCity Staff
NEWS RELEASE FROM KEITH MARKSTROM, PRESIDENT, BAY VETERANS FOUNDATION
Battery Park, the oldest public gathering place in Bay City, will be rededicated on Tuesday, June 21 at 5:00 p.m. in front of the Wirt Library.
Don Carlyon, chairman of the Battery Park Project and former president of Delta College, stated the property was deeded to Bay City in 1849 by the Saginaw Bay Company for "public use for all time". It once served as recruitment and parade grounds for Civil War and WWI soldiers.
Bisected by Center Avenue from Madison to Adams Streets on Bay City's East side the Park was used as the original town square due to its location near the current and former Bay County government buildings.
Serving as a well manicured green space it was framed by former architectural structures such as the Bay City Club, the Bay County Jail, and numerous local businesses.
Signature items that added to the Park's uniqueness were two fountains and four Civil War cannon. A small hexagon shaped building served as a traffic control shack for trains that ran on tracks from the Pete Marquette Depot down Jefferson Avenue south to Saginaw.
"These historic items were lost to time", said Carlyon, "but a partnership between the City of Bay City, the County of Bay, the Bay County Library System, and the Bay Veterans Foundation is rejuvenating this area to some of its former glory".
The most prominent and historically significant elements that quietly stood guard for 40 years were the Civil War cannon. Two were 13-inch seacoast mortar cannon that belonged to the Confederacy at Fort Sumter where the Civil War started. The other two were 9-inch Dahlgren cannon that were from the USS Hartford, the flagship of Rear Admiral David G. Farragut. The Dahlgren cannon were part of the ship's arsenal deployed to capture New Orleans in 1862 permitting Union Forces to control the Mississippi River. These weapons were used again in August 1864 during the Battle of Mobile Bay. Historians mark this as the last major naval battle of the War and speculate it might have shortened the nation's conflict by two years. It was also credited for the phrase allegedly uttered by Farragut, "damn the torpedoes, full speed ahead".
These four cannon were given to the Bay County War Production Board in 1942 to be melted down to aid the United States effort in WWII.
Part of the Battery Park redo is the manufacture of a replica Dahlgren and mortar cannon by Bay Cast Foundry. Each was cast from original specifications as drawn and engineered in the 1850's.
Old photos of the traffic control shack were used by architectural design specialist, Tom Freiwald, to develop plans to create an informational kiosk to be located in front of the Wirt Library. Construction and Building Trades students at Delta College under the tutorship of instructor Dave Bledsoe have built the structure that will be used by Wirt Library staff and the Bay County Historical Society and Museum for educational programs.
New sidewalks, landscaping, and benches will complete the project.
Carlyon added, "the public is welcomed and encouraged to attend the program, which will feature Medal of Honor recipient COL Roger Donlon, and music by a Trumpet Quartet.
A dinner following the Rededication Program will be held at American Legion Post 18. Tickets are $15 and reservations are required. Tickets may be obtained by calling Sita Compton at 989 280-1530 or Marilyn Lazarz at 989 316-6106.
###