COMMUNITY TV: So You Want to Be A Broadcaster?
New Plan Calls for Bay County to Open Opportunities
June 11, 2016
By: Dave Rogers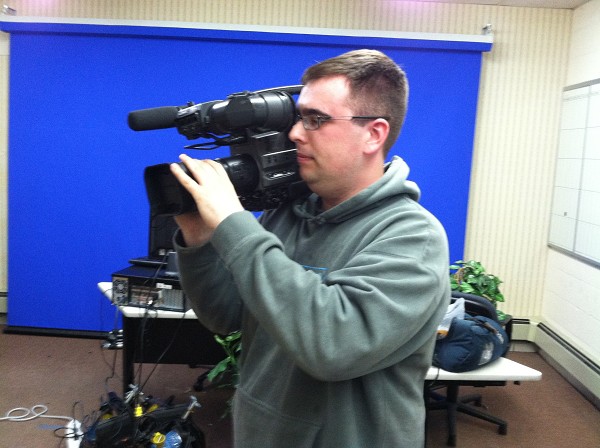 County TV Technician Nick Paige tries out one of several YouTube ready cameras recently acquired at a Midland auction.
Community Media Centers are sweeping the nation, and soon a CMC may blossom in Bay County.
"It is critical that the business model for the future of community uses of media not be anchored in the concept of a TV station but in the reality of a community media center (CMC)," says Sue Miller Bruske, telecommunications consultant, adding:
"The CMC provides the needed tools and training, as well as the means by which distribution occurs on multiple platforms equally available to local government agencies, schools, community organizations and residents."
If the Bay County Commission approves, local residents will be able to access community television programming on personal computers and cell phones as well as on websites and through traditional cable outlets that may carry it.
"The County of Bay is taking the lead to re-structure and improve community television to reach more homes and people in the Bay County area," said County Executive Thomas L. Hickner.
"Groups, organizations and individuals with an interest in communicating through television also may soon have an opportunity to show their creative talent -- with the assistance of county government," Hickner added.
The county commission Tuesday will consider a resolution, approved by the ways and means committee headed by Commissioner Kim Coonan, last week encompassing an Action Plan that will restructure and rebrand the community television service to meet the needs of the 21st Century.
The Action Plan was created by a small committee of local residents with interest in community television including Mike Gwizdala, Jeff Doan, Jon Grappin, Tommy Anderson, Dave Rogers and Debbie Russell, administrative assistant to the county executive. They will form the nucleus of an advisory committee that will meet monthly in the county building. Persons interested in becoming members of the advisory committee should contact the office of County Executive Tom Hickner, 895-4130.
As of July 1, the former Bay3TV, started 25 years ago as a partnership between the Bay City Public Schools, the City of Bay City and the County of Bay, will go almost totally public by using social media, i.e., YouTube on personal computers, along with the cable outlets that have carried the channel lately, mainly Charter and AT&T.
All the equipment that formerly was used to run Bay3TV will be moved from the Bay City Board of Education to the seventh floor of the Bay County Building where a new studio and training facilities will be established.
Bay County Commission and other county meetings will continue to be covered and aired either on the county's website or on traditional media.
Cities and townships and Affiliate Members wishing to become partners may apply to the Board of Commissioners.
Training will be offered members of the public who wish to be Communication Ambassadors and volunteer to produce programming, for any non-profit group, say for their association, church or interest group -- like school booster clubs, the S-O-S (Save Our Shoreline), chambers of commerce, economic development groups, service clubs, Boy or Girl Scouts, or any of the local community groups.
Other governments or tax-supported units like school districts will have the opportunity to contract with Bay Community TV for production and airing of programs at a fixed hourly rate. Programs will be available for those units to place on their own websites as well as the county's.
Certain programming like sports and major community events like the Fireworks Festival and St. Patrick's Day Parade will be sponsored by local businesses as has been the practice in the past. Costs of on-site production, additional staff and time-consuming editing and media placement will be covered by the sponsors.
YouTube ready cameras, three of which were recently purchased at a Midland Community Access TV auction, will be loaned to responsible parties. Assistance in producing programs will be given by the county's community TV staff headed by chief technician Nick Paige, a graduate of Grand Valley State Univesity's broadcasting curriculum.
Paige and other staff or volunteers will help prepare the programs produced by the community programmers and will help them place them on the county's website and on YouTube.
A weekly program time schedule of programs will be issued, as has been the practice historically.It will be posted on the county's website and on YouTube.
Longtime sports broadcasters Gwizdala and Doan are lining up sponsors for sports programming that is planned to be piloted Thursday, Aug. 25, with the season's first football game. Basketball games also will be videotaped for replay if sponsors are available.
Bay3TV is broadcast on Charter 190 and is also streaming LIVE 24/7 at www.livestream.com/bay3tv and viewable byApple and Android Smart Phones, Tablets or PC's, also at www.youtube.com/bay3tv ###