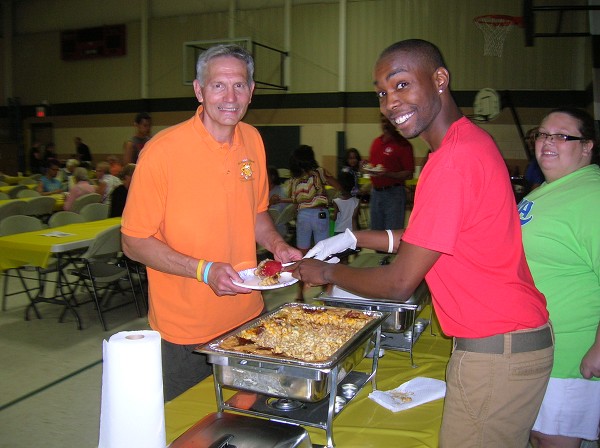 Head Cheese Marty Schultz samples the roast beef mac and cheese with gravy from Kris Hazeltine -- A representative of the FACEBOOK Group -- The International Space Monkey Alliance.
(MyBayCityPhoto by Pati Lalonde)
---
Pinconning CheeseTown Fest Runs Through Sunday
June 18, 2016
By: Pati LaLonde
Calling their mac and cheese "the real McCoy," Brian and Brett Saha, owners of the Pinconning Cheese Co., were big winners Friday night in the annual Mac & Cheese Competition at the Pinconning CheeseTown Festival.
The duo won first place from the judges and a second place in the People's Choice award, beating out six other competitors. "I'm excited and ramped up," said Brian Saha. "This is our first year competing. What better compensation."
The key to the dish, he added, is everything except the noodles and garlic is pure Pinconning. The duo combined cheeses from super sharp Cheddar to cream cheese combined with big noodles and hand rolled butter to tempt the taste buds.
Combining cheeses also gave the Saginaw Chippewa Indian Tribe a first place win from the public in the People's Choice award.
But then, Craig Graveratte, who made the dish, knew he had a winner in his combination of smoked Gouda, Pepper Jack and Monterey Jack, Velveeta and sharp Cheddar, and covering the dish in Ritz crackers sautéed in butter.
"We tried three different ones and had the Tribal Departments taste each one," he said. "This one was the winner."
Judges - Nicole Kinde, community outreach coordinator for Habitat for Humanity, Mike Williams co-owner of Williams Cheese Co. and this reporter especially liked the cracker topping. Judges and the people agreed on the third place in both categories giving the nod to PJ's Pizzeria for their chipotle mac and cheese.
Winning is nothing new to owners Erik and Kristin Szyperski, winning something every year for the past six years.
David Cameron of Bay City was pretty much in line with the judges, choosing Pinconning Cheese Co., as his favorite. Wife Janet hadn't quite made up her mind as the deadline for voting loomed.
This was the couple's first trip to the competition. "I really didn't know what to expect," said Janet Cameron. "I'm still up in the air about a favorite." The couple had so much fun, they will be back.
Marty Schultz, head cheese for the festival was pretty happy with the turn out for the event. "We have a pretty good crowd," he said. "It's not one of our biggest, but it's a good crowd." As he sampled dishes, Schultz had a few observations about the entries. "They are not your regular box recipes," he said. "These are outside of the box recipes." With Pinconning Cheese Co. winning a couple of awards, Williams has decided his cheese shop will enter next year, using his grandmother's recipe.
Williams didn't end it there, sending out a challenge to Kinde and Habitat for Humanity to put their best mac and cheese forward next year.
The festival runs through Sunday. Check out the schedule at https://www.facebook.com/Pinconning-CheeseTown-Festival-124466257568849/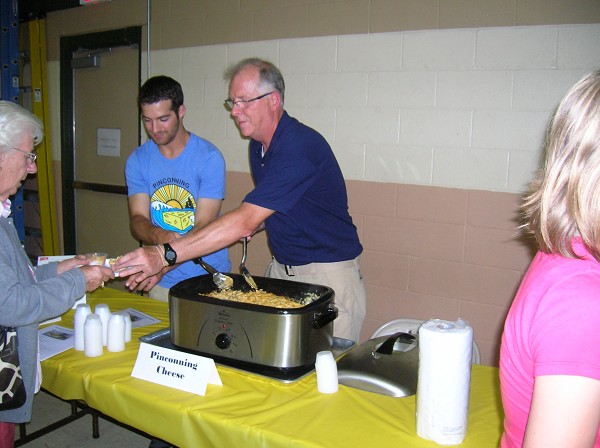 Brett and Brian Saha dish up their award winning mac and cheese.
Photo by Pati LaLonde
© MyBayCity.com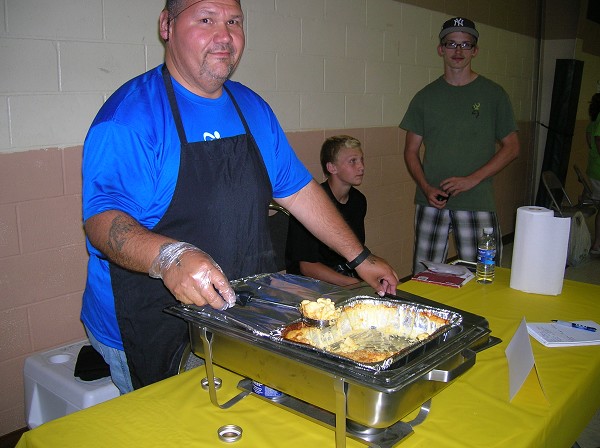 Craig Graveratte shows off his People's Choice award winner.
Photo by Pati LaLonde
© MyBayCity.com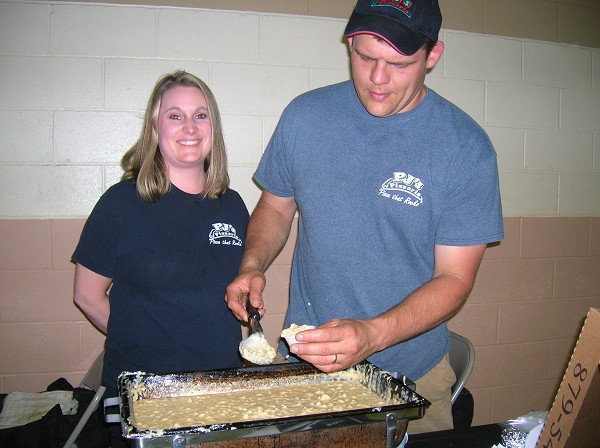 Kristin and Erik Szyperski are ready for another win.
Photo by Pati LaLonde
© MyBayCity.com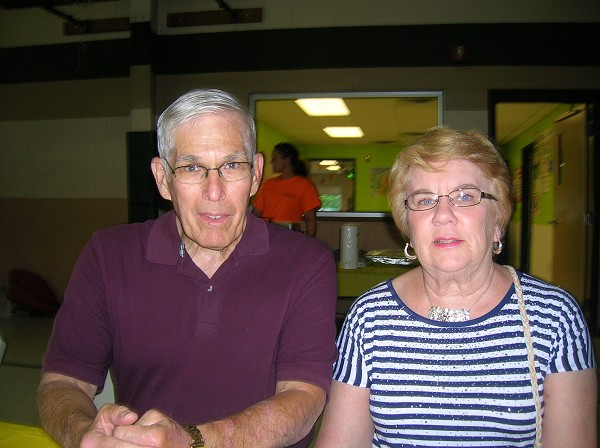 David and Janet Cameron are enjoying their first trip to the festival.
Photo by Pati LaLonde
© MyBayCity.com