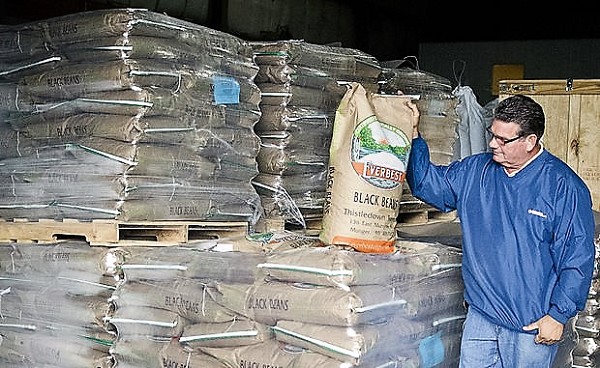 Jim Sattelberg, founder of Everbest Organics, with some of his highly acclaimed product.
---
BEANS FOR THE WORLD: Munger Firm Soars in Global Organic Market
August 11, 2016
By: Dave Rogers
Black beans, like those grown in the Thumb of Michigan, are being touted as a major health benefit.
Organic beans also are fueling the growth of Everbest Organics, of Munger, named one of Michigan's top new companies in 2015, also said to be No. 1 in organic beans.
New reports on the health benefits of organic beans have the potential to drive the market for them even higher, industry observers say.
"Some promising research has been done that demonstrates the power of black beans when it comes to combating inflammation, preventing cancers and heart disease, keeping weight gain and obesity at bay, and excellent support for our digestive health," says Raw Michelle, a natural foods blogger on Natural News website.
The dark color of the black bean is a surprising source of powerful nutrients. Studies have shown that the deep dark coat on the black bean is a powerful source of three important flavonoids: delphinidin, petunidin, and malvidin. These important substances are super-high in antioxidant activity.
Black beans are a fantastic source of protein, states Raw Michelle: "Just one cup of black beans has a whopping 15 grams of protein! Not only that, but there is zero saturated fat in these tasty legumes, which are a lean, plant-based protein that can be enjoyed by vegans, vegetarians, and non-vegetarian eaters alike.
"This protein-powered bean gives you a longer feeling of satiation, which can help you feel good all day long," she writes.
Everbest contracts with more than 100 farmers, located mainly in the Thumb, but also throughout the Midwest, to obtain the beans it processes in a former cement plant at 136 E. Munger Road.
The plant has a capability of producing three truckloads each 42,000 pounds in one day, according to Everbest founder Jim Sattelberg.
The $5 million facility is now among Munger's top tax bases, and one of Bay County's most prosperous new industries.
Heather Jordan, of MLive.com, made a big deal out of Everbest's sales of beans in 2013 to Chipotle, a thriving business that originated in Mexico and is a popular buzz-word in the restaurant field. The Munger firm reported it was having trouble keeping up with demand from Chipotle at that time.
More organic acres were being sought then, and Everbest recently began washing beans with highly mechanized equipment at Munger, operated by about two dozen employees. Crops processed include black beans, navy beans, dark red and white kidney beans and cranberry beans.
Bean farmers note that organics are more labor-intensive than regular crops. Employees learn to control weeds and pests without chemicals or synthetic fertilizers.
Jim and DeeAnn Sattelberg and their sons Ben and Matt also own and operate the Certified Organic Bay Shore Farms in Unionville and Moore Township.
The Sattelbergs also operate Bay Shore Sales that carries a full line of Hatzenbichler high-tech farm equipment from Austria. Today's organic farmers operate some of the most high-tech machines seen in the industry. Hatzenbichler technology includes GPS RTK guided planters and cultivators, rotary hoes, sophisticated spray rigs, and tine weeders. ###