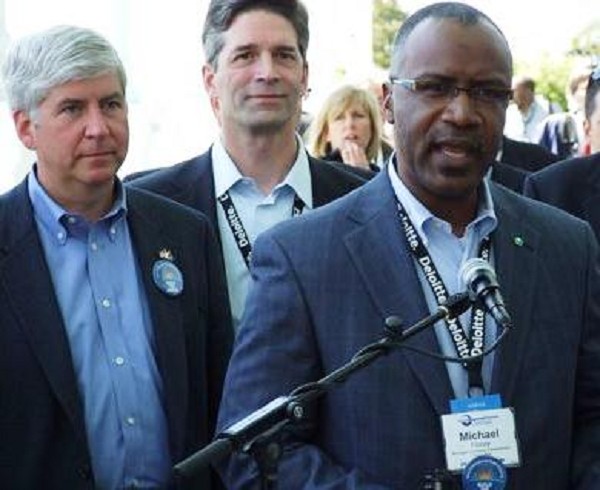 Mike Finney, right, with Gov. Snyder and DTE Energy CEO Gerard M. Anderson. (Photo courtesy of voiceofdetroit.net)
---
ENTREPRENEURIAL FAIR: Area Business, Education Leaders Aim at Jobs, Poverty
Community Venture's Mike Finney to Deliver Keynote Address
August 31, 2016
By: Dave Rogers
It is a widely held belief that small businesses are the key to the economy.
So, it is good news that area growth agencies are kick-starting efforts to help those who start small businesses -- entrepreneurs.
And, area leaders with vision like Matt Felan, head of the Great Lakes Bay Regional Alliance and Donald Bachand, president of Saginaw Valley State University, are seeing new small businesses as a key to Michigan's growing poverty.
No idea could be more positive, or more timely.
"Every company started with an entrepreneur that had a dream and they were able to turn their dream into a reality; we now have resources to assist those looking to branch off in that direction," said Erin Strang, President, and CEO of Central Michigan University Research Corporation.
The Great Lakes Bay Regional Alliance announced today that it will be hosting its first ever Entrepreneurial Fair on Friday, September 30th at Saginaw Valley State University (SVSU).
Mike Finney, President, and CEO of Community Ventures Resources, Inc. and an SVSU alumnus, will deliver the keynote address at the Entrepreneurial Fair. Carol Cain, Detroit Free Press columnist, wrote of Finney: "He left his job Oct. 31 (2015) as senior economic growth adviser to Gov. Rick Snyder to become CEO of Community Ventures of Michigan, an offshoot of Community Ventures, which he started with Snyder's blessing in 2012.
"Its mission - Put more structurally unemployed people into jobs and help them stay as a way to address poverty.
"A structurally unemployed person is one who has been without a job at least a year and often much longer. Many have spotty work experiences, lack education and training."
Finney earned a bachelor's degree in Administration at SVSU and a master's in Human Resources at Central Michigan University, Mt. Pleasant.
He was senior vice president and general manager of Thomson Ball Screw in Saginaw from 1987 to 2000 and then was president of Greater Rochester (New York) Enterprise from 2002 to 2005.
Finney first worked with Snyder at the Michigan Economic Development Corporation (MEDC) while Snyder was board chairman. Finney then worked at SPARK, Ann Arbor economic development organization, and led the MEDC before becoming the governor's adviser.
Community Ventures, a 501c public-private entity based in Ann Arbor, targets areas experiencing poverty and joblessness, such as Detroit, Saginaw, Pontiac, and Flint. But the goal is to expand, wrote Ms. Cain.
CVR is a "social impact" consulting team that assists communities with development and execution of strategic plans designed to create a pathway out of poverty for populations who are disconnected from employment resources.
According to the U.S. Census in 2014, 16.9% of Michiganders lived in poverty with Detroit at 39.8%, Saginaw at 35.5%, Flint at 41.6% and Pontiac at 37.8%.
In 2012, the most recent year for which data are available, the poverty threshold for a family of four was $23,492.
"Our plan calls for the expansion ... into other Michigan communities with poverty rates exceeding 20%," Finney said. "Based on the current budget, Community Ventures is assisting 1,200 placements annually. Given there are approximately 150,000 - 200,000 Community Venture-eligible people throughout Michigan, we plan to ramp up to 10,000 placements annually by 2020."
Worker retention among the structurally unemployed has been a challenge. Such employees leave for reasons including lack of transportation to lack of day care. This at-risk pool includes ex-offenders, unskilled workers, those who suffer from illiteracy and more.
Finney is addressing transportation concerns through innovative deals with Uber and Metro Easy Ride to provide subsidized transportation as well as provide bus passes and gas cards to help people get to and from work.
Finney said the program is achieving 70% job retention overall, which is higher than the 30% typically associated with at-risk workers.
The Entrepreneurial Fair will take place from 8:00 am - 12:30 pm at Curtiss Hall. There will be two panels featuring regional entrepreneurs as well as entrepreneurial programs located within the Great Lakes Bay Region. The event is open to the public and is free of charge for attendees.
"The Great Lakes Bay Region is home to an incredible array of entrepreneurial expertise," said Matthew Felan, President & CEO of the Great Lakes Bay Regional Alliance. "We hope that the Entrepreneurial Fair will help link those people in the region who would like to start their own business with programs, funding, and resources that are readily available."
Various regional institutions will be participating in the Entrepreneurial Fair including the SVSU Dow Entrepreneurship Institute, Central Michigan University Research Corporation, Northwood University, MidMichigan Innovation Center, Small Business Development Centers at Delta College and Mid Michigan Community College, Bay Future, the Midland Business Alliance, Middle Michigan Development Corporation, and Saginaw Future.
"SVSU is committed to community engagement and working with regional employers in many different ways. Having our Dow Entrepreneurship Institute host this Entrepreneurial Fair with the Great Lakes Bay Regional Alliance and other stakeholders is an ideal way to support more economic development in our community," said Anthony Bowrin, interim dean of SVSU's College of Business & Management. "The fair will provide many opportunities for participants to network, share ideas and resources, and collaborate on initiatives that will facilitate business and economic activity and increase high-paying jobs."
The Entrepreneurial Fair will also include a 90-minute segment where aspiring entrepreneurs will have time to meet one-on-one with representatives from various regional institutions, to discuss their programs and potential partnerships firsthand.
Entrepreneurial Fair Agenda:
7:30 am - Registration & Continental Breakfast
8:00 am - Welcome - President Donald Bachand, SVSU
8:05 am - Opening Remarks & Keynote Introduction, Matthew Felan, GLBRA
8:15 am - Keynote - Mike Finney, President & CEO of Community Ventures Resources
9:00 am - Entrepreneur Panel (Successful Business Owners/Entrepreneurs)
10:00 am - Entrepreneurial Program Panel (Institutions & Organizations)
11:00 am - Institution Booth Visits & Networking
12:30 pm - Closing Remarks
About the Great Lakes Bay Regional Alliance: The mission of the Great Lakes Bay Regional Alliance is to encourage, support and celebrate regional collaboration and initiatives that will improve the economic vitality and quality of life in the Great Lakes Bay Region. The Great Lakes Bay Regional Alliance is comprised of 48 Board Members who represent Bay, Isabella, Midland and Saginaw counties. www.greatlakesbay.com
###