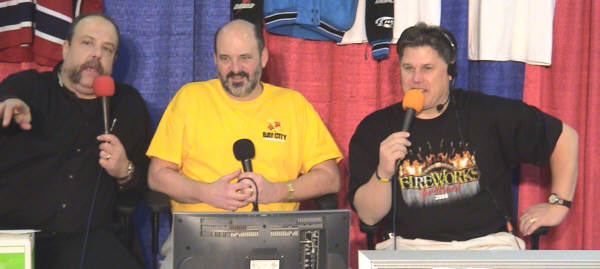 Auctioneers Dave Shore, Jeff Doan and Mike Gwizdala lead the way during the 2006 Fireworks Telethon at Labadie this past weekend.
---
33 Hour Telethon Hopes to Raise $20,000
For 4th of July 2006 Fireworks
2-Day Effort of Auctioneers, Entertainers & Volunteers Make Event a Success
February 26, 2006
By: O. J. Cunningham
The clock read 3:00 pm on Sunday afternoon.
Mike Gwizdala, one of the auctioneers for the Bay City Fireworks Telethon looked up at the "Money Tote Board" which read $10,315 and a smile came to his face.
"I think we're about $2,000ahead of last year at this time," Gwizdala said. "There's a pile of dollars out there that's been bid and not collected yet," Gwizdala went on. "I think we'll be close to our $20,000 goal.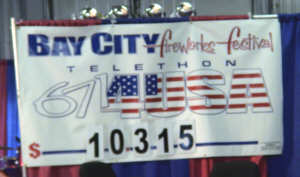 Gwizdala, along with fellow auctioneers Dave Shore and Jeff Doan had been in front of the cameras for most of Saturday and Sunday trying to coax bids from viewers of Charter Channel 16 and Bay3 TV.
The annual event was being telecast live from one of the car maintenance bays at Labadie Motors at 711 S. Euclide on Bay City's West Side.
Fireworks fundraising chairman, Doug Clark made every effort to thank Labadie and a host of local volunteers that made the event possible. "There's so much energy in this building. Everybody's doing just a wonderful job," Clark said.
---
--- Advertisements ---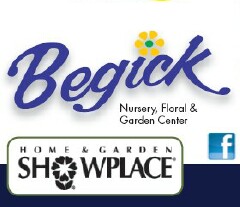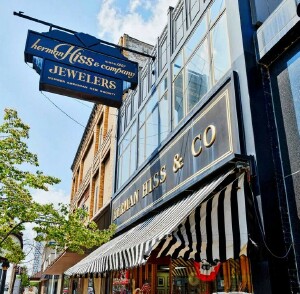 ---
Below:(Left) Mary Ida Doan mans the computer control center - logging bids from phone calls and relaying the info to the on-air auctioneers. "It can get pretty hectic when all the phone are ringing at the same time. (Right) Volunteer Gina Latour keeps the"Bid Board" up to date. "The action gets fast and furious," Latour said, between making notes on the "Bid Board" that will then be relayed to the auctioneers.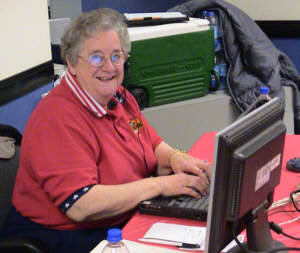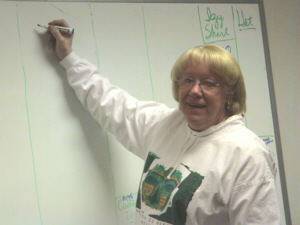 ---
Sadie the "pan-handling" Golden Retriever was a big hit with everybody at the fireworks telethon inside Labadie's. Sadie, a nine-year-old female, owned and trained by fireworks booster Chuck Leibrant "worked the crowd, "begging" for dollars and then efficiently placing the money in the appropriate depository. "Sadie really knows how to work a room," Leibrand laughedwarmly.
Below:(Left) Nine-year-old Lauren Legner offers a dollar bill to Sadie, who politely takes the donation and heads for the "bank." (Right) Laekyn Legner (Six-year-old sister of Lauren) gets into the act and carefully offers a dollar donation to Sadie.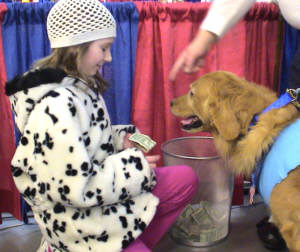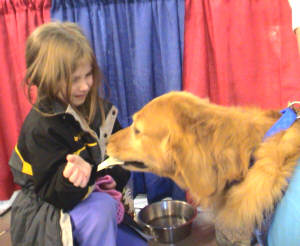 ---
The Bay City Fireworks Festival Telethon hopes to raise $20,000 to offset the cost of the Bay City 2006 Fireworks, scheduled July 1, 2 & 3.
Fundraising Chairman and festival president Doug Clark says that the committee has already trimmed $20,000 from last years' budget but costs for the 2006 celebration will still come in around $160,000.
(Below) Doug Clark (2nd from right) hands out praise for a group of telethon volunteers during the television fundraiser on Sunday. Pictured are: (L/R) Dick Roby, Joanne Weiler, Bill Sibert, Clark and Mike Buda.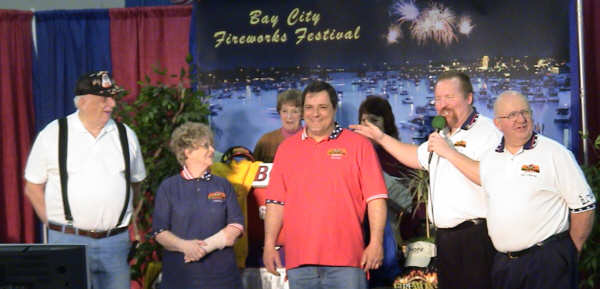 ---
--- Advertisements ---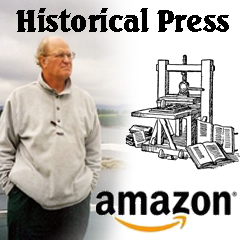 ---