Disastrous Sinking of Sultana on Tap Wednesday for Civil War Round Table
Bay County Sent 500 Soldiers to Fight, Jerry Pergande Tells Group
March 5, 2006
By: Dave Rogers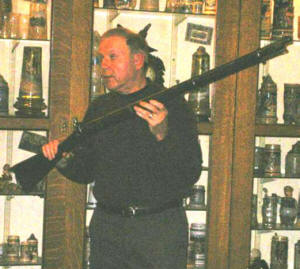 Attorney and Civil War historian Jerry Pergande displays a musket at a recent meeting of the 7th Michigan Cavalry Civil War Round Table.
The 7th Michigan Cavalry Civil WAR Round Table meets Wednesday, March 8 at the Stein Haus, 1108 North Water Street, on Bay City's east side.
Keith Markstrom will present the topic "Sinking of the Sultana", the worst maritime disaster in the history of the United States. Designated to transport Union soldiers back to their northern homes after the war ended, the Sultana sank in the Mississippi River with an estimated 1,800 lives lost.
Not much was ever known about this tragedy as the war had just ended and the country was stunned by President Lincoln's assassination followed by the death of his murderer John Wilkes Booth a couple of weeks later.
Some researchers contend the devastation could have been averted or significantly reduced except greed and corruption and cover-up led to very poor judgement at various levels of responsibility.
The program begins at approximately 7 p.m. with a $5 charge for admission. Folks are invited to have dinner on their own starting at 5:30 p.m. For more information on the organization please contact Dee Dee Wacksman at 892-1136.
At last month's well attended meeting, Attorney Jerry Pergande told the group that Bay County sent more than 500 men to fight in the Civil War. Some 63 were killed or died of disease, he said.
The Bay County men served in many different regiments hailing from all over the country, he said. The 1st Michigan Infantry, sent to Washington in 1861, had six Bay soldiers when it was involved in the Battle of Bull Run, the first major Blue-Gray conflict.
Mr. Pergande said it is believed that Edward E. Hart, formerly a Bay City fish merchant, was the first local casualty, having been killed at Fredericksburg in late 1862. He is buried in Pine Ridge Cemetery.
Some 13 Bay County men were in the Saginaw City Light Infantry, all of them being over 30 years of age, Mr. Pergande reported. Twelve local soldiers were in the 14th Michigan that became a cavalry regiment, he said.
Col. Henry Raymond Sr., a former state legislator, helped recruit the 23rd Michigan Infantry Regiment from volunteers from the Sixth Congressional District, a huge area comprising most of central and northern Michigan and several counties of the Upper Peninsula. His son, Henry S. Raymond, became a captain in Company F of that regiment. They recruited 62 men from Bay City and some from Port Austin for that unit, according to Mr. Pergande. John McKinney of Portsmouth Township was second lieutenant in Co. F.
Some 983 men from this region marched to the railroad station in East Saginaw in a rendezvous for the 23rd Michigan, he said.
The unit was sent to Nashville and then to North Carolina, where many of its members ended up in a prison camp in Salisbury.
Col. Raymond ran a stationary store at 810 N. Water Street. He died in 1904 and his sword, given to him by local citizens, is in the Bay County Historical Museum.###