Red Cross Community Disaster Response Program Slated for Rotary Tuesday
Saginaw Spirit Manager-Coach Bob Mancini, PR Director Knowles Speak
March 5, 2006
By: Dave Rogers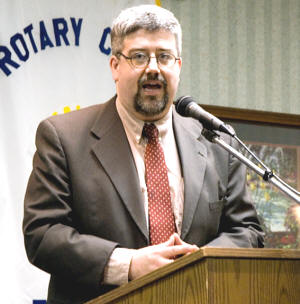 Cameron Knowles of the Saginaw Spirit at Bay City Rotary.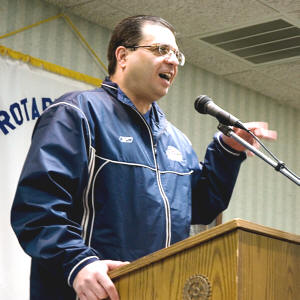 Bob Mancini Saginaw Spirit at Bay City Rotary.
THIS WEEK'S PROGRAM: Red Cross Community Disaster Response
LAST WEEK: Bob Mancini and Cameron Knowles of the Saginaw Spirit hockey team.
The success of the Saginaw Spirit has been, well, inspirational, Manager-Coach Bob Mancini and Communications Director Cameron Knowles told Rotarians last week.
The Saginaw Spirit is an ice hockey team from Saginaw, playing in the Ontario Hockey League, one of the leagues of the Canadian Hockey League. The Spirit play at Wendler Arena (capacity 5,497), which is part of The Dow Event Center complex in downtown Saginaw.
The Spirit is in the playoffs and have a big week on tap: Friday and Saturday they play at Sarnia, Ontario, and Monday they face off against Windsor, Ontario.
The Saginaw Spirit hockey club will sell playoff tickets to the general public for the first time in team history, starting Wednesday, March 8th. The Spirit Store, 5789 State Street, will be open starting at 9 a.m.
At that time, the Spirit will honor the team's 500,000th fan, who will receive a special jersey and the first two tickets to the first Saginaw Spirit playoff game.
The Saginaw Spirit is rounding up the fans and heading to Plymouth for the final game of the regular season against the Whalers on March 18th. The Bus will depart from the Horizon's Conference Center (near the old Spirit Store) at 5 p.m. The $25 price tag includes admission to the game and transportation. Deadline to catch the bus is March 10th. Sign up today at the Spirit Store, 5789 State Street, Saginaw or e-mail Lindsay McDougal at lmcdougal@saginawspirit.com for details.
The Spirit has achieved success through a variety of team promotions, many emphasizing youth, according to Mr. Knowles.
On Dec. 28, 2005, the Spirit passed 500,000 in total ticket sales since September of 2002. In franchise history to date, the Spirit have welcomed more than 555,000 fans. The Spirit have drawn 131,054 fans through 31 home games this season, an average of 4228 fans per game.
UPCOMING PROGRAMS:
Mar. 14: Vocational Day
Mar. 21: Vocational Day
Mar. 28:Fred Funston, Saginaw Correctional Institution, Freeland
April 4: Melinda Boysik says goodbye
April 11: Gloria Woods, explaining ballot initiative on affirmative action
MAKEUP INFORMATION
eClub-One: Members with internet connections are encouraged to visit eClub-One monthly for a makeup. To get makeup credit you need to fill out the makeup form on that site. Print the acknowledgement for you receive and turn it in to receive credit. Be sure to enter our club's district number (6310) on that form. Click this link to open eClubOne in a new window: www.rotaryeclubone.org.
MEETING INFORMATION
The Bay City Rotary Club meets at Noon each Tuesday at the Bay City Plaza Hotel (formerly the Holiday Inn).###