REVITALIZE HOPE: Habitat for Humanity, New Dimensions Join Forces
January 8, 2017
By: Dave Rogers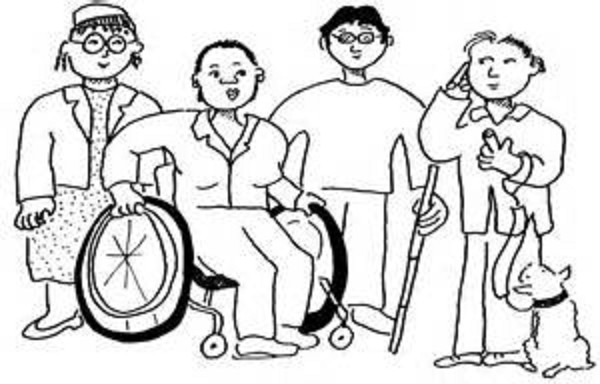 Both agencies are grateful for this funding that enhances the important service being done at Bay County Habitat for Humanity and New Dimensions
Together we are stronger!
Two local non-profit agencies, Bay County Habitat for Humanity and New Dimensions, have come together for a year-long project to enhance the critical services provided to individuals and families in our community.
Over the past few years, volunteers from New Dimensions, a vocational training organization serving adults with disabilities, have been active at Habitat for Humanity, helping it meet its Mission to --bring people together to build and revitalize home, community, and hope.
Bay County Habitat for Humanity provides gently used furniture and building supplies at the ReStore and has built or repaired many homes for local families in need.
The Bay Area Community Foundation approved the grant with the support of the Dow Chemical Company Foundation Community Donor-Advised Fund. As a result, this project will not only continue providing valuable volunteer services to Habitat for Humanity but will also give basic home repair skills to individuals who previously did not have the opportunity or tools to make simple repairs around the house.
During training, each person will receive a basic tool kit, increasing the opportunity to put newly developed skills into practice.
Both agencies are grateful for this funding that enhances the important service being done at Bay County Habitat for Humanity and New Dimensions, while at the same time benefitting hundreds of people in our community.
Through volunteer labor and tax-deductible donations of money and materials, Habitat for Humanity builds and rehabilitates simple, decent houses with the help of the homeowner (partner) families. Habitat houses and home repair services are sold to partner families at no profit and financed with affordable loans. The homeowners' monthly mortgage and repair payments are recycled into a revolving Fund for Humanity that is used to build and revitalize more houses.
Donations to Habitat for Humanity are used as designated by the donor. Gifts received by us that are designated to a specific building project are only utilized for that project. Any undesignated gifts are used where most needed. Our most recent audited financial statement is available upon request. Go to our donations page to find out all of the ways that you can give to Habitat to support our mission.
Whether in the U.S. or overseas, families in need apply to local Habitat affiliates. The affiliate's family selection committee considers applicants' level of need, their willingness to become partners in the Habitat program and their ability to repay the no-interest loan. Every affiliate follows a nondiscriminatory policy of family selection. Neither race nor religion is a factor in choosing Habitat homeowner families. If your family, or a family you know, is in need of decent, affordable housing or repairs, please check our Housing Solutions page where you will find information on the availability, size, costs, and sweat equity requirements for Habitat houses in our area, as well as information on the application process.
Habitat's Board of Directors determines policy and monitors operations in accordance with Habitat for Humanity International and standard non-profit guidelines and regulations. Board members are dedicated volunteers who are deeply concerned about the problems of poverty housing in our community. Bay County Habitat for Humanity operates with a small administrative staff, assisted by a few clerical and support employees and supplemented by long-term and short-term volunteers.
Habitat is a worldwide, grass-roots movement. There are more than 2,100 active affiliates in 100 countries, including all 50 states of the United States, the District of Columbia, Guam and Puerto Rico. Use the Habitat for Humanity International search to find Habitat Affiliates, ReStores, and events in other areas.
Concerned citizens from all walks of life come together as volunteers to form a Habitat affiliate in their community. Fundraising, house construction, family selection and other key decisions are carried out by the local affiliates. HFHI headquarters, located in Americus, Ga., provides information, training, support and other services to Habitat affiliates worldwide.
New Dimensions is a Rehabilitation facility in the Bay County area working to make that dream a reality by helping people find work and earn a fair and competitive wage.
19.3%* of Americans have some type of long-lasting disability. As a vocational rehabilitation center, New Dimensions helps empower adults with disabilities to reach their highest level of independence through work-related skill building and employment services.
We are in a constant state of expansion in order to best serve the needs of our clients, assisting these individuals to push past their barriers and move toward a firmer economic stability. Since people with disabilities make up the largest minority group in the United States, our efforts also promote tolerance and diversity within our community by inclusion through employment.M
New Dimensions is continually working on fundraising events to improve the day-to-day operations for everyone we serve. The agency strives to maintain a budget of reduced dollars for services, as we competitively battle for production jobs in an attempt to keep pace for continued growth. The agency has recently moved to a new facility. New Dimensions is committed to its mission of improving the quality of life for all of its participants. Thoughtful Estate Planning is one means we have to help others recall New Dimensions' values. For example, consider the effect of a plan that includes not only provisions for family members, but also provides resources to organizations like New Dimensions. An estate gift makes a positive statement and provides needed funding for an agency that is trying to improve the quality of life for all of its participants.
Estate Gifts are especially valuable, not only because they tend to be larger than annual gifts, but also because they often come at critical times. They provide that extra boost to the budget that can make the difference between funding an expansion project or making a necessary building repair.
An Estate Gift Or Donation Encourages Imitation. There's something about a well-planned estate gift that influences others to "go and do likewise." As friends and family members plan their own estates, they may recall your generosity and thoughtfulness.
All donations are tax-deductible and can be targeted and used in accordance with the wishes of the donator. Although it is the mission of our agency to prepare people for work, we also realize the importance of field trips and/or social events. Assisting with the financing to one of our social events is just another way to set the table and be part of a memorable "Quality Life Experience" for our agencies participants.
Anyone wishing to make a contribution can make their check payable to "New Dimensions" and mail a donation to:
New Dimensions, 2 Johnson Court, Bay City, Mi 48708.