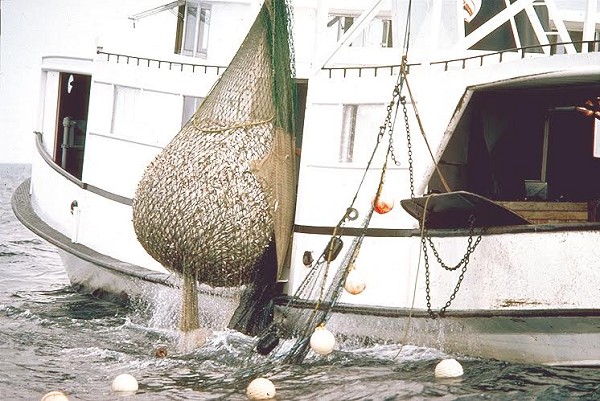 Commercial netting of fish inevitably traps many non-net legal species.
---
WALLEYE THREAT? Iosco, Au Gres Fishermen Fear Commercial Legislation
February 28, 2017
By: Dave Rogers
Fishermen from Iosco County and Au Gres met last Friday at the Town & Country sports lounge on US-23 to gin up opposition to a draft proposal to allow commercial fishermen to keep any walleye found in their nets.
Michael Veine, of Au Gres, a charter boat captain, of the Walleyes for Iosco club, posted the following message on the club's website:
"FYI, there is a new Bill that will be introduced shortly to the Michigan Senate that will allow commercial fishermen to keep the walleye they catch (by catch).
"This bill was crafted behind closed doors by DNR brass and commercial fishermen with no input from sports fishermen and they are trying to sneak it into law. It is currently still in Legislative Services and has not been introduced yet but a draft of it leaked out this past week.
"Besides being able to keep walleyes, there are many other very bad aspects of this bill that will be disastrous to our fisheries. I urge you to phone and write your state Senators and Representatives to stop this."
See: www.trophyspecialists.com/Commercial Fishing Bill Draft.pdf
Although the proposed bill, reportedly attributed to Sen. Mike Green, R-Mayville, would allow commercial fishermen only to keep the by-catch (walleye found in nets while fishing for other species), the fishermen fear approval of the bill will lead to increased depredation of the walleye to the detriment of the sport fishing industry.
The proposal would amend Act 451 of 1994, which reads in part: "BYCATCH" MEANS THE NON-TARGET, NON-LEGAL, OR UNDERSIZED FISH THAT ARE INADVERTENTLY CAUGHT IN COMMERCIAL FISHING GEAR WHILE IN THE ACT OF FISHING FOR LEGAL COMMERCIAL FISH SPECIES."
The fishermen reportedly are concerned that their efforts at planting walleye fry over the past decade or so will be diminished by the proposed new policy.
The DNR website states: "In 1974 the DNR placed a ban on large-mesh gill nets in all Michigan waters of the Great Lakes because of their detrimental effects on efforts to rehabilitate lake trout and expand the newly established salmon fishery.
"The elimination of gillnets from the state-licensed fishery took many years to fully implement due to an exhaustive court battle. In the end, most fishers successfully switched to trap nets but some simply chose not to continue in the state-licensed fishery due to the lost access to gill nets. "By 1981, the number of commercial licenses had decreased to 120 with a total harvest of approximately 10,800,000 pounds with alewife, channel catfish, carp, and lake whitefish continuing to account for much of the catch.
"Fisheries in Saginaw Bay and Lake Erie harvest a diverse array of fish species including common carp, catfish, quillback, buffalo, gizzard shad, bullhead, goldfish and some whitefish. There's also a lucrative yellow perch fishery that is unique to Saginaw Bay. However, outside of those areas, the state-licensed commercial fishery on the Great lakes is essentially for a single species - lake whitefish."
The yellow perch fishery in Saginaw Bay produces between 35,000 and 80,000 pounds a year and has the potential to be larger, but the perch population isn't there in historic numbers, according to the DNR. Changes in Great Lake productivity due to invasive species like quagga and zebra mussels are believed to be behind the declines in these popular commercial species. The report continues:
"As with all types of fishing, if there are more fish in the water, there will be more fish caught. Strict restrictions on the number of commercial licenses and amount of gear the fishermen can use guarantees that the fish stocks are not overexploited. If fish populations go up, the catch goes up. If they go down, the harvest will soon follow. If the number of licenses and amount of gear wasn't fixed, the fishery could simply use more gear and continue to fish the stocks harder as they declined. This was common practice within the commercial fishery in the 1940s, 50s, and 60s but that isn't the case now. Today Great Lakes commercial fishing is small and well-regulated enough that it no longer determines fish populations as it did many years ago. Now the driving force behind fish stocks in the Great Lakes is invasive species. They're ultimately the determining factor in what our fish populations look like."
The Michigan DNR (Department of Natural Resources) recently posted this report on Saginaw River fishing:
"Saginaw River: Had lots of fishing activity with all the boat launches from Saginaw to Bay City open and useable. There are lots of undersize walleye in the river as many reported catching 50 to 75 short ones in order to get 5 or 6 fish over 13 inches. Most are using bright colored jig heads with shiners or plastic scented tails but some were jigging Rapalas. The best fishing seemed to be in the middle of the shipping channel in the deepest water. Most were vertical jigging but some would anchor and cast."
###