ST. PATRICK'S DAY: Parade Association Events Start Saturday
Bay County TV to LiveStream Sunday's St. Patrick's Day Parade
March 17, 2017
By: Dave Rogers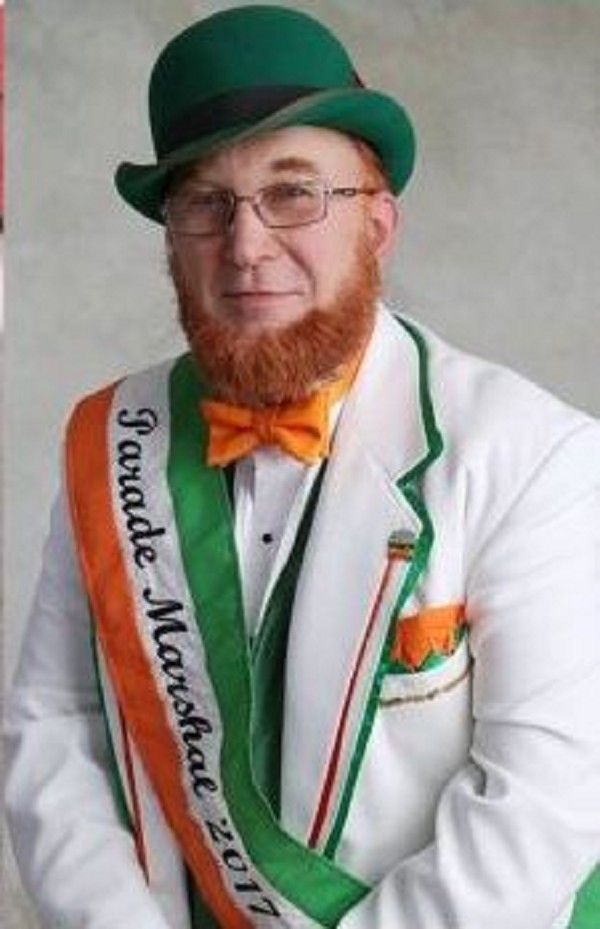 Rob Schmidt, this year's St. Patrick's Day parade marshal, poses in all his "Irish" glory.
Bay County TV will be live streaming the 63rd Annual Bay City St. Patrick's Day Parade this Sunday starting at 2 PM. To watch visit Charter Communication Channel 190 or www.youtube.com/baycountymi and click the LIVE NOW video on Sunday at 2 PM.
Parade Association events begin Saturday:
Church Service, Saturday, March 18, 2017 -- 4:00 pm
Please join our Parade Marshal Rob Schmidt, our 2017 Queens Court and association members at a church service honoring St. Patrick.
Location: United Church of Christ, 1710 S. Wenona Street, Bay City, MI 48706 (corner of Wenona & Chestnut)
2017 Irish Ceili (Kaylee) Party
Saturday, March 18, 2017 -- 7:00 pm to 11 pm
Please join our Parade Marshal, Queen, Princess, and St. Patrick's Day Parade Association members at Lumber Barons restaurant for a fun and relaxed evening of canapes as you listen to our DJ and visit with friends. Tickets are $20 a person. Please contact Lisa Kreh at (989) 402-1500 or Leslie Walsh at (989) 891-9709 for tickets and information. Here is a link to the 2017 Irish Ceili flyer. Location: Lumber Barons Brewery (www.lumberbaronsbrewery.com), 804 E. Midland Street, Bay City, MI 48706
Flag Raising Ceremony, Sunday, March 19, 2017; 10:00 am
Location: Bay County Building, 515 Center Avenue, Bay City, MI 48708
63rd St. Patrick's Day Parade, Sunday, March 19, 2017; 2:00 pm
**Please bring a non-perishable food item donation to the parade to benefit the Safe Harbor Community Center. Items will be collected on the parade route.**
Location: Center and Park Avenues to Downtown Bay City
Bay City's parade began in 1955 and has grown to an event that has become a celebration for the Irish and Irish at heart. The first St. Patrick's Day Parade was on March 17, 1955, at 5:30 p.m. The parade started at Center Avenue and Monroe Street and disbanded at City Hall on Washington Avenue. Mr. Jim Noonan was the Parade Marshal and 10,000 people attended the parade. Sheila Tennant was the St. Patrick's Day Queen riding the St. Patrick's Day float that featured a harp theme. Parade participants included:
Central High School Marching Band, Local Boy Scout troops, Auburn Accordion Marching Band, Knights of Columbus Fourth Degree Drill Team, AAA Furniture, Michigan Bell Telephone, Gillman Plumbing, Sabourin Drugs, Munger Civil Defense Unit.
Past parades have featured the Notre Dame marching band and pipe bands from the U.S. and Canada. Among the marchers in the parade have been Michigan's governor, Uncle Sam and a "bonafide" leprechaun. Horses, motorcycles, and Irish Wolfhounds have all been in our parades.