Rotary Receives Update On Saginaw Bay Symphony Orchestra
April 4, 2017
By: Stephen Kent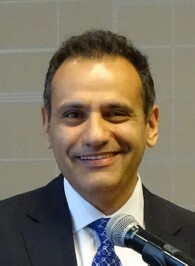 Maestro Fouad Fakhouri
Last Tuesday
Maestro Fouad Fakhouri
, who was appointed music director of the
Saginaw Bay Symphony Orchestra
(SBSO) last June, spoke to Rotary. Fakhouri talked about the direction of the orchestra, some of the upcoming events, and his vision for the orchestra and it's role in the region.
Fakhouri was born in Lebanon and currently lives in New York. He talked about his own introduction to music. Born to educated and musical parents, he started violin at age 3 then changed to the piano at age 5. Like many children, he drifted away from music for a short time until starting piano again at 9.
Until age 14 Fakhouri didn't take his lessons seriously. Eventually, his music teacher told his father that he was wasting his money on lessons. His father, a surgeon who also played church organ, told Fakhouri that but also said: "I'm not going to stop paying for lessons."
So at 14 Fakhouri became serious. With his father's encouragement, he moved to Texas in his later teens then went to Penn State where he studied composition. Realizing that as a composer he was not working with other musicians and audiences he changed to major in conducting.
Today's education system puts much less emphasis on music and arts programs. Fakhouri talked about three programs this weekend that aim to show young people the impact.
"As a youngster my first exposure to classical music today was the music that accompanied the Marlboro Man commercials and themes like that of the Magnificent Seven." One of the three performances this weekend will be a free young people's concert titled "Heroes and Villains" that will feature classical style themes from popular movies.
In answer to a question, Fakhouri noted that Michigan is known for top-ranked university music programs. The members of the SBSO play all over the region. He said "we only have one or two rehearsals for performances like this weekends. It takes top flite professionals to pull that off."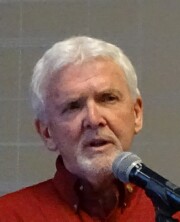 Mike Stoner
Mike Stoner
, former Bay City Club President now with the Northern Bay and Arenac club in Pinconning, spoke briefly about the upcoming
Saginaw Bay Nature Festival
, which that club will hold this April and May.
The Nature Festival has become the major project and fundraiser for the Pinconning club. Sponsored by
Northwoods Wholesale Outlet
, the event features speakers at the club's regular meeting, public habitat tours, and contests for students.
The Festival concludes with a
Nature Festival Banquet
held at the
Saganing Tribal Center
on Saturday, May 13th. Activities there will include:
Nature-based artwork submitted by students in the region will be on display at the Tribal Center. Winning students selected by Studio 23 will receive their awards at the banquet.


A silent auction of selected student artwork will be held.


High school representatives will report on the implementation of their conservation projects developed as part of the nature festival. This will include images of the interpretive signage developed by local students for Pinconning County Park. Images will be part of a silent auction.


Several items will be available for raffle, including two kayaks & paddles, a smoker, a felted birdhouse, nature quilt, and other items.


The dinner will be catered by H&H Bakery of Pinconning.


The program will begin at 5:30 p.m. Tickets cost $25 and are available at Chemical Bank in Pinconning.

In addition to the public programs listed on their schedule, the club will also


Hosts all local 4th-grade classrooms on a half-day guided tour of Pinconning County Park. In advance of the tours, club members will do programs in each classroom on wildlife expected to be seen at the park to prepare the students for their tours.


The club will provide many dozens of native trees and shrubs to local high school students to plant during the festival.

For more information visit www.facebook.com/ and search for "Rotary Saginaw Bay Nature Festival".
---
CLUB NEWS and ANNOUNCEMENTS
The board meets this week
April 11 at 11:00 before the regular meeting.
Everyone is welcomed.
Agenda, minutes, treasurers reports and other information is in the member's area of the club web site.
Past President
Brenda Scramlin
took up some un-finished business. Member
Frank Janca
spends the winter in New Zealand but is back now. Brenda presented Frank with a special pin from RI that recognizes Frank for his efforts recruiting new members to Rotary. Thanks, Frank! Keep up the good work.
Dee Dee Wacksman
recently spent time in Florida where she attended Rotary meetings. She said that the common term in Florida is
"Snow-tarians"
.
The
Zombie Run
committee has begun meeting. If you're interested in helping see
Chris Girard
.
The club is planning a
PICNIC
as the next "club social". The event will be held June 10 at Discovery Preserve on Euclid. There will be food and activities for the entire family. Put it on your calendar NOW.
Raffle tickets are still being sold for the George Lewis paintings to be given at the
District Conference
in May. Purchase tickets for your choice of painting for $20 each. The paintings are 16 x 20 inches and beautifully framed. Each club is asked to sell 10 tickets.
Dee Dee also reported that 28 Rotarians from the district have signed up for the International Convention to be held in Atlanta in June.
Bill Gates
is to be the keynote speaker for the event.
Current and past
DISTRICT DISPATCH
newsletters are available on the District site shown in the LINKS section below.
---
DATES TO REMEMBER
OFF SITE Meeting
-
May 16
At the Delta College Planetarium.
(Also June 6)
District Conference
May 19, 2017 - May 20, 2017: D'Mar Banquet and Conference Center, Owosso.
Club Social PICNIC
. Saturday, June 10, 2017. Discovery Preserve on Euclid Avenue. Food and activities for the entire family!
Golf Outing
- Monday, June 19, 2017
June 10-14, 2017 Rotary International Convention - Atlanta, Georgia, USA
www.RotaryConvention2017.org
OR
www.RIConvention.org
Dee Dee Wacksman, District Chair
July 25, 2017 - July 26, 2017
District 6310 to Tour One Rotary Center. Group to take Amtrak train to Chicago.
November 7, 2017 - Vocational Day
---
Upcoming Programs
(See the official schedule at RotaryBayCity.org )
April 18, 2017 - Tall Ship Celebration Recap
presented by Shirley Roberts and Scott Ellis.
April 25, 2017 - "A Jewel In Our Midst, Where an Artist's Legacy Is Preserved".
Marilyn Wheaton, Director of the Marshall M. Fredericks Sculpture Museum at Saginaw Valley State University, will share her expertise on how a renowned 20th-century American sculptor's life and work are making an impact on the Great Lakes Bay Region.
May 2, 2017 - Humane Society of Bay County
. The first week of May is "Be Kind to Animals" week. Jeannie Nichols will update the club on the Humane Society's activities and their new building for operations.
---
Current and past
DISTRICT DISPATCH
newsletters are available on the District site shown in the LINKS section below.


Rotary Bay City on Facebook!
Click on the Blue Facebook to visit us there.

Remember! Check attendance sheets at the front desk.
---
LINKS