10 Minute Rotarians Speak At Rotary
April 11, 2017
By: Stephen Kent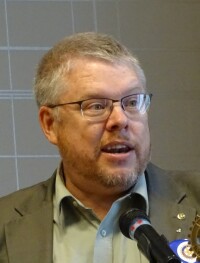 Erv Hutter
Tuesday the Rotary Club enjoyed one its favorite program as two members presented "Minute Rotarian" talks about themselves.
Erv Hutter
, a Bay City native whose family has been in the area for six generations, spent much of his life away from the city. Today he and his wife live here. His oldest son is at EMU, his daughter is at Oakland College, and his youngest son is a Junior at Central High.
After graduating from Zion Lutheran, Erv went to Delta, MSU and graduated from SVSU. His major was Political Science. Working his way through school, Erv changed majors to History and got his BA.
Politics was always a love and Erv worked on many campaigns, including Jimmy Carter's first run and John Glen's early run. He worked in the offices of Tom Hickner and Jim Barcia and made his own run for office. For several years he was the Sergeant at Arms for the Democratic Party ("which meant I was in charge of getting the beer for after the meeting", he said).
Erv's career ranged from night manager at a Burger King to a number of positions with Sears. He ended up as an Asset Protection manager (security). From Sears Erv went to Innovative Technologies in Saginaw and sold Voice Over IP phone systems.
Boy Scouts has been a lifelong love. As an Eagle Scout and Lodge Chief of the Order of the Arrow chapter, and 15 years on the Scout Camp staff, Erv served as a Scout Executive in rural Wisconsin for five years.
At age 40 Erv felt the calling and took his family to Seminary in St. Louis. His first congregation was in Taylor, near Detroit. When he received a call from Pilgrim Lutheran in Essexville, Erv found his way home to the community he loves.
Erv is a long time Rotarian and joined this club in 2016.
---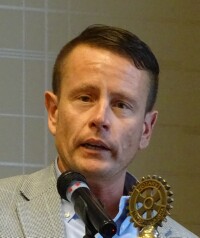 Ryan Carley
Ryan Carley
was born in Flint in 1975. "The water may have had an effect on me, maybe not." Raised by a single mom since age 3, Ryan grew up in a small house where his RN mother had a distinctly blue color outlook on life.
In high school, Ryan was given the assignment to spend a day with someone he admired. He chose his Grandfather, a bank executive that had not really been a part of Ryan's life. Much to Ryan's surprise, when asked, his Grandfather said "absolutely"! Ryan spent a day in downtown Flint and saw firsthand a life and career he had never known. "This is stinking cool!" he remembers thinking.
Ryan became a good soccer player and was recruited on scholarship to Cedarville College. In only two months he blew out his ACL, ending his scholarship. A high school friend said told him that Grand Rapids Baptist was reinventing itself and change the name to Cornerstone and the coach wanted to meet Ryan.
Ryan moved to Cornerstone, barely a quarter the size of Cedarville, and played soccer there. He earned a business degree and met some of his best friends. He also learned that, although very small, Cornerstone was the source of some very good connections.
One of Ryan's first jobs was bussing tables at a restaurant. The owners were immigrants from Italy and became his mentors. They had moved to a new country and built their dream.
Ryan worked in a Ski and Golf store and honed his sales skills. He saw his Grandfather's philosophy at work and "the harder you work the more you are compensated". His store soon moved up to number two in the chain.
Ryan's Grandfather called him and, although retired, said he could put Ryan in front of the right person at First Merit and give him the chance to move to banking. He joined the bank in 1998 and moved up that chain ending up in retail banking management.
When the bank changed hands Ryan was offered the chance to prove himself in other ways. That path led him to Bay City. When the opportunity presented itself, he took the position as the head of the local Chamber of Commerce.
Today Ryan's most important job is part time parent to his three kids. He's devoted to them but also to his love of soccer where he's a coach and member of numerous boards and organizations. The family is also avid skiers.
Ryan closed by praising the local community and all that Bay City has to offer, a theme that resonates with most Rotarians from this club.
---
CLUB NEWS and ANNOUNCEMENTS
Connie Schweitzer
presented a Paul Harris Fellow PLUS 1 to
Guy Moulthrop
in recognition of his continued support of the Rotary International Foundation. Thanks Guy for your dedication to Rotary's good work.
The
Zombie Run
committee has begun meeting. If you're interested in helping see
Chris Girard
.
The club is planning a
PICNIC
as the next "club social". The event will be held June 10 at Discovery Preserve on Euclid. There will be food and activities for the entire family. Put it on your calendar NOW.
Raffle tickets are still being sold for the George Lewis paintings to be given at the
District Conference
in May. Purchase tickets for your choice of painting for $20 each. The paintings are 16 x 20 inches and beautifully framed. Each club is asked to sell 10 tickets.
Current and past
DISTRICT DISPATCH
newsletters are available on the District site shown in the LINKS section below.
---
DATES TO REMEMBER
Saginaw Bay Nature Festival Banquet
Saturday, May 13, 2017 -
Saganing Tribal Center
. Sponsored by Northern Bay and Arenac Rotary of Pinconning.
District Conference
May 19, 2017 - May 20, 2017: D'Mar Banquet and Conference Center, Owosso.
OFF SITE Meeting
-
May 16
At the Delta College Planetarium.
(Also June 6)
Club Social PICNIC
. Saturday, June 10, 2017. Discovery Preserve on Euclid Avenue. Food and activities for the entire family!
Golf Outing
- Monday, June 19, 2017
June 10-14, 2017 Rotary International Convention - Atlanta, Georgia, USA
www.RotaryConvention2017.org
OR
www.RIConvention.org
Dee Dee Wacksman, District Chair
July 25, 2017 - July 26, 2017
District 6310 to Tour One Rotary Center. Group to take Amtrak train to Chicago.
November 7, 2017 - Vocational Day
---
Upcoming Programs
(See the official schedule at RotaryBayCity.org )
April 18, 2017 - Tall Ship Celebration Recap
presented by Shirley Roberts and Scott Ellis.
April 25, 2017 - "A Jewel In Our Midst, Where an Artist's Legacy Is Preserved".
Marilyn Wheaton, Director of the Marshall M. Fredericks Sculpture Museum at Saginaw Valley State University, will share her expertise on how a renowned 20th-century American sculptor's life and work are making an impact on the Great Lakes Bay Region.
May 2, 2017 - Humane Society of Bay County
. The first week of May is "Be Kind to Animals" week. Jeannie Nichols will update the club on the Humane Society's activities and their new building for operations.
---
Current and past
DISTRICT DISPATCH
newsletters are available on the District site shown in the LINKS section below.


Rotary Bay City on Facebook!
Click on the Blue Facebook to visit us there.

Remember! Check attendance sheets at the front desk.
---
LINKS