Rotary Hears Update On Tall Ship Celebration
April 18, 2017
By: Stephen Kent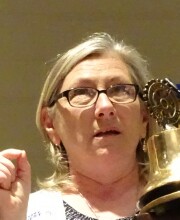 Shirley Roberts
Since 2001 a recurring theme on Bay City's riverfront is the visit of the
Tall Ship Celebration
. That first visit in 2001 was a roaring success, but the committee that put it together probably didn't know how much work and how large the expenses would be. Today the process is something of a science, but it's still a huge undertaking when the fleet returns every two or three years.
Roberts talked about the high cost of putting on the Celebration. Sponsors are a key element to covering those costs. "Many people don't realize that we have to pay appearance fees to the ships, which helps them defray the costs of their participation."
Attesting to the success of the event, and how well Bay City runs the show, is the fact that the city has been named Port of the Year four times. That's more than any other city on the Great Lakes tour.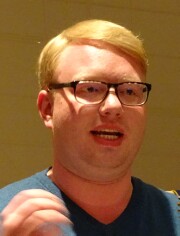 Scott Ellis
Former Rotarian
Shirley Roberts
who is director of Bay City's
BaySail
and who has been one of the chief organizers of Tall Ship Celebration since it's inception, spoke to the club about the history and plans for the Celebration.
Roberts was assisted by
Scott Ellis
who is also with BaySail. Ellis talked about the various educational offerings of BaySail as well as the promotional efforts of the organization.
BaySail is a sail training organization which owns the two Appledore schooners. Besides organizing the Tall Ship Celebration, BaySail offers a number of educational programs for teens plus some for adults. They also have a variety of sailing excursions on the River and Bay.
Roberts was pleased to note that BaySail has recently paid off their note on the second Appledore. Being relieved of that debt service, they are not preparing to look for a new permanent home. They own land near the Coast Guard station on the river and that will be the likely home.
The
Tall Ship Celebration
will return to Bay City in 2019. Planning is already underway for this huge event in the life and legend of Bay City.
For more information visit
www.BaySailBayCity.org
or
www.TallShipCelebration.com
---
CLUB NEWS and ANNOUNCEMENTS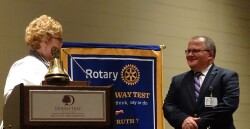 Brenda Scramlin inducts Pete Shannon
After an introduction by
Ed Keating, Brenda Scramlin
inducted new member
Pete Shannon
. Pete is the new director of the McLaren Bay Medical Foundation. Pete has a long connection with Rotary having been a member of several clubs. We all welcome Pete.
Club members are invited to participate in the various activities around the city on Earth Day (Saturday). Trevor Edmonds from the Saginaw Basin Land Conservancy sent word that there will be a cleanup event at the Discovery Preserve on Euclid. One of the Rotary "Little Libraries" will be installed and dedicated.
Tim Holsworth
talked about the Golf Outing and noted that the committee needs one more $200 sponsor so they can print the brochure and include all names. A short time later he announced that
MCI
stepped up as a sponsor.
Congratulations to member
Trevor Keyes
who has been named President and CEO of
Bay Future
.
The next "club social" is to be a
PICNIC
on June 10 at the Discovery Preserve on Euclid. There will be food and activities for the entire family. Put it on your calendar NOW.
Raffle tickets are still being sold for the George Lewis paintings to be given at the
District Conference
in May. Purchase tickets for your choice of painting for $20 each. The paintings are 16 x 20 inches and beautifully framed. Each club is asked to sell 10 tickets.
Current and past
DISTRICT DISPATCH
newsletters are available on the District site shown in the LINKS section below.
---
DATES TO REMEMBER
Saginaw Bay Nature Festival Banquet
Saturday, May 13, 2017 -
Saganing Tribal Center
. Sponsored by Northern Bay and Arenac Rotary of Pinconning.
District Conference
May 19, 2017 - May 20, 2017: D'Mar Banquet and Conference Center, Owosso.
OFF SITE Meeting
-
May 16
At the Delta College Planetarium.
(Also June 6)
Club Social PICNIC
. Saturday, June 10, 2017. Discovery Preserve on Euclid Avenue. Food and activities for the entire family!
Golf Outing
- Monday, June 19, 2017
June 10-14, 2017 Rotary International Convention - Atlanta, Georgia, USA
www.RotaryConvention2017.org
OR
www.RIConvention.org
Dee Dee Wacksman, District Chair
July 25, 2017 - July 26, 2017
District 6310 to Tour One Rotary Center. Group to take Amtrak train to Chicago.
November 7, 2017 - Vocational Day
---
Upcoming Programs
(See the official schedule at RotaryBayCity.org )
April 25, 2017 - "A Jewel In Our Midst, Where an Artist's Legacy Is Preserved".
Marilyn Wheaton, Director of the Marshall M. Fredericks Sculpture Museum at Saginaw Valley State University, will share her expertise on how a renowned 20th-century American sculptor's life and work are making an impact on the Great Lakes Bay Region.
May 2, 2017 - Humane Society of Bay County
. The first week of May is "Be Kind to Animals" week. Jeannie Nichols will update the club on the Humane Society's activities and their new building for operations.
---
Current and past
DISTRICT DISPATCH
newsletters are available on the District site shown in the LINKS section below.


Rotary Bay City on Facebook!
Click on the Blue Facebook to visit us there.

Remember! Check attendance sheets at the front desk.
---
LINKS