Rotary Screens New Marshall M. Fredericks Sculpture Garden Video
April 25, 2017
By: Stephen Kent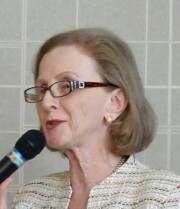 Marilyn Wheaton
Marilyn Wheaton, Director of the Marshall M. Fredericks Sculpture Museum at Saginaw Valley State University, presented the new video produced for the Museum. The video outlined the life and works of Fredericks, a renowned 20th-century American sculptor, and his impact on the world of public art.
Wheaton talked about the Museum and sculpture garden and the history of some of the pieces. She described how one of the most iconic pieces "Black Elk", which now welcomes visitors to the garden, was commissioned as one of the last pieces Fredericks made. The man who commissioned the piece then moved to California and put the piece in storage in Detroit.
Wheaton told how "Black Elk" was rediscovered and the effort to have it loaned to the SVSU museum. The most interesting part of the story was how the piece was shipped to SVSU. When the trucker learned it would not fit under all bridges on the most direct route, they had a special cradle built to lay the piece down. It was then driven on secondary roads and eventually down Center Avenue in Bay City!
Many of Fredericks pieces can be viewed in the Tri-City area. Dow Gardens is home to the "Saints and Sinners" collection as well as the "Leaping Gazelle". "Flying Wild Geese" can be seen in the Saginaw Art Museum garden. Many of the original pieces, models, workshop and other pieces are found at the SVSU Fredericks Museum.
Wheaton also talked about the various programs, workshops and other events presented by SVSU Museum, "A Jewel In Our Midst, Where an Artist's Legacy Is Preserved".
For more information visit
www.MarshallFredericks.org
---
CLUB NEWS and ANNOUNCEMENTS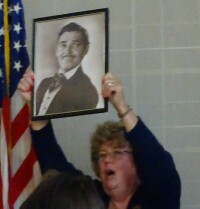 Dee Dee and Clark
Holding up a framed picture of
Clark Gable
,
Dee Dee Wacksman
reminded every one of the Rotary International to be held in Atlanta, Georgia June 10-14.
Dee Dee also noted that besides being shown in Atlanta, "
Gone With The Wind
" will be presented at 2:00 this Sunday (April 30) at the
State Theatre
. Admission is free.
Andrea Hales
said that she's still looking for a host family for our next incoming Exchange Student. Please see Andrea if you're interested. Everyone who has been a host says it's an experience not to be missed.
Thanks to
Tara Welch
who is managing the club's Facebook page. Click the link at the bottom of this article to visit, and please click LIKE if you haven't done that.
The next "club social" is to be a
PICNIC
on June 10 at the Discovery Preserve on Euclid. There will be food and activities for the entire family. Put it on your calendar NOW.
Current and past
DISTRICT DISPATCH
newsletters are available on the District site shown in the LINKS section below.
---
DATES TO REMEMBER
Saginaw Bay Nature Festival Banquet
Saturday, May 13, 2017 -
Saganing Tribal Center
. Sponsored by Northern Bay and Arenac Rotary of Pinconning.
District Conference
May 19, 2017 - May 20, 2017: D'Mar Banquet and Conference Center, Owosso.
OFF SITE Meeting
-
May 16
At the Delta College Planetarium.
(Also June 6)
Club Social PICNIC
. Saturday, June 10, 2017. Discovery Preserve on Euclid Avenue. Food and activities for the entire family!
Golf Outing
- Monday, June 19, 2017
June 10-14, 2017 Rotary International Convention - Atlanta, Georgia, USA
www.RotaryConvention2017.org
OR
www.RIConvention.org
Dee Dee Wacksman, District Chair
July 25, 2017 - July 26, 2017
District 6310 to Tour One Rotary Center. Group to take Amtrak train to Chicago.
November 7, 2017 - Vocational Day
---
Upcoming Programs
(See the official schedule at RotaryBayCity.org )
May 2, 2017 - Humane Society of Bay County
. The first week of May is "Be Kind to Animals" week. Jeannie Nichols will update the club on the Humane Society's activities and their new building for operations.
May 9, 2017 - Creative 360; Stages, Studio & Gallery
Carol Rumba, Executive Director, will present program highlights and share a little about Creative 360's efforts in bringing inclusiveness and creativity to the community through non-traditional programming and the power of 'yes!'
May 16, 2017 - South Korea and Michigan
.
Soojung Kim
, our Rotary Youth Exchange Student, will give us an overview of South Korea. Additionally,
Callen McDonough
will review her presentation of Michigan for her Rotary Youth Exchange Trip to Italy.
May 23, 2017 - Adult Drug Courts
. The Honorable Harry P. Gill, 18th Circuit Court, will speak about drug court, what happens there, and why we think drug courts work. He will talk about the theory behind drug court best practices, and why he believes those practices should be incorporated into the criminal justice system at large.
June 6, 2017 - Eric Jylha shares stories of Normandy
and his trip to France.
---
Current and past
DISTRICT DISPATCH
newsletters are available on the District site shown in the LINKS section below.


Rotary Bay City on Facebook!
Click on the Blue Facebook to visit us there.

Remember! Check attendance sheets at the front desk.
---
LINKS