Humane Society of Bay County Topic of Rotary Program
May 2, 2017
By: Stephen Kent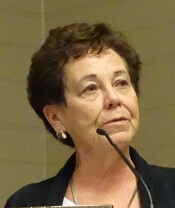 Jeannie Williams
The first week of May is "Be Kind to Animals" week.
Jeannie Nichols
, head of the
Humane Society of Bay County
spoke to Rotary about the organization and its impact on the Bay County area. In a country where pets outnumber children four to one, organizations like the Humane Society are important assets to the community.
Among the best-known services are the dog and cat adoption programs. Individuals can choose from the best, well cared for pets available. Fees include sterilization (spaying or neutering), medical examinations, age appropriate vaccinations, de-worming, and flea treatment if necessary. This program helps end pet overpopulation that leaves millions of animals without homes and proper care each year.
Less well known is the
Pet Trust Program
. Elderly people often worry about what will happen to their cherished pets when they are gone. Pet Trust endeavors to set up a plan for the care of those pets. This lets the owners rest in the knowledge that their pets will be cared for.
The "
Trap Neuter Return
" program addresses the problem of feral cats and dogs. In the past, these animals would be trapped and removed from the environment. It was learned that other animals simply move in to fill the void. The new program traps the animals, neuters them, and returns them to the environment. Neutered animals maintain their place but do not generate more offspring.
Perhaps the most exciting may be that the Society will soon have a permanent home. Since 1984 the members have largely worked from their homes. Last year they decided it was time to purchase a building of their own. The new home is at 1607 Marquette Avenue, next to Anderson Eye Care. The renovation is under way. When complete, this will become an adoption center.
Jeannie talked of a number of other programs. For more information visit
www.HumaneSocietyBayCounty.org
---
CLUB NEWS and ANNOUNCEMENTS
THIS WEEK - May 9:
Meet at the Planetarium
The board meets this week
May 9 at 11:00 before the regular meeting.
Meet at the Planetarium
Everyone is welcomed.
Agenda, minutes, treasurers reports and other information is in the member's area of the club web site.
Andrea Hales
is still looking for a host family for our next incoming Exchange Student. Please see Andrea if you're interested. Everyone who has been a host says it's an experience not to be missed.
Tim Holsworth
said that brochures for the Golf Scramble was being distributed. The full information is on the club web site. This year's proceeds will be split with about 80% going to
Bay County Schools
and the remainder going to the
club foundation
to support other grants and programs. In the past funds went to Bay City Central High.
This year's funds will be distributed to all area schools.
You may designate your choice of school on the registration form. Funds will be allocated based on participant requests.
The next "club social" is to be a
PICNIC
on June 10 at the Discovery Preserve on Euclid. There will be food and activities for the entire family. Put it on your calendar NOW.
Current and past
DISTRICT DISPATCH
newsletters are available on the District site shown in the LINKS section below.
---
DATES TO REMEMBER
OFF SITE Meeting
-
May 9
At the Delta College Planetarium.
(Also May 16 and June 6)
Saginaw Bay Nature Festival Banquet
Saturday, May 13, 2017 -
Saganing Tribal Center
. Sponsored by Northern Bay and Arenac Rotary of Pinconning.
District Conference
May 19, 2017 - May 20, 2017: D'Mar Banquet and Conference Center, Owosso.
OFF SITE Meeting
-
May 16
At the Delta College Planetarium.
(Also June 6)
Club Social PICNIC
. Saturday, June 10, 2017. Discovery Preserve on Euclid Avenue. Food and activities for the entire family!
Golf Outing
- Monday, June 19, 2017
June 10-14, 2017 Rotary International Convention - Atlanta, Georgia, USA
www.RotaryConvention2017.org
OR
www.RIConvention.org
Dee Dee Wacksman, District Chair
July 25, 2017 - July 26, 2017
District 6310 to Tour One Rotary Center. Group to take Amtrak train to Chicago.
November 7, 2017 - Vocational Day
---
Upcoming Programs
(See the official schedule at RotaryBayCity.org )
May 9, 2017 - Creative 360; Stages, Studio & Gallery
Carol Rumba, Executive Director, will present program highlights and share a little about Creative 360's efforts in bringing inclusiveness and creativity to the community through non-traditional programming and the power of 'yes!'
May 16, 2017 - South Korea and Michigan
.
Soojung Kim
, our Rotary Youth Exchange Student, will give us an overview of South Korea. Additionally,
Callen McDonough
will review her presentation of Michigan for her Rotary Youth Exchange Trip to Italy.
May 23, 2017 - Adult Drug Courts
. The Honorable Harry P. Gill, 18th Circuit Court, will speak about drug court, what happens there, and why we think drug courts work. He will talk about the theory behind drug court best practices, and why he believes those practices should be incorporated into the criminal justice system at large.
June 6, 2017 - Eric Jylha shares stories of Normandy
and his trip to France.
---
Current and past
DISTRICT DISPATCH
newsletters are available on the District site shown in the LINKS section below.


Rotary Bay City on Facebook!
Click on the Blue Facebook to visit us there.

Remember! Check attendance sheets at the front desk.
---
LINKS