Creative 360 Topic of Rotary Program
May 9, 2017
By: Stephen Kent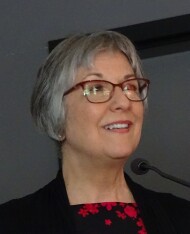 Carol Rumba
Carol Rumba, Executive Director of
Creative 360; Stages, Studio & Gallery
, presented a program highlighting Creative 360's efforts to bring inclusiveness and creativity to the community through non-traditional programming and
The Power Of 'yes!'
Creative 360 was founded in 1994 by Cynthia Keefe and Linda Z. Smith who were Alden B. Dow Creativity Fellows at Northwood University. Their goal was an organization that provided "wellness through experience, expression, and expansion of the creative self".
Among the locations not often associated with Creative 360 is the
John Pratt Mosaic House
. Located in the woods just off the south side of M-20 a little ways East of Meridian Road, most people only see the house as a sparkle of light in the trees. John Pratt decorated the entire house with glass, mirrors, and other bright objects as a way to manage his mental illness. Creative 360 has owned the house for many years and works to preserve this unique piece of art.
The list of programs and events run by Creative 360 is diverse and impressive.
Yes We can!, in its third year, recognizes and honors those 80 and over "in a way that respects their knowledge and taps into their legacy of creativity."
ArtFest 55 celebrates the creativity of people 55 and older.
ARTSHOP WORKSHOP guides you step-by-step as you paint a canvas of wispy dandelions blowing in the wind.
GARDENING: Composting/Soil is one of several gardening offerings.
Cocktails and Canvas caters to the adult tastes while Painting & Cardmaking with your Peanut welcomes parents and kids 2 to 4 years old.
Ukulele Concert features Johnny Hunt presentint a wildly diverse group of songs.
For more information visit
www.becreative360.org
---
CLUB NEWS and ANNOUNCEMENTS
THIS WEEK - May 16:
Meet at the Planetarium
Harvey Schneider
reported on the recent recommendations for the six month cycle of
Community Grants
, which were approved by the Club Board. All organizations have been contacted and grants will be going out soon.
| | |
| --- | --- |
| Studio 23 (Secret Art with Positive Quotes) | $ 800.00 |
| St. Alban Church Summer Reading Camp | $ 250.00 |
| Friends of Masonic Temple (Theatre Makeup) | $ 500.00 |
| CANN Council Safe Baby Simulator-I Baby | $ 749.00 |
| Bay Arenac Community High Snack Sacks | $ 860.00 |
| All Saints Robotics Team Competition funds | $1,860.00 |
Tim Holsworth
reported on the upcoming club Golf Scramble. The proceeds will benefit Bay County schools. A small percentage will go to the club foundation, which funds things like the Community Grants. In the past funds went to Bay City Central High.
This year's funds will be distributed to all area schools.
You may designate your choice of school on the registration form. Funds will be allocated based on participant requests.
Andrea Hales
is still looking for a host family for our next incoming Exchange Student. Please see Andrea if you're interested. Everyone who has been a host says it's an experience not to be missed.
The next "club social" is to be a
PICNIC
on June 10 at the Discovery Preserve on Euclid. There will be food and activities for the entire family. Put it on your calendar NOW.
New member
Pete Shannon
brings his experience from other Rotary clubs to our club as he takes on the upcoming Membership Drive. If you can help, talk to Pete about joining his committee.
Current and past
DISTRICT DISPATCH
newsletters are available on the District site shown in the LINKS section below.
---
DATES TO REMEMBER
May 16: OFF SITE Meeting
- At the Delta College Planetarium.
May 19 - 20: District Conference
D'Mar Banquet and Conference Center, Owosso.
Friday 10:30 to noon: District Training Assembly - small group sessions
Click to see full schedule at
https://portal.clubrunner.ca/60077/SitePage/district-6310-conference/district-training-agenda#sthash.3uX0WRQF.dpuf
June 6: OFF SITE Meeting
- At the Delta College Planetarium.
June 10 - Saturday: Club Social PICNIC
. Discovery Preserve on Euclid Avenue. Food and activities for the entire family!
June 19 - Monday: Golf Outing
June 10-14: Rotary International Convention - Atlanta, Georgia, USA
www.RotaryConvention2017.org
OR
www.RIConvention.org
Dee Dee Wacksman, District Chair
July 25 - July 26, 2017
District 6310 to Tour One Rotary Center. Group to take Amtrak train to Chicago.
November 7, 2017 - Vocational Day
---
Upcoming Programs
(See the official schedule at RotaryBayCity.org )
May 16, 2017 - South Korea and Michigan
.
Soojung Kim
, our Rotary Youth Exchange Student, will give us an overview of South Korea. Additionally,
Callen McDonough
will review her presentation of Michigan for her Rotary Youth Exchange Trip to Italy.
May 23, 2017 - Adult Drug Courts
. The Honorable Harry P. Gill, 18th Circuit Court, will speak about drug court, what happens there, and why we think drug courts work. He will talk about the theory behind drug court best practices, and why he believes those practices should be incorporated into the criminal justice system at large.
June 6, 2017 - Eric Jhyla shares stories of Normandy
and his trip to France.
---
Current and past
DISTRICT DISPATCH
newsletters are available on the District site shown in the LINKS section below.


Rotary Bay City on Facebook!
Click on the Blue Facebook to visit us there.

Remember! Check attendance sheets at the front desk.
---
LINKS