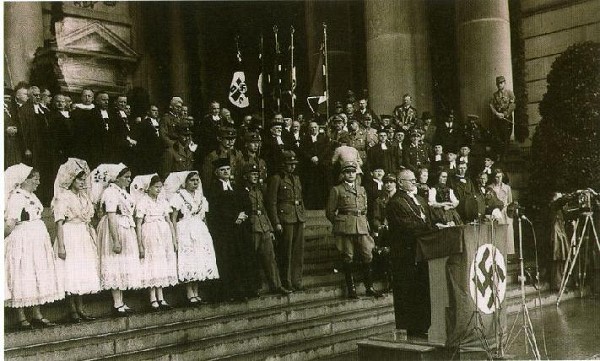 Germany's churches were transformed into organs of the state during the Nazi era.
---
PARTISAN PULPITS? Shades of Nazis: House Eyes Political Churches
July 10, 2017
By: Dave Rogers
Not five minutes ago this columnist finished watching a documentary on how Adolf Hitler created a German religion and installed himself as a "savior" of his people.
The Roman Catholic church, in which Hitler originally was baptized, was virtually powerless to stop this politicization of religion in Germany, where a state religion under Der Fuehrer replaced conventional churches -- and we all know the horrific outcome.
Now a group of "public servants" in Congress wants to allow churches in America to become centers of partisanship. One can only surmise that bipartisanship won't be in the cards.
The following details on the proposal are furnished by the National Council of Nonprofits:
"The House Appropriations Committee is expected to vote as early as this week on a spending bill that contains an extraneous provision (rider) that would significantly weaken enforcement of aspects of Section 501(c)(3), of the Internal Revenue Service code, in particular the provision of law sometimes called the Johnson Amendment that protects against partisanship.
"The rider, Section 116 of the House Financial Services and General Government FY2018 Appropriations bill, would prevent the Internal Revenue Service from spending any funds to make a final determination that a house of worship or its affiliate has violated the Johnson Amendment unless the IRS meets three conditions:
"(1) the IRS Commissioner personally consents to a determination of unlawful conduct;
"(2) politicians on the House and Senate tax committees are given 30-days' notice of the law-enforcement determination, and (3) an additional 90-days' notice is provided before enforcement can commence.
According to Newsweek, Section 116 "would make it exponentially more difficult to enforce" even the most blatant violations of the Johnson Amendment.
While aimed at houses of worships, most charitable nonprofits, as well as faith-based organizations, strongly oppose legislative efforts to politicize entities that currently are dedicated to their missions, in communities and are above the partisan fray.
In an article in Nonprofit Quarterly, Tim Delaney, President & CEO of the National Council of Nonprofits, explains why this attack on nonpartisanship matters to everyone and what?s at stake. See the National Council of Nonprofits News Release for more background.
Call to Action: All individuals committed to preserving the nonpartisanship of the nonprofit community need to take action. Contact your Representatives on the House Appropriations Committee and urge them to strip the Johnson Amendment rider (Section 116) from the Financial Services and General Government appropriations bill.
###