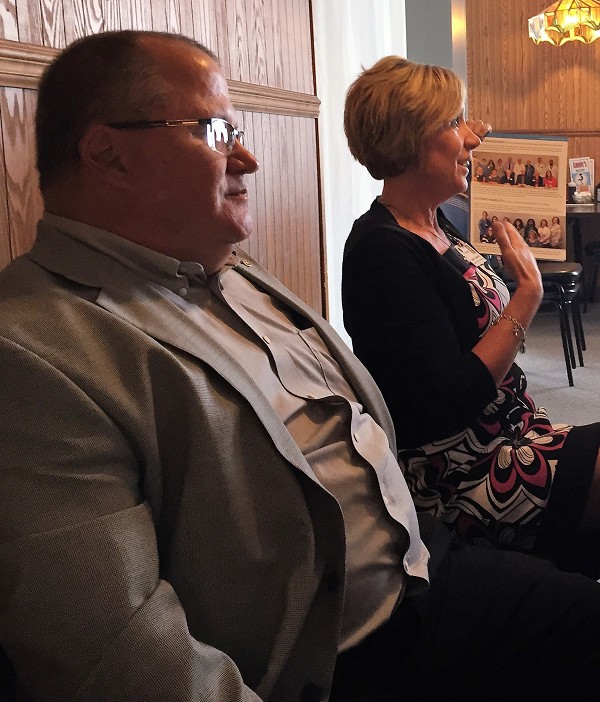 Pete Shannon, director of the McLaren Bay Foundation, listens as Diane Konwinski, RN, speaks to the Rotary Club of Pinconning-Standish.
---
PATIENT SAFETY: McLaren-Bay Ranked in Top 5% Nationally
July 15, 2017
By: Dave Rogers
McLaren Bay Region has received the 2017 Patient Safety Excellence Award, the only hospital in the Bay area to be ranked in the top five percent nationally, according to Diane Konwinski, RN, Quality Management Team Leader, speaking to the Rotary Club of Pinconning & Standish last Thursday.
Also speaking was Peter Shannon, director of the McLaren Bay Medical Foundation, who noted that the foundation in the past five years has granted $2.5 million to improve health care in the community.The foundation, established in 1978, is governed by a 30 member board of directors. It has $12 million in assets, $4.5 million of which is dedicated to the Helen Nickless Volunteer Clinic.
McLaren Bay Region was the result of the merger of four hospitals in the 1970s and 1980s. It serves nearly half a million people in East Michigan, with 35,000 patient discharges last year, 60 percent of which were from counties north and east of Bay County.
The medical center has more than 2,000 area households with a McLaren employee and its annual payroll is $100 million, Mr. Shannon said.
The hospital is planning capital projects to include $3 million to expand the Psych Unit to include 16 beds for Geriatric Psych, a $7.5 million project to add a linear accelerator to expand radiation therapy capabilities, and an electronic medical record system.
Another $2 million was invested in the development of the Karamanos Cancer Center, $600,000 was invested in upgrades to the behavioral health unit, and $800,000 went to the Helen Nickless Volunteer Clinic. Other planned projects for which funding is needed include replacing curtains with glass in the Intensive Care Unit patient rooms and a nurse call system, estimated to cost $5,000 per room, as well as remodeling 50 patient rooms.
Ms. Konwinski is a life-long Pinconning resident and has been an RN for 28 years. She discussed the hospital's policy of stressing quality and resetting medical standards based on best practices learned from around the country.
Quality efforts are concentrated in areas such as blood management, ICU/Early Mobility, sepsis prevention, surgery, outpatient and inpatient experiences, emergency department, physician collaboration, and leadership development.
She cited the effort to do fewer blood transfusions, thereby minimizing complications. The medical center has been able to document improved results for patients with this change.
Mr. Shannon grew up in Linwood and attended Pinconning High School. After working 10 years with the Sparrow Health System in Lansing, he took the position at McLaren Bay Medical Foundation in March 2017.
###