Rotary Youth Leadership Award (RYLA) Students Report On Recent Camp
What I learned from camp: "Give everyone a chance to lead"
July 18, 2017
By: Stephen Kent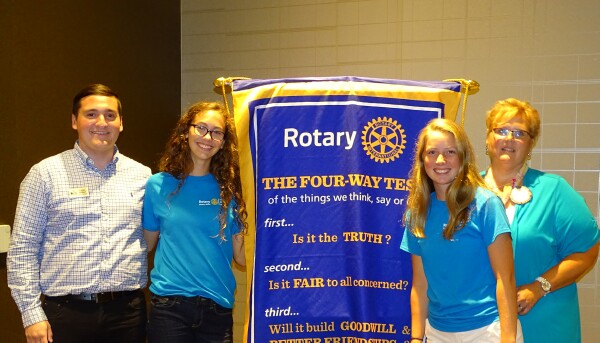 Payton Wolbert, Grace Kendziorski, Kristin Weston, Brenda Scramlin
Three RYLA (Rotary Youth Leadership Award) recipients reported on their recent week at RYLA, held at Camp Rotary. Kristin Weston crystallized the week when saying "What I learned from camp: Give everyone a chance to lead".
RYLA is similar to any summer camp experience, but it focuses on young people who are, often, already leaders in their schools. Campers are given the opportunity to meet new people, learn and expand their leadership abilities, and gain skills for a life of service.
The students reported on many of the events they participated in. There were the usual camp activities around the outdoors, water, group living, new friends and old friends. Leadership growing tasks taught the students how groups work together and how mutual trust and cooperation influence the outcome.
Payton noted how it was frightening at first, but that campers quickly realized that everyone is similar. There were different leadership personalities, but the campers were generally driven, action-oriented people.
The students talked about events everyone recognized like "blindfold mazes" and "relays", but they also talked about newer activities less familiar to the adult audience, like "emoji stories", "the iceberg", "candyland" and "human knots". Campers also participated in more traditional rock wall climbing, zip-lining, kayaking and paddle boards.
Among the comments about the week was the desire to continue the experience or do it again. Building on that sense, Rotary Past-president Brenda Scramlin is heading a new committee to explore starting a Rotaract Club in the Bay County schools. These young leaders will likely be a core to that new group.
---
CLUB NEWS and ANNOUNCEMENTS
Cindy Luczak
and
Brenda Scramlin
are selling Rotary "Logo Wear" golf shirts ($25) and visors ($15). This serves as both a fund raiser as well as letting members promote Rotary. Both items are available at meetings.
Brenda Scramlin
is recruiting volunteers to work at the upcoming Zombie Run.
President Bob Chadwick
has asked the board and members to be thinking about a new large scale
fund raiser
similar to International Night which, at its height, raised over $40,000 in one night.
DUES
for the July to December 2017 term are now past due. If you have not yet paid your dues, please attend to that matter.
Current and past
DISTRICT DISPATCH
newsletters are available on the District site shown in the LINKS section below.
---
DATES TO REMEMBER
July 25 - July 26, 2017
District 6310 to Tour One Rotary Center. Group to take Amtrak train to Chicago.
October 14, 2017 - ZOMBIE RUN
Bigelow Park.
November 7, 2017 - Vocational Day
---
Upcoming Programs
(See the official schedule at RotaryBayCity.org )
July 25, 2017 - DO-All Inc.
Member Chris Girard will update the club on the activities and direction of DO-All.
August 1, 2017 - 10 Minute Rotarian
August 8, 2017 - Golden Horizons: helping with Dementia and Alzheimer's disease.
Bonnie Fritz is a Nurse and Dementia Educator at Golden Horizons Adult Day Care Center will report on the non-profit which is supported by funding from Region IV Area Agency on Aging, Bay Area Community Foundation, A&D Health Care, and the United Way of Bay County.
August 15, 2017 - Rotary Global Rewards Program
What is this? Why should you want to use it? How do you use it? Yes - your business may be able to offer a reward for the consumer?
---
Current and past
DISTRICT DISPATCH
newsletters are available on the District site shown in the LINKS section below.


Rotary Bay City on Facebook!
Click on the Blue Facebook to visit us there.

Remember! Check attendance sheets at the front desk.
---
LINKS