Rotary Hears 10-Minute Rotarian Presentations
August 1, 2017
By: Stephen Kent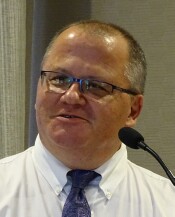 Pete Shannon
The club was treated to one of the most popular programs as two members presented "Two-Minute Rotarian" talks to introduce themselves to the club or to update their status.
Pete Shannon
, Director of the McLaren Bay Medical Foundation, is new to this club but by no means to Rotary. Pete has been a member of several other Rotary Clubs where he was active in member recruitment and other functions. He served as President of the St. Johns, Michigan club. Today he follows a Konnie Gill at the Bay Med Foundation, where recent directors have all been Rotarians.
Pete grew up in Linwood. He had two brothers and a sister. The youngsters spent their free time on the Saginaw Bay. He told the story of the boys trying to start a charter fishing service but never having a customer.
As a life long Boy Scout, Pete told about time spent at Bear Lake Scout camp and canoe trips with the troop. His Eagle project was planting trees in the Linwood area. He says it's nice to now see those trees fully grown.
After his first job with the Bay Area "Y", Pete joined the Boy Scouts in 1979 at the amazing salary of $9,000 a year. He worked in the Detroit area, Lansing, Wheeling WV, and other areas. He started the nation's largest Islamic Scouting program in the Dearborn area. He finished his career about 10 years ago in Dayton, OH.
After his Scouting days, Pete joined the Sparrow Health System and spent 10 years in St. Johns. There he ran a program that raised $2.25 million in a community of about 8,000 people.
Pete and his wife Robin have been married for 32 years. They have no children but do have a little dog. They make their home in Essexville.
---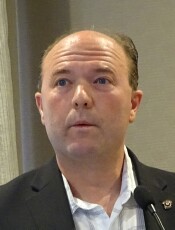 Lee Newton
Lee Newton
gave his 10-Minute Rotarian talk for the third time, the first being in 2003 and the second in 2011. Dr. Lee has been a member for 16 years and was the 2013-14 President of this club.
Lee opened "Newton Eye Care", his Optometry practice, 17 years ago. He is married to Mollie and they have two daughters (11 and 14), two dogs and one "pole barn cat". Lee was born in Oakland County then moved to Lapeer in the 2nd grade. His father was a pipe fitter and his mother a nurse. He has one younger brother who works for Volvo.
As a youngster, Lee would sometimes work with his Dad who said he would be good at skilled trades. Lee looked at the sometimes lean times in those fields and decided he wanted to do something where he was more in control. He went to Ferris State for his optometry degree then opened his first practice in Bay City.
Lee talked about some of the things he loves about his work. "We rewire brains", he said. "We see with our brains through our eyes." Modern procedures improve those pathways.
There is also a concern with the almost epidemic of myopia (near sightedness) occurring today. Exciting new procedures allow kids to wear "retainers" at night to reshape the cornea as they sleep. Over time this slows the progression of myopia.
As much as he loves his work, he said: "I guess I can take just so much look good, smell good, smile and be nice to everyone." When he's not working at his profession, Lee loves physical work. He loves to design and build things. He's also a voracious consumer of information. "When I have the free time I read." As we also know, Lee is a fine musician although he commented that he finds less and less time to play his saxophone.
His Dad once said, "If you can't afford to hire someone to do something, you better be able to do it yourself." As evidenced with his frequent "happy" or "hard luck" bucks at Rotary, we all know of his many projects around his house and yard. "When I get my next project finished, we may have an evening gathering of the club at my house."
Lee closed with two quotes. First, from Warren Buffet, "when the tide goes out, everyone gets to see who is swimming naked". Second, from a Bruce Hornsby song, "door two is forever open wide when you dare to step outside".
---
CLUB NEWS and ANNOUNCEMENTS
The board meets this week
Aug 8 at 11:00 before the regular meeting.
Meet at the Marriott Uptown
Everyone is welcomed.
Agenda, minutes, treasurers reports and other information is in the member's area of the club web site.
Brenda Scramlin
is recruiting volunteers to work at the upcoming Zombie Run. The committee has started meeting and the event is coming together.
Promotional
ZOMBIE RUN SHIRTS
are available at the meeting. If you didn't sign up, please ask. Some extras were ordered.
President Bob Chadwick
has asked the board and members to be thinking about a new large scale
fund raiser
similar to International Night which, at its height, raised over $40,000 in one night.
"Logo Wear"
visors ($15) and golf shirts ($24) are available. See Cindy Luczak.
DUES
for the July to December 2017 term are now past due. If you have not yet paid your dues, please attend to that matter.
Current and past
DISTRICT DISPATCH
newsletters are available on the District site shown in the LINKS section below.
---
DATES TO REMEMBER
Board Meeting
-
Aug 8
- 11:00 am before regular meeting. - Everyone invited.
Note: offsite meeting at the Marriott Uptown.
Aug 8, 15: OFF SITE Meetings
At the Marriott Uptown.
Aug 22: OFF SITE Meetings
Location to be determined.
September 5, 2017 - District Governor Pat Post visits our club.
October 14, 2017 - ZOMBIE RUN
Bigelow Park.
November 7, 2017 - Vocational Day
---
Upcoming Programs
(See the official schedule at RotaryBayCity.org )
August 8, 2017 - Golden Horizons: helping with Dementia and Alzheimer's disease.
Bonnie Fritz is a Nurse and Dementia Educator at Golden Horizons Adult Day Care Center will report on the non-profit which is supported by funding from Region IV Area Agency on Aging, Bay Area Community Foundation, A&D Health Care, and the United Way of Bay County.
Off Site Meeting - Marriott Uptown
August 15, 2017 - Rotary Global Rewards Program
What is this? Why should you want to use it? How do you use it? Yes - your business may be able to offer a reward for the consumer?
Off Site Meeting - Marriott Uptown
August 22, 2017 - TBD
Off Site Meeting - Location to be determined.
August 29, 2017 - TBD
Sept 5, 2017
YWCA Safe Sitter Program (Past Grantee of our club). Speaker: Rachelle Hilliker
District Governor Pat Post to visit.
Sept 12, 2017
Grant Update from CANN Council.
---
Current and past
DISTRICT DISPATCH
newsletters are available on the District site shown in the LINKS section below.


Rotary Bay City on Facebook!
Click on the Blue Facebook to visit us there.

Remember! Check attendance sheets at the front desk.
---
LINKS