Rotary Receives Update on Golden Horizons
August 8, 2017
By: Stephen Kent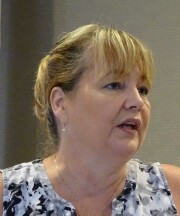 Bonnie Fritz
Bonnie Fritz
, Nurse and Dementia Educator at Golden Horizons Adult Day Care Center, talked to Rotary about the services provided by Golden Horizons. A non-profit which was founded in 1988, the organization is supported by funding from Region IV Area Agency on Aging, Bay Area Community Foundation, A&D Health Care, and the United Way of Bay County.
Bonnie has been a nurse for 23 years. Most of that time has been in long term care and geriatrics with a short rotation in OB/GYN. She loves her work and enjoys telling people about its importance.
Golden Horizons is a day care facility that serves the aging community that suffers from memory issues, dementia, and Alzheimer's disease. The service is important for people who find themselves caring for a loved one but also needing to have a regular life including a work life. By providing day care, Golden Horizons fulfills that need.
Bonnie talked about symptoms and problems faced by her patients. She used a short exercise of closing one's eyes and thinking of every door in your house. She then asked which of those is the bathroom. People with memory issues often lose track of that door. That leads to frustration and can result in the person having an "accident" or even getting out of the house and wandering. Her suggestion, "mark your bathroom with signs".
Golden Horizons provides a number of services including transportation, socialization, physical and mental stimulation, and meals. Patients receive individual care planning and supervision. Referrals are made when outside services are needed. Classes are available to groups who want to learn about the needs of this patient community.
The majority of services are free with a few that include a small fee. The facility is limited to 15 patients a day. The staff to patient ratio is 1 staff person to 3 patients.
Statistics indicate the people with memory related issues are on the increase. Services like Golden Horizons are an important option for many of those people.
---
CLUB NEWS and ANNOUNCEMENTS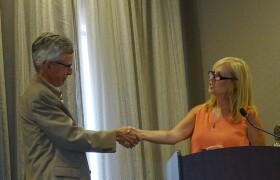 Doug Rise receives PH +1
Congratulations to
Doug Rise
who received his
Paul Harris Plus 1
pin today. Thanks to Doug for his continued support of the Rotary International Foundation.
Lee Newton
reported that we will be holding a
Rotary Concert
this year. Lee is forming a committee to work on the plans. The first meeting will be prior to the regular meeting on August 22. (We'll be at the Planetarium). Come to brainstorm and share your ideas.
Tim Holsworth
reported on the recent Golf Outing. 28 teams participated making it the largest number ever. Although there were fewer sponsors, the outing raised $10,928. Tim was also pleased with the perfect weather. (Be sure to check the Golf section of the club web site:
http://www.rotarybaycity.org/rot-Golf2017.cfm
Chris Girard
reported on the
Zombie Run
. Rotarian "Patron" sponsorships are available for $100.
Your name appears on the web site.
Your name will be on the event banner at the event.
Contact Andrea Hales for details.
Brenda Scramlin is recruiting volunteers to work at the event.


The committee will meet next week

prior to the regular meeting.

President Bob reported on the board meeting held prior to the regular meeting. Notes of interest included:
Andrea will be organizing a "RED BADGE" program to identify new members. The club will have a program to more fully involve those members.
The club's RI giving goal has been set at $14k. The split between the Annual Fund and Polio Plus will be changed some, but the total is about the same.
The Rotary Concert, which was not held last year, will be back.
Other fund raising ideas are being evaluated.

Promotional ZOMBIE RUN SHIRTS are available at the meeting. If you didn't sign up, please ask. Some extras were ordered.

President Bob Chadwick has asked that all members to be thinking about new large scale fund raiser similar to International Night which, at its height, raised over $40,000 in one night.

"Logo Wear" visors ($15) and golf shirts ($24) are available. See Cindy Luczak.

DUES for the July to December 2017 term are now past due. If you have not yet paid your dues, please attend to that matter.

Current and past DISTRICT DISPATCH newsletters are available on the District site shown in the LINKS section below.



---
DATES TO REMEMBER

Aug 15: OFF SITE Meetings At the Marriott Uptown.

Aug 15: ZOMBIE Run committee meets before regular meeting at the Marriott Uptown.

Aug 22: OFF SITE Meetings at Planetarium.

Aug 22: Rotary Concert Committee will have a brainstorming session prior to the regular meeting at the Planetarium.

September 5, 2017 - District Governor Pat Post visits our club.
Board will meet today, one week early, to accomodate Gov. Post.

October 14, 2017 - ZOMBIE RUN Bigelow Park.

November 7, 2017 - Vocational Day


---
Upcoming Programs
(See the official schedule at RotaryBayCity.org )


August 15, 2017 - Rotary Global Rewards Program What is this? Why should you want to use it? How do you use it? Yes - your business may be able to offer a reward for the consumer?
Off Site Meeting - Marriott Uptown

August 22, 2017 - TBD
Off Site Meeting - Location to be determined.

August 29, 2017 - TBD

Sept 5, 2017 YWCA Safe Sitter Program (Past Grantee of our club). Speaker: Rachelle Hilliker
District Governor Pat Post to visit.

Sept 12, 2017 Grant Update from CANN Council.



---

Current and past DISTRICT DISPATCH newsletters are available on the District site shown in the LINKS section below.







Rotary Bay City on Facebook!
Click on the Blue Facebook to visit us there.

Remember! Check attendance sheets at the front desk.
---
LINKS