Rotary Rewards Program
August 15, 2017
By: Stephen Kent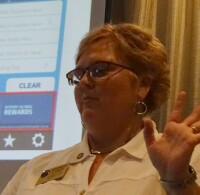 Brenda Scramlin
Bay City Club's Past-President
Brenda Scramlin
was recently named the
Rotary Global Rewards District Chairperson
. Brenda spoke to the club about a new program from Rotary International.
With the catch phrase "Spend Less. Give More.",
Rotary Rewards
was designed to leverage the many "points" and "rewards" that Rotary members receive on credit cards and other modern, electronic business and purchasing transactions. It includes an extensive collection of discounts and special offers that cover the types of goods and services that members care about most.
Brenda outlined the types of rewards that qualify for this program then talked about the methods of signing up and using the program. The key is the "My Rotary" pages of the Rotary International web site. Your first job, if you have not already done that, is to sign up on the RI web site.
Signing up required a few minutes and it also requires your RI member number. That number is printed on your recent dues bill. It's also available on the club website in the member's section. Look for it when you log in. If you have any difficulty, contact Brenda or club Secretary, Steve Kent.
Among the new tools and methods are extensive, integrated cell phone apps. Most of these are delivered as feature on the "Club Finder" cell phone application. They include maps, claim buttons, faqs, and other tools.
"
Rotary Rewards
" is an exciting new offer, but it's just part of the story. If you have not signed up for
My Rotary
on the RI Web site, you must do that. My Rotary is your path to many services and much of the information you need to fully participate in Rotary outside of the local club level.
---
CLUB NEWS and ANNOUNCEMENTS
Lee Newton
reported that we will be holding a
Rotary Concert
this year. Lee is forming a committee to work on the plans. The first meeting will be prior to the regular meeting on August 22. (We'll be at the Planetarium). Come to brainstorm and share your ideas.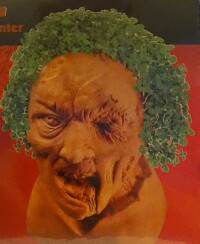 Chia Zombie
Chris Girard
reported on the
Zombie Run
. The committee met following today's regular meeting. One of the prizes will be a ZOMBIE CHIA planter, which Chris showed at the meeting. Rotarian "Patron" sponsorships are available for $100.
Your name appears on the web site.
Your name will be on the event banner at the event.
Contact Andrea Hales for details.
Brenda Scramlin is recruiting volunteers to work at the event.


The committee will meet next week

prior to the regular meeting.

Promotional ZOMBIE RUN SHIRTS are available at the meeting. If you didn't sign up, please ask. Some extras were ordered.

President Bob Chadwick has asked that all members to be thinking about new large scale fund raiser similar to International Night which, at its height, raised over $40,000 in one night.

"Logo Wear" visors ($15) and golf shirts ($24) are available. See Cindy Luczak.

DUES for the July to December 2017 term are now past due. If you have not yet paid your dues, please attend to that matter.

Current and past DISTRICT DISPATCH newsletters are available on the District site shown in the LINKS section below.



---
DATES TO REMEMBER


Aug 21: Total Eclipse of the Sun Special events at the Planetarium, 1 to 3 PM.

Aug 22: OFF SITE Meetings at Planetarium.

Aug 22: Rotary Concert Committee will have a brainstorming session prior to the regular meeting at the Planetarium.

September 5, 2017 - District Governor Pat Post visits our club.
Board will meet today, one week early, to accomodate Gov. Post.

October 14, 2017 - ZOMBIE RUN Bigelow Park.

November 7, 2017 - Vocational Day


---
Upcoming Programs
(See the official schedule at RotaryBayCity.org )


August 22, 2017 - Boy Scout Growth - Delivering the Promise of Scouting What is the Promise of Scouting? A program in which every boy has strong positive adult role models, has a foundation in citizenship, grows in his faith and strengthens his community. We need your help in delivering this promise in Bay County.
Off Site Meeting at the Planetarium.

August 29, 2017 - Rotary Peace and Reconciliation Program Andreas Teich will show a short video of one program which grew from the Peace Symposium in Thailand. Your gifts to the Rotary Foundation make

Sept 5, 2017 YWCA Safe Sitter Program (Past Grantee of our club). Speaker: Rachelle Hilliker
District Governor Pat Post to visit.

Sept 12, 2017 Grant Update from CANN Council.



---

Current and past DISTRICT DISPATCH newsletters are available on the District site shown in the LINKS section below.







Rotary Bay City on Facebook!
Click on the Blue Facebook to visit us there.

Remember! Check attendance sheets at the front desk.
---
LINKS