Exchange Student Melinda Boysik Says Goodbye to Rotarians This Week
Salvation Army Served 542,000 at Katrina, Launching Local Soup Kitchen
April 2, 2006
By: Dave Rogers
UPCOMING PROGRAMS:
THIS WEEK: Our ebullient Saginaw Valley State University exchange student from Hungary, Melinda Boysik, says goodbye to Rotarians after her year in the U.S.


April 11:Dr. Diana Lawson, chairman of the entrepreneurship program at Saginaw Valley State University.


April 18:Dr. Marwan Wafa, speaking on Islam and Muslim topics.


April 25: Long range planning for Rotary Club of Bay City.


May 2: Gloria Woods, explaining ballot initiative on affirmative action


May 9: Tall Ships.

---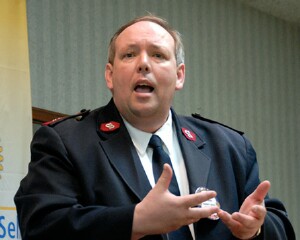 LAST WEEK: Capt. Mike Meyers, Bay City Salvation Army.

Capt. Meyers told Rotarians the Salvation Army is starting a soup kitchen for homeless and other needy people.

The organization served 266,000 with pastoral care and276,000 with various social services at the Hurricane Katrina disaster site in Louisiana.

"We couldn't do this without partners like Bay County that contributed $50,000 to the effort," said Capt. Meyers.

The need for the localsoup kitchen became evident because surplus food gathered through the Second Harvest program is gone in a day or two, said Capt. Meyers. In his previous post in Owosso a similar program fed 25-30 people a day, he said.

The new service will operate out of the Salvation Army center at 401 Tenth St. Monday through Friday, 11 a.m. to 1 p.m., he said.

"We've got $300; we need to raise about $10,000," the SA leader said. Dishes for the feeding program have been donated by a church.

"We hope people of the community will come together to meet the needs of individuals who are homeless and hungry," Capt. Meyers said. "This is a wonderful, giving community and I know you will come forward."

NEW MEMBERS PROPOSED: Barb Dinauer, First American Title; Chuck Brooks, Bay Area Family Y, Joe Thelen, Thelen Auto; Jim Flannery, attorney and city commissioner.

GOLF OUTING: Brian Kay reminded Rotarians of the annual golf outing June 5 at the Bay City Country Club. A 12:30 p.m. shotgun start is scheduled.###

---
---
--- Advertisements ---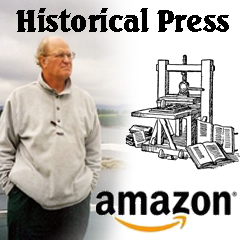 ---
---
RotaryBayCity.org Rotary Club of Bay City Web Site


eClub-One: Members with internet connections are encouragedto visit eClub-One monthly for a makeup. To get makeup credit you need to fill out the makeup form on that site. Print the acknowledgement for you receive and turn it in to receive credit. Be sure to enter our club's district number (6310) on that form.
Click this link to open eClubOne in a new window: www.rotaryeclubone.org.

The Bay City Rotary Club meets at Noon each Tuesday at the Lumber Barons resturant on the West Side.

Rotary Club of Bay City Web Site

District 6310 meeting schedule



0202 nd 03-20-2019