Boy Scout Growth - Delivering the Promise of Scouting
August 22, 2017
By: Stephen Kent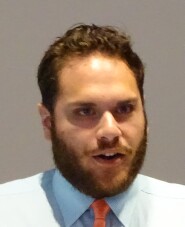 Jake Straub
Boy Scout Executive Jake Straub
spoke to Rotary last Tuesday about the current status and growth of the
Boy Scouts of America (BSA)
and the promise of scouting.
In a recent program, we heard from member
Erv Hutter
who spoke about the history of Scouting in Michigan. The organization has evolved with the times and changed many of its characteristics including the number and location of Michigan Scout Camps.
Our club has a strong presence in Scouting. Besided Erv,
Pete Shannon
is a former Scout Executive and remains active in BSA.
Brenda Scramlin
is a BSA board member.
Straub talked about the current trends. The fact is, the organization has declined in volunteers, scouts, and units over the last few years. This is to a large degree due to the changing interests of youth and to the demographics in general that are observed today.
Scouting in Mid-Michigan has seen a number of changes. Some programs, such as Venture Scouting and the Explorers, have lapsed in the local area. BSA hopes to restart those and extend their reach into other areas - if adult volunteers become available. Scouting has included outreach to girls for several years. Recent news articles say that they are considering expanding that effort in the future.
In answer to a question, Straub said that faith is a foundation of scouting. At the same time, the organization is non-sectarian and embraces all faiths. "We just want scouts to recognize a higher authority and the traditions of faith."
Scouting is a tradition that provides every boy with strong, positive adult role models. It has a foundation in citizenship, community service, and faith. Straub's message was that growth of the organization starts with a strong volunteer leadership. He asked for Rotary's help to deliver those leaders who, in turn, will guide Scouts.
---
CLUB NEWS and ANNOUNCEMENTS
The club welcomed former member and past president
Hratch Basmadjain
who was visiting from Chicago. It's always great to see Hratch... and watch him grow the 50/50 jackpot by buying a pile of tickets. (Of course, he also won, but he donated the winnings to the Rotary Foundation.)
Chris Girard
reported on the
Zombie Run
. The committee will be adding a "photo finish" to this year's run. There will be limited competition from other events this year so the hope is that the turnout will be large!
Rotarian "Patron" sponsorships for the Zombie Run are available for $100.
Your name appears on the web site.
Your name will be on the event banner at the event.
Contact Andrea Hales for details.
Brenda Scramlin is recruiting volunteers to work at the event.

Promotional ZOMBIE RUN SHIRTS are available at the meeting. If you didn't sign up, please ask. Some extras were ordered.

Brenda Scramlin provided more information based on last weeks Rotary Rewards questions. If you have any other questions be sure to contact Brenda.

President Bob Chadwick has asked that all members to be thinking about new large scale fund raiser. This week he talked about the impact that our club has had on the Rotary Foundation fund raising efforts and the large sums of money the club has raised. In that vein, he called on members Cindy Chadwick, Chuck Cusick and Dee Dee Wacksman to give a brief statement of why they have included the Foundation in their long term giving plans and bequests.

DUES for the July to December 2017 term are now past due. If you have not yet paid your dues, please attend to that matter.

Current and past DISTRICT DISPATCH newsletters are available on the District site shown in the LINKS section below.



---
DATES TO REMEMBER


September 5, 2017 - District Governor Pat Post visits our club.


Board will meet today, one week early, to accomodate Gov. Post.



October 14, 2017 - ZOMBIE RUN Bigelow Park.

November 7, 2017 - Vocational Day


---
Upcoming Programs
(See the official schedule at RotaryBayCity.org )


August 29, 2017 - Rotary Peace and Reconciliation Program Andreas Teich will show a short video of one program which grew from the Peace Symposium in Thailand. Your gifts to the Rotary Foundation make

Sept 5, 2017 YWCA Safe Sitter Program (Past Grantee of our club). Speaker: Rachelle Hilliker
District Governor Pat Post to visit.


Board will meet today, one week early, to accomodate Gov. Post.



Sept 12, 2017 Grant Update from CANN Council.





Rotary
is an intimate affiliation of carefully selected business and professional people,
having as its objective the promotion of high ethical standards in private, commercial
and civic life, and dedicated to the ideal that the basis of all worthy endeavor is unselfish service.
---

Current and past DISTRICT DISPATCH newsletters are available on the District site shown in the LINKS section below.







Rotary Bay City on Facebook!
Click on the Blue Facebook to visit us there.

Remember! Check attendance sheets at the front desk.
---
LINKS