District Governor Speaks To Rotary
September 5, 2017
By: Stephen Kent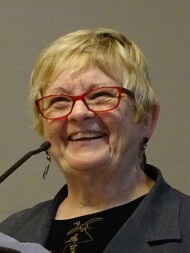 DG Pat Post
New
District Governor Pat Post
met with the Rotary Board prior to the regular meeting. She then spoke to the entire club during the regular meeting. Pat outlined plans for the coming year and talked about the initiatives of the Rotary International President,
Ian Riseley
.
Increasing Rotary membership is a hot topic at all levels. An important objective is to reach out to potential members who are under 40 years of age. Another objective is to increase the percentage of women in Rotary.
Women currently make up 37% of the Bay City club. The average age of all Bay City members is 63 years old. That age has been trending down as new, younger members are inducted and the percent of women has been going up.
Pat talked about the benefits of the the newly updated
Rotary.org
web site. Another goal of RI is that 75% of all Rotarians are registered on the rotary.org and the hope is that members will regularly use the site to learn about Rotary and use the resources found there.
Among the resources is the club "dashboard", which shows a visual picture of the club's status. To make this resource accurate, RI has asked club Presidents and officers to update a number of data points about members. There has been some concern about the amount of work that represents, but if the time is spent, and members report what they are doing, the results will provide a wealth of information.
Community service has long been a hallmark of Rotary. RI is promoting a tree planting effort this year. Bay City's goal is to plant 80 trees. That goal can be relatively easy to achieve. The club will be talking to the Saginaw Basin Land Conservancy and to the Pinconning club about this idea.
There are a number of structural changes in the district organization. After several changes, we are now part of zone 28. Pat found it interesting that this zone includes surrounding states, but also includes Alaska, Canada, various islands, and a large part of Russia. On a more local note, efforts are being made to start a club in Harrison.
Pat's talk mentioned a number of other initiatives, programs, and events. The lasting impression is that Rotary is evolving with the times and great things can be anticipated.
---
CLUB NEWS and ANNOUNCEMENTS
Hurricane relief
organizations are listed on Rotary.org. It was noted that some funds are earmarked specifically for Harvey relief. ShelterBox, it was pointed out, does not specifically name Harvey. They will support that cause but may allocate funds to other disasters as well. With the impending hurricane Irma aimed at Florida, and Katia in Mexico and Jose on its way, not to mention the recent Mexican earthquake, ShelterBox may have a good idea.
The
Zombie Run
is rapidly approaching! Information is on the web site and Facebook. Rotarian "Patron" sponsorships for the run are available for $100.
Your name appears on the web site.
Your name will be on the event banner at the event.
Contact Andrea Hales for details.
Brenda Scramlin is recruiting volunteers to work at the event.

The Zombie committee AND the Rotary Concert committee meet next week prior to the regular meeting.

Current and past DISTRICT DISPATCH newsletters are available on the District site shown in the LINKS section below.



---
---- DATES TO REMEMBER ----

September 12 two meetings at 11:00 am, prior to the regular meeting:
Concert Committee
Zombie Run Committee

October 14, 2017 - ZOMBIE RUN Bigelow Park.

November 7, 2017 - Vocational Day
(Watch for potential date change)

November 15, 2017 - Foundation Gala Frankenmuth

May 4-5, 2018 - District Conference Frankenmuth
New format and breakout sessions.
1 and a half days rather than two full days.


---
Upcoming Programs
(See the official schedule at RotaryBayCity.org )


Sept 12, 2017 Grant Update from CANN Council.

Sept 19, 2017, MI MADE MARKETPLACE, a collaboration festival organized by Jessica McQuarter, Laura Horwath, Tara Welch and Tosha Lijewski. The event is coinciding with Hell's Half Mile Film and Music Festival, September 30 and October 1, 2017, in downtown Bay City.

Sept 26, 2017 "Hiding Place" As a young girl growing up in Nazi-occupied Holland in the 1940's, Anneke Burke-Kooistra lived in a small townhouse with her parents and two younger sisters. And a houseful of strangers. But she never knew it until World War II ended. Join us to learn from Anneke as she describes her parents' decision to harbor eight Jews in their home during the Nazi Occupation in the 1940's.

October 3, 2017 10 Minute Rotarian



---

Current and past DISTRICT DISPATCH newsletters are available on the District site shown in the LINKS section below.







Rotary Bay City on Facebook!
Click on the Blue Facebook to visit us there.

Remember! Check attendance sheets at the front desk.
---
LINKS