CAN Council Presents to Rotary
September 12, 2017
By: Stephen Kent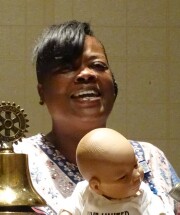 Vera Harrison
Vera Harrison
, CAPE Program Director for the CAN Council spoke to Rotary about the "Safe Baby" program of the council. The CAN Council was founded in 1979 with the objective to preventing child abuse and neglect (CAN). The council provides education, awareness, intervention and advocacy to help achieve that goal.
The CAN Council has a number of programs including Children's Advocacy Centers (CACs), Child Abuse Prevention Education (CAPE), Court Appointed Special Advocates (CASA), and Community Outreach and Awareness activities.
The Safe Baby program within CAPE recently received a Rotary Community Grants award to help with that program. Safe Baby is a program that works with schools to teach kids from 10 to 13 years old what it means to have a baby. Using computerized simulators (babies for all practical purposes), kids can experience what it means to be responsible for an infant.
The babies are not cheap dolls. Costing as much as $900 each, these babies include simulators for typical functions like waking and sleeping, crying, the need for feeding, and diaper changes. Everything the young "parent" does is recorded and reported back when the baby is returned.
Harrison gave a number of examples of what happens. If a baby is shaken, not properly cared for, ignored, or not fed, those facts are reported back on the recorded and printed on a report. The hope is to receive a report about a properly cared-for infant.
Young "parents" are usually surprised by the amount of attention a simple doll can require when it's acting like a baby. A baby that starts crying and you can't figure out why may seem strange to a youngster, but that's a real-life event with most babies. Does it need changing, or feeding? Is it just unhappy? Should it be rocked? What do you do?
The objective, of course, is to show kids what it really means to be a parent. In today's world, it's very easy for a very young girl to become pregnant. Having a "baby" for a weekend, but a baby that can be "returned", is a life lesson, unlike most others that kids get to experience.
---
CLUB NEWS and ANNOUNCEMENTS
Hurricane relief
organizations are listed on Rotary.org. It was noted that some funds are earmarked specifically for Harvey relief. ShelterBox, it was pointed out, does not specifically name Harvey. They will support that cause but may allocate funds to other disasters as well. With hurricane Irma's damage in Florida and Katia in Mexico and the recent Mexican earthquake, ShelterBox may have a good idea.
Cindy Chadwick
is taking sign-ups for the Foundation Gala in Frankenmuth scheduled for November 17.
The
Zombie Run
is only a few weeks off. Information is on the web site and Facebook.
Tara Welch
still has a few $10 t-shirts for sale before the event.
Brenda Scramlin
is organizing volunteers. We need a minimum of 38 people to cover all the stations on the run as well as work various areas. This is a major event for the club and your help is needed!
Ed Keating
noted that the program in two weeks will be a special event. Make plans to be here on September 26 when we hear the story of the
"Hiding Place"
Anneke Burke-Kooistra will tell how, as a young girl living in Nazi-occupied Holland, she never knew that her parents were harboring eight Jews in their home during the Nazi Occupation. Those who have heard the presentation say that it's a riveting story.
Thanks to
Frank Janca
for the bread and wine that was auctioned off. The sourdough bread was baked the day before in San Francisco and came back with Frank on a plane overnight!
Bob Chadwick
announced that we have arranged to partner with the Morning Rotary for this year's Vocational Days. This should extend the reach and provide an even better experience for the students.
Next summer's International Convention will be in Toronto, an easy trip for many of us.
Dee Dee Wacksman
is organizing the trip for the district. Be sure you sign up with her if you can make this life-changing Rotary experience.
Current and past
DISTRICT DISPATCH
newsletters are available on the District site shown in the LINKS section below.
---
---- DATES TO REMEMBER ----
September 19
Concert Commitee meets at 11:00 am, prior to the regular meeting: <
October 14, 2017 - ZOMBIE RUN
Bigelow Park.
November 7, 2017 - Vocational Day
(Watch for potential date change)
November 15, 2017 - Foundation Gala
Frankenmuth
May 4-5, 2018 - District Conference
Frankenmuth
New format and breakout sessions.
1 and a half days rather than two full days.
---
Upcoming Programs
(See the official schedule at RotaryBayCity.org )
Sept 19, 2017, MI MADE MARKETPLACE
, a collaboration festival organized by Jessica McQuarter, Laura Horwath, Tara Welch and Tosha Lijewski. The event is coinciding with Hell's Half Mile Film and Music Festival, September 30 and October 1, 2017, in downtown Bay City.
Sept 26, 2017 "Hiding Place"
As a young girl growing up in Nazi-occupied Holland in the 1940's, Anneke Burke-Kooistra lived in a small townhouse with her parents and two younger sisters. And a houseful of strangers. But she never knew it until World War II ended. Join us to learn from Anneke as she describes her parents' decision to harbor eight Jews in their home during the Nazi Occupation in the 1940's.
October 3, 2017 10 Minute Rotarian
---
Current and past
DISTRICT DISPATCH
newsletters are available on the District site shown in the LINKS section below.


Rotary Bay City on Facebook!
Click on the Blue Facebook to visit us there.

Remember! Check attendance sheets at the front desk.
---
LINKS