Ambassadorial Scholar Linda Bozsik Bids Club Farewell
April 8, 2006
By: Stephen Kent
UPCOMING PROGRAMS:
April 11:Dr. Diana Lawson, chairman of the entrepreneurship program at Saginaw Valley State University.


April 18:Dr. Marwan Wafa, speaking on Islam and Muslim topics.


April 25: Long range planning for Rotary Club of Bay City.


May 2: Gloria Woods, explaining ballot initiative on affirmative action


May 9: Tall Ships.


---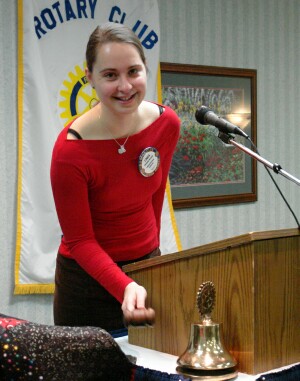 LAST WEEK: Our ebullient Saginaw Valley State University exchange student from Hungary, Melinda Bozsik, said (with a few tears) goodbye to Rotarians as heryear in the U.S. comes to an end.

Linda began by saying that she had a dream as a child to travel the world. That dream came true with the opportunity presented by Rotary. At age 16 she was a Rotary Exchange Student to Australia, now at age 22 she was a Rotary Ambassadorial Scholar to America. She said that the first time to go abroad is exciting and a bit scary, but it quickly becomes an addiction.

Among the lessons Linda learned has been the concept of community service, which after 50 years of communism, is not part of life in Hungary. She also learned that where things are simple black and white at home, there are many shades in Ameria. Living abroad, as opposed to just vacationing for a few weeks, teaches what life is like and also teaches tolerance for other customs and traditions.

Bozsik noted that the educational system is different in the US. At home things are more theory based. You memorize facts. Here she found more emphasis on the application of learning to life. She feels this offers more balance.

She described much of year time in America by presenting an inventory of her experiences:
She has been in the US for 237 days.
Learned that the weather is much like the weatherat home except that it changes a LOT here and it is very windy.
Learned how to use the palm of your hand to show where you live in Michigan.
Lived in two different apartments at SVSU
Had 6 roommates, 5 from foreign countries and one from US.
Took 8 courses at SVSU
Learned to cheer for your team (although that was a challenge when visiting with families where one spouse send to MSU and the other to Michigan).
Went to the Rose Bowl and didn't know who to cheer for. Finally choose Texas because they had better looking boys!
Learned that nobody really cheers for the Lions.
She experienced a traditional American Christmas.
Heard the joke "Are you hungry" more than a few times.
Spoke to 15 Rotary clubsin the district which taught her public speaking and improved her mastery of English.
Took trips to New York City, Chicago and to the Rose Bowl.

Linda was very active in the International Student organization at SVSU where she helped organize numerous events. She made a point of inviting everyone to the "BIG SHOW" event to be held in the SVSU Theater at 7:00 on April 30.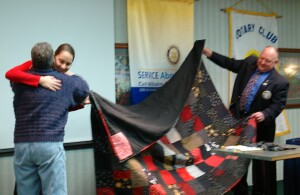 Linda had her 22nd birthday just a short time ago. As a birthday present and a momento of her time in Michigan, Barb Fisher presented Linda with a quilt made by various Rotarians and other friends.

She closed her talk by thanking all those who have done so much to make her time here a wonderful experience. She also thanked her Father who found the Rotary program and encouraged her to do it. And she thanked her mother for letting her go. She said that this experience has madeher feel like the luckiest person ever.

Although her time in Michigan and the Rotary Scholar program is coming to a close, she will not be leaving the country just yet. She has managed to land a summer internship at the Hungarian Embassy inWashington.


---



CLUB NEWS


GOLF OUTING: Brian Kay reminded Rotarians of the annual golf outing June 5 at the Bay City Country Club. A 12:30 p.m. shotgun start is scheduled.

---
---
--- Advertisements ---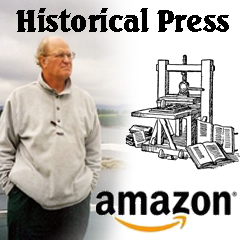 ---
---
RotaryBayCity.org Rotary Club of Bay City Web Site


eClub-One: Members with internet connections are encouragedto visit eClub-One monthly for a makeup. To get makeup credit you need to fill out the makeup form on that site. Print the acknowledgement for you receive and turn it in to receive credit. Be sure to enter our club's district number (6310) on that form.
Click this link to open eClubOne in a new window: www.rotaryeclubone.org.

The Bay City Rotary Club meets at Noon each Tuesday at the Lumber Barons resturant on the West Side.

Rotary Club of Bay City Web Site

District 6310 meeting schedule



0202 nd 03-20-2019