10-Minute Rotarians Present to Rotary Club
October 10, 2017
By: Stephen Kent
One of Rotary's most popular programs returns as Carrie Strohkirch and Dom Monastiere gave "10-Minute Rotarian" talks about themselves. As usual, this topic (talking about one's self) makes speakers more nervous than any other program, but everyone's story is of great interest and the club thoroughly enjoys them.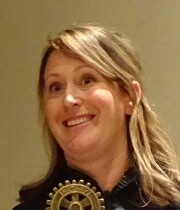 Carrie Strohkirch
Carrie Strohkirch
is the club's newest member, although that title will be passed to two new Rotarians in one week. She was an only child of parents who came from large families in Michigan's thumb. Thanks to her parent's families, Carrie has 32 cousins, which made for a large extended family!
Carrie graduated from Marlette High School where she played basketball and volleyball. She went to Adrian College which was three hours away. It seemed at the time like a great distance and a huge town (population about 125,000). And a Meijer that stayed open 24 hours a day was unheard to the small town girl from the thumb.
Having changed majors four times, Carrie said she probably had enough hours for two degrees and a masters. In fact, she got a single degree in psychology and her career took the direction of social work and victims and survivors services.
Noting that she was something of a brat as a kid, she told the story of moving into a co-ed dorm, which her Dad knew nothing about. It was not clear that he ever learned that it was co-ed by room, not just by floor.
Carrie currently works for the CAN Council where she is the CASA(Court Appointed Special Advocates), Supervisor.
---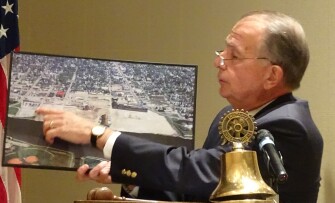 Dom Monastaire
Club President 1992-93
Dom Monastiere
has been a member of the Bay City Club for many years and served as the Club President in the 1992-93 year. Dom made a point of saying that he felt he was a blessed man. He's been married to Pam for 50 years and his children and his two grandchildren live close at hand. He's had many opportunities in the area both professionally and personally. Since retiring from Chemical Bank, he has been an Executive in Residence as SVSU, which he finds a highly rewarding position.
Dom was raised in the Detroit corner of the state and graduated from Gross Pointe High School where he was class President and one of 932 graduates in his class. Seventeen members of his class married their sweethearts and all are still married.
After college Dom went to work for National Bank of Detroit in downtown Detroit. After several years he moved to Michigan National Bank and was a bank President by the age of 36. In those days Chemical Bank was one of his bank's major competitors. In 1987 He moved to Chemical to run the new Bay City office. Today Chemical is the largest bank headquartered in Michigan.
Dom has been involved in many of the major projects in the Bay Area from the Loons Baseball Team to the Uptown project. He was a founder of Bay Future and a key member of the Great Lakes Regional Alliance. He was instrumental in getting Dow to provide a large grant to the Dow Bay Area Family Y project.
A point of pride was his work in the development of the old American Hoist property into today's Uptown at River's Edge. He proudly showed the "prop" he carried to so many meetings, an aerial photo of the property before development.
Dom is proud to say that after his year as Rotary President, he passed the gavel to Pat Vance, the club's first ever woman President.
---
CLUB NEWS and ANNOUNCEMENTS
The next Rotary Social event will be a
Fall Wine Tasting
for members and their guests at the
VNO Warehouse
on Bay City's Westside.
The October 18 event starts at 5:30 and goes until?
Frank Janca and Sita Compton
of the "Rotary Social Event Task Force" said that the event will feature light Hors D'oeuvres and "Fine Wine" samples that are perfect for fall dining and gift giving.
As a special treat, any member who wears any Rotary garment (shirt, hat, or perhaps Rotary pants) will be entered into a special drawing to win some wine.
As the year progresses the club hopes to hold three or four social nights. Announcements will be made at meetings and in the Breezes newsletter.
Anne Trahan
is spearheading a two week, $1,000 collection to purchase one
Shelterbox
in the club's name. To participate see Anne at the next meeting.
Cindy Chadwick
is taking sign-ups for the Foundation Gala in Frankenmuth scheduled for November 17.
Next summer's
International Convention
will be in Toronto, an easy trip for many of us. Be sure you sign up with her if you can make this life-changing Rotary experience.
Current and past
DISTRICT DISPATCH
newsletters are available on the District site shown in the LINKS section below.
The Annual
Running Dead Zombie Run
was held this past weekend and was a great success!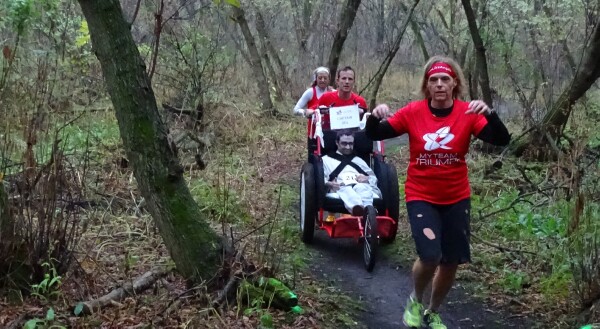 ---
---- DATES TO REMEMBER ----
November 14, 2017 - Vocational Day
November 15, 2017 - Foundation Gala
Frankenmuth
May 4-5, 2018 - District Conference
Frankenmuth
New format and breakout sessions.
1 and a half days rather than two full days.
---
Upcoming Programs
(See the official schedule at RotaryBayCity.org )
October 24, 2017 Great Lakes Bay College & Career Resource Center
This presentation will offer insight of the great work being done to increase post secondary education. Learn who is helped, what is offered and how help is provided through the Great Lakes Bay College & Career Resource Center.
October 31, 2017 Guatemala Amaranth project
. Presented by Chuck Cusick.
November 14, 2017 Vocational Day SPONSORED BY THE ROTARY CLUBS OF BAY CITY
Annual Vocational Day for High School Juniors. After many years of being the sole sponsor of this event, the Rotary Club of Bay City and the Rotary Club of Bay City Morning will be co-sponsoring this event.
---
Current and past
DISTRICT DISPATCH
newsletters are available on the District site shown in the LINKS section below.


Rotary Bay City on Facebook!
Click on the Blue Facebook to visit us there.

Remember! Check attendance sheets at the front desk.
---
LINKS