SVSU's Diana Lawson Speaks on Entrepreneurship
April 16, 2006
By: Stephen Kent
UPCOMING PROGRAMS:
April 18:Dr. Marwan Wafa, speaking on Islam and Muslim topics.


April 25: Long range planning for Rotary Club of Bay City.


May 2: Gloria Woods, explaining ballot initiative on affirmative action


May 9: Tall Ships.


---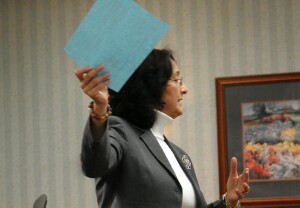 LAST WEEK: Diana Lawson, Endowed Chair of International Business at SVSU, presented a discussion of the Entrepreneurial minor being offered by the Business School at SVSU. With over 300 programs across the country, entrepreneurship has become one of the hottest new studies at colleges and universities. The SVSU courses are being offered for the first time this year. Lawson said that where most courses take a couple of weeks to fill up, the first entrepreneurship course was filled in a matter of hours.

Why a focus in this area? "Entrepreneurial and small businesses create most of the new jobs and innovations that fuel our nations's economy". According to the SBA, small businesses:
Represent 99.7% of all employer firms
Employee half of all private sector firms
Have generated 60% to 80% of net new jobs over the last decades.
Create more than 50% of non-farm private GDP.
Produced 13-14 times more patents per employee than large patenting firms
Are employers of 41% of high-tech workers.
Are made up of 53% home businesses, 3% francchises
Made up 97% of all indentified exporters and in 2002 produced 26% of known export value.

SVSU recognized three factors expresses by their students. First, students have a desire to be their own bosses. Second, they want to stay in the area. But third, they find that there are few jobs in the area. Entrepreneurship studies offer the tools young people need to think outside the box and look at both problems and opportunities from many different directions.

Lawson described the "Wired Grant" program from the Federal Government which funnels money to states for technology programs. Over 90 applications were made and 13 were approved; two of the 13 came to Michigan. The grants will provide $15 million over three years which is earmarked for programs in Lansing, Flint, and the Saginaw Valley. The funds will be used to target workforce development, new venture creation with a focus on advanced manufacturing, bio-fuels, and advanced medical devices.

For more information, you can contact the business school at SVSU. You can also talk to Rotarian Deb Wieland from Delta College's "Michigan Small Business & Technology Development Center."


---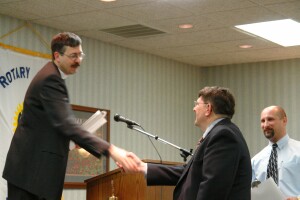 CLUB NEWS


GOLF OUTING: Brian Kay reminded Rotarians of the annual golf outing June 5 at the Bay City Country Club. A 12:30 p.m. shotgun start is scheduled.

District Conference April 29 in Frankenmuth

Bay City Cleanup April 29. Meet at the Community Center.

Welcome to new members Chuck Brooks, Executive Director of the YMCA, and Joe Thelen of Thelen Auto Group in Bay City.

---
---
--- Advertisements ---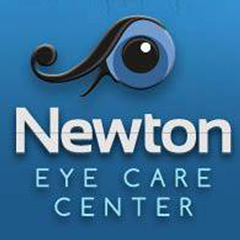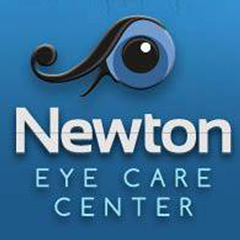 ---
---
RotaryBayCity.org Rotary Club of Bay City Web Site


eClub-One: Members with internet connections are encouragedto visit eClub-One monthly for a makeup. To get makeup credit you need to fill out the makeup form on that site. Print the acknowledgement for you receive and turn it in to receive credit. Be sure to enter our club's district number (6310) on that form.
Click this link to open eClubOne in a new window: www.rotaryeclubone.org.

The Bay City Rotary Club meets at Noon each Tuesday at the Lumber Barons resturant on the West Side.

Rotary Club of Bay City Web Site

District 6310 meeting schedule



0202 nd 02-16-2019