YWCA Safe Sitter Program Recipient of Recent Community Grant.
November 21, 2017
By: Stephen Kent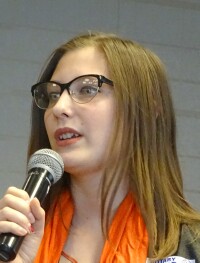 Rachelle Hilliker
Rachelle Hilliker
from the YWCA spoke to Rotary about the YW's "Safe Sitter" program, which was the recent recipient of a
Rotary Community Grant
.
For over 126 years, the YWCA has been on a mission to eliminate racism, empower women, and promote peace, justice, freedom, and dignity for all. Through their advocacy, education and celebratory programming, they have worked to accomplish this mission. Today that work is promoted by the slogan "YWCA IS ON A MISSION".
"Safe Sitter Courses" are one of several education offerings. Others include several camp programs, "getting ahead in a getting by world", "nurturing parenting", Women's empowerment symposium", and the "women's working wardrobe" resource center.
The "Safe Sitter Courses" were highlighted in the program and by the recent Rotary Community Grant. The courses teach skills including safety, child care, first aid and rescue, life and business.
The importance of these skills was illustrated by the fact that the 2010 Census showed that 27% of Bay County households have children under the age of 18. 9.3% of households are headed by females with no husband present.
According to the Detroit Free Press, Michigan parents pay an average of $9,724 per year per child for full-time, center-based infant care. That's about 1/5 of the median household income of $48,273 - for each child! That cost often forces families to rely on their oldest children to care for other children in the home.
The YWCA serves students age 10-14. 100% of the graduate's lean life-saving skills such as CPR and first aid, including the Heimlich maneuver. Partnering with the Dow Bay Area YMCA, the YWCA's program has worked to provide parents with work accommodating schedules and added health benefits for students in the program.
---
CLUB NEWS and ANNOUNCEMENTS
Lee Newton
announced plans for this year's Rotary Rocks concert, which will be held at the State Theatre on February 8, 2018. With a theme of "Love", the title will be
All You Need Is Love
. Acts will include Rotarians but will feature the Garber Varsity Choir. Programs ads will be on sale soon. Proceeds will go to the Polio Campaign.
The annual
Christmas Holiday program
will be held on December 19. Be sure to mark your calendar.
The
Foundation Gala
was held last week in Frankenmuth. 13 Rotarians from our club were present. The club received a Rotary recognition certificate as one of the leading clubs to raise money for the RI Foundation and Polio.
Next summer's
International Convention
will be in Toronto, an easy trip for many of us. Be sure you sign up with her if you can make this life-changing Rotary experience.
Current and past
DISTRICT DISPATCH
newsletters are available on the District site shown in the LINKS section below.
---
---- DATES TO REMEMBER ----
December 19
: Annual Christmas Holiday program.
May 4-5, 2018 - District Conference
Frankenmuth
New format and breakout sessions.
1 and a half days rather than two full days.
---
Upcoming Programs
(See the official schedule at RotaryBayCity.org )
November 28, 2017 City Market Update
presented by Ruth Shemanski
December 5, 2017 Robotics Club - Grant Update
coordinated by Brian Campbell
December 12, 2017, The Rotary Foundation
Past District Governor Eileen Jennings will give an update on the Rotary Foundation's humanitarian projects throughout the World and how your support makes these efforts possible. This is also your chance to make your tax-deductible donations before the end of this calendar year.
January 9, 2018 United Way Community Impact
Rotarian Marybeth Laisure will speak on how the United Way of Bay County has moved from a traditional model of funding agencies to a Community Impact Plan. The Impact model will be launched on January 3rd, and grants may be submitted from any non-profit that fits within the new Initiatives and Strategies that were developed to address our changing community.
---
Current and past
DISTRICT DISPATCH
newsletters are available on the District site shown in the LINKS section below.


Rotary Bay City on Facebook!
Click on the Blue Facebook to visit us there.

Remember! Check attendance sheets at the front desk.
---
LINKS