Margie Brown Speaks To Rotary About City Market
November 28, 2017
By: Stephen Kent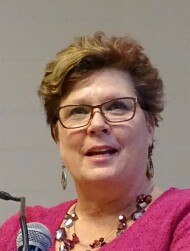 Margie Brown
Margie Brown
from the downtown City Market spoke to Rotary about the Market and the various offerings and products.
Margie first worked at the market during its first week when, as an employee of Do-All, she came with a group of volunteers. In the weeks that followed she continued to volunteer and eventually became the Market's volunteer coordinator. Eventually, she became a Market employee and took over the "Pantry".
The Market is a venture made up of around 35 to 40 independent vendors who provide everything from fruits and vegetables to meats and more. There are currently five prepared food vendors offering products from cookies to bar-b-que.
The Market is situated downtown in what is often described as a food desert. There are no general markets or grocery stores in the immediate area, which means that residents of that section of town must find transportation to go shopping or accept what's available at the one convenience store.
While operators hope to address the needs of locals, in fact, a larger percentage of the customers come from surrounding communities. As one person commented, there is the sense that the handsome and welcoming venue has the look of an upscale market. The prices are actually said to be quite reasonable.
To meet the local needs, the Market accepts bridge cards and will shortly accept WIC cards. Using these cards allows the user to enjoy several special offers including free fruits and veggies in some cases.
In an effort to promote healthy eating, Doctors can write an actual "script" which will entitle the patient to $50 worth of healthy foods at the Market.
After her talk, Margie answered a number of questions. An almost equal number of people simply gave a testimonial to how nice the market is and how much they like it.
For more information visit
www.citymarketbc.com
.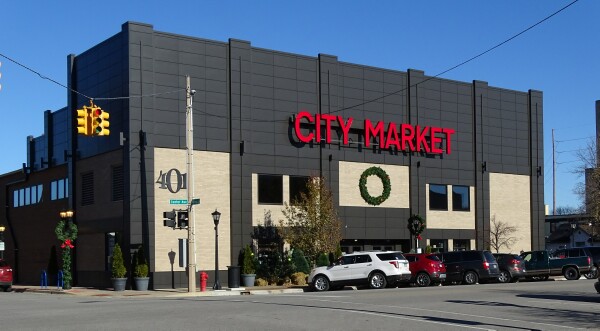 ---
CLUB NEWS and ANNOUNCEMENTS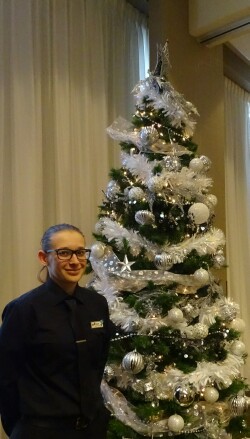 Banquet Captain Katie and one
of the trees she decorated
President Bob
delivered greetings from former President Hratch, who operates a large Holiday Inn in the Chicago area. Hratch said that he still hopes to someday move back to Bay City and join the club.
Bob also repeated, for the benefit of any who missed it, that past president
Rob Clark
will soon return to the area. Although other clubs and organizations have said they'd love to welcome Rob, Bob assures us that Rob has indicated he looks forward to returning to OUR club!
This was Birthday Tuesday and the club recognized those whose birthday fell in November. Happy Birthday, Rotarians!
Ann Grady
noted that the dictionaries have arrived although the thesauri have not. All of the schools are covered for delivery. Ann will contact everyone when both book sets arrive.
(For those who want to know: Ann's use of the term "thesauri" is the Latin plural of the word "thesaurus". According to the Grammarist on the internet, "thesauri" is correct and usable. One may also use the English plural despite "the blatant difficulty of saying thesauruses.")
Lee Newton
reminded everyone that this year's Rotary Rocks concert is scheduled for February 8 at the State Theatre. The theme is "Love" and the title is
All You Need Is Love
. Acts will include Rotarians but will feature the Garber Varsity Choir. Tickets and program ads will be on sale soon. Proceeds will go to the Polio Campaign.
The annual
Christmas Holiday program
will be held on December 19. Be sure to mark your calendar. Other clubs are being invited. Entertainment will be provided as in years past.
Brenda Scramlin
said that new member
Major Rick Ray
of the Salvation Army was not in attendance because he is out getting the Christmas Kettle drive going. She said that one of Rick's goals is to have all kettles manned by volunteers from service clubs within a few years. Shifts will be just one hour and our club will give a makeup for anyone taking a shift!
Next summer's
International Convention
will be in Toronto, an easy trip for many of us. Be sure you sign up with her, if you can make this life-changing Rotary experience.
Current and past
DISTRICT DISPATCH
newsletters are available on the District site shown in the LINKS section below.
---
---- DATES TO REMEMBER ----
December 12, 2017 Board Meeting
- 11:00, prior to the regular meeting. Everyone welcome.
Meet at the Doubletree.
December 19, 2017 Holiday Program
at the Doubletree. Other clubs are being invited.
December and January
Dictionary and Thesaurus deliveries.
February 8, 2018 Rotary Rocks Concert
at the State Theatre.
December 19
: Annual Christmas Holiday program.
May 4-5, 2018 - District Conference
Frankenmuth
New format and breakout sessions.
1 and a half days rather than two full days.
---
Upcoming Programs
(See the official schedule at RotaryBayCity.org )
December 5, 2017 Robotics Club - Grant Update
coordinated by Brian Campbell
December 12, 2017, The Rotary Foundation
Past District Governor Eileen Jennings will give an update on the Rotary Foundation's humanitarian projects throughout the World and how your support makes these efforts possible. This is also your chance to make your tax-deductible donations before the end of this calendar year.
January 9, 2018 United Way Community Impact
Rotarian Marybeth Laisure will speak on how the United Way of Bay County has moved from a traditional model of funding agencies to a Community Impact Plan. The Impact model will be launched on January 3rd, and grants may be submitted from any non-profit that fits within the new Initiatives and Strategies that were developed to address our changing community.
---
Current and past
DISTRICT DISPATCH
newsletters are available on the District site shown in the LINKS section below.


Rotary Bay City on Facebook!
Click on the Blue Facebook to visit us there.

Remember! Check attendance sheets at the front desk.
---
LINKS