Robots Invate Rotary Meeting
December 5, 2017
By: Stephen Kent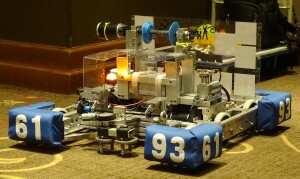 The Robot
Tuesday, December 5 found four of the eighteen members of the Bay City All Saints Central High School "Legend of Robotics" team visiting Rotary with their latest robot. The team has visited before and it's always a treat to see how much more today's youth know about technology than many of the adult leaders.
The Legends participate in the FIRST Robotics Competition. This is a worldwide program that promotes science, technology, engineering, and math (STEM) studies. Over 400,000 students, worldwide, participate in the program. Students are organized by their schools and aided by teachers and mentors. A key to success is professional help from adults who work in the field.
Each year sees a new challenge. The exact nature of the challenge is a closely guarded secret until the day it's released over the internet. Even then, teams don't get all the details. A lot is left for them to figure out and explore.
The teams start with a big box of parts provided by FIRST. They also have strict spending limits which help to level the playing field. But there are loopholes, just as there are in the real world. The biggest is that sponsors may donate anything and it does not go against the "budget". The team's mentor, Darryl Greathouse, said they have seen teams show up with hundred thousand robots that meet the criteria.
The team has a good time, but they take their project very seriously. Their slides included a budget ($25,700 total) as well as goals for the upcoming year. Those include a small, enclosed trailer, a mini-mill for making custom parts, and computers that support CAD software. They already use 3D printers for many parts.
Starting in 2016, the Legend of Robotics has been in the top eight in each district match. They are the only team in Bay City to make state and world competitions and ranked in the top 11% in the world. In 2017 they have earned enough points to become alliance captains and qualify for State Competition. They are ranked 96th out of 451 teams in Michigan.
For more information visit
www.frc6193.com
.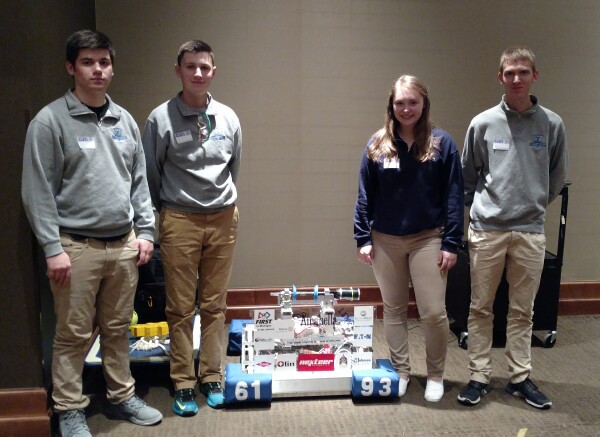 Emil Kurzemski, Antonio Reyes, Decklyn Leahy, Jacob Don,
---
CLUB NEWS and ANNOUNCEMENTS
The board meets this week
December 12 at 11:00 before the regular meeting.
Everyone is welcomed.
Agenda, minutes, treasurers reports and other information
is in the member's area of the club web site.
Ann Grady
noted that the dictionaries have arrived although the thesauri have not. All of the schools are covered for delivery. Ann will contact everyone when both book sets arrive.
New member Major Rick Ray of the Salvation Army called for volunteers who will man kettles for one-hour shifts on the 15th and 16th of December. His organization is working on a $25,000 match for funds raised during the week of the 17th.
Lee Newton
said that the Bay City Central Jazz Band will perform at this year's Rotary Rocks concert scheduled for February 8 at the State Theatre. Tickets and program ads on sale now.
The annual
Christmas Holiday program
will be held on December 19. Be sure to mark your calendar. Other clubs are being invited. Entertainment will be provided as in years past.
Next summer's
International Convention
will be in Toronto, an easy trip for many of us. Be sure you sign up with her, if you can make this life-changing Rotary experience.
Current and past
DISTRICT DISPATCH
newsletters are available on the District site shown in the LINKS section below.
---
---- DATES TO REMEMBER ----
December 12, 2017 Board Meeting
- 11:00, prior to the regular meeting. Everyone welcome.
Meet at the Doubletree.
December 19, 2017 Holiday Program
at the Doubletree. Other clubs are being invited.
December and January
Dictionary and Thesaurus deliveries.
February 8, 2018 Rotary Rocks Concert
at the State Theatre.
May 4-5, 2018 - District Conference
Frankenmuth
New format and breakout sessions.
1 and a half days rather than two full days.
---
Upcoming Programs
(See the official schedule at RotaryBayCity.org )
December 12, 2017: The Rotary Foundation
Past District Governor Eileen Jennings will give an update on the Rotary Foundation's humanitarian projects throughout the World and how your support makes these efforts possible. This is also your chance to make your tax-deductible donations before the end of this calendar year.
December 19, 2017: Annual Holiday Program with entertainment.
Other clubs invited.
December 26, 2017: NO MEEETING - Day After Christmas
January 9, 2018: United Way Community Impact
Rotarian Marybeth Laisure will speak on how the United Way of Bay County has moved from a traditional model of funding agencies to a Community Impact Plan. The Impact model will be launched on January 3rd, and grants may be submitted from any non-profit that fits within the new Initiatives and Strategies that were developed to address our changing community.
---
Current and past
DISTRICT DISPATCH
newsletters are available on the District site shown in the LINKS section below.


Rotary Bay City on Facebook!
Click on the Blue Facebook to visit us there.

Remember! Check attendance sheets at the front desk.
---
LINKS