Past District Governor Addresses Bay City Rotary
December 12, 2017
By: Stephen Kent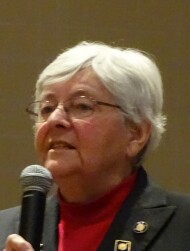 Past District Governor
Eileen Jennings
Past District Governor Eileen Jennings
updated the club on the Rotary Foundation's humanitarian projects throughout the World and how our support makes these efforts possible. Commenting on how the Bay City club is one of the foremost district supporters of the Foundation, Jennings reminded members that as we make our tax-deductible donations before the end of this calendar year, this is a good opportunity to support the foundation.
The RI foundation consistently scores as one of the best charities, according to "Charity Navigator". Fully 92% of the Foundation's expenditures go to programs. Another 6% goes to fundraising, and the final 2% supports administrative expenses.
The long-term strategy of the Foundation is to ensure that there are sufficient funds to operate while maintaining a fully funded operating reserve. Surplus funds are transferred to the Foundation's endowment fund.
The endowment fund is usually supported by gifts from estate planning and the "benefactor society". When gifts reach the $10,000 level the donor becomes a member of the Bequest Society. Gift methods include living wills and insurance policies.
Most funds come via the Annual Fund drives. These funds support international grants but also support local programs through the SHARE system. Shared contributions are credited to the donor's club and applied to the club's goal.
Jennings noted several times the importance of designating your gifts as going to the SHARE system. There are places both on paper and on the online systems for SHARE to be designated. But this is not automatic. You must designate SHARE.
Every year the district strives to achieve the goal of "Every Rotarian, Every Year". The hope is that every Rotarian will contribute something to the RI foundation and achieve 100% participation. When a total of $1,000 has been given, over any period of time, the donor is awarded a Paul Harris Fellowship. With each additional $1,000 an additional "level" is awarded. At $10,000 the PH Fellow becomes a Major Donor.
The suggestion is to give at least $100, but in fact, ANY amount that a member can afford is appreciated. As the tax year comes to an end, this is a perfect time to make your gift.
---
CLUB NEWS and ANNOUNCEMENTS
Reminder: This year's
Rotary Rocks
concert scheduled for February 8 at the State Theatre. Tickets and program ads on sale now.
Rob Clark
will be home and plans to MC the event.
The annual
Christmas Holiday program
will be held on December 19. Be sure to mark your calendar. Other clubs are being invited. Entertainment will be provided by the Bay City Central Jazz Band.
REMINDER

No meeting on December 26, the day after Christmas

December birthdays will be celebrated on January 2, 2018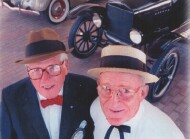 MEMORIES

Dig out your favorite Rotary memory photos and
let Brenda Scramlin use them for the weekly
Club slide show. It'll be fun for everyone!


Next summer's
International Convention
will be in Toronto, an easy trip for many of us. Be sure you sign up with her to attend this life-changing Rotary experience.
Current and past
DISTRICT DISPATCH
newsletters are available on the District site shown in the LINKS section below.
---
---- DATES TO REMEMBER ----
December 19, 2017 Holiday Program
at the Doubletree. Other clubs are being invited.
December and January
Dictionary and Thesaurus deliveries.
February 8, 2018 Rotary Rocks Concert
at the State Theatre.
May 4-5, 2018 - District Conference
Frankenmuth
New format and breakout sessions.
1 and a half days rather than two full days.
---
Upcoming Programs
(See the official schedule at RotaryBayCity.org )
December 19, 2017: Annual Holiday Program with entertainment.
Other clubs invited.
December 26, 2017: NO MEEETING - Day After Christmas
January 9, 2018: United Way Community Impact
Rotarian Marybeth Laisure will speak on how the United Way of Bay County has moved from a traditional model of funding agencies to a Community Impact Plan. The Impact model will be launched on January 3rd, and grants may be submitted from any non-profit that fits within the new Initiatives and Strategies that were developed to address our changing community.
---
Current and past
DISTRICT DISPATCH
newsletters are available on the District site shown in the LINKS section below.


Rotary Bay City on Facebook!
Click on the Blue Facebook to visit us there.

Remember! Check attendance sheets at the front desk.
---
LINKS