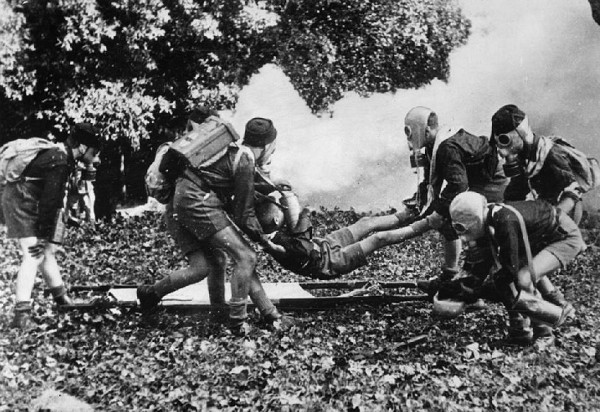 Mustard gas, made in Midland, was in demand to offset the poison gas attacks by Germans iin World War I.
---
POISON ON TWO FRONTS: U.S. Marines were "Drunken Rowdies," Germans Complain
January 1, 2018
By: Dave Rogers
(EDITOR'S NOTE: This is the ninth and final installation of a fictionalized account, based on actual occurrences here and abroad, of World War I.)
Other correspondents were noted for finding soldiers near death and asking them: "Hey, buddy, how does it feel? Dying, I mean; what does it feel like?" It was gruesome but they were determined to tell readers what war was really like. I couldn't imagine how they could ever know unless one of the dying men came back to life and started talking to him. Or they were badly hit, like Floyd Gibbons.
German commanders were said to have complained the Marines "were all big, powerful fellows -- rowdies" and that they used any weapon: rifle butts, revolvers, knives, bayonets. Half of them were primed with French wine from their canteens. "Vin rouge, vin blanc, beaucoup vin," said a captured German private, pointing to the Marines. He thought the Americans must be intoxicated to have the courage they displayed. Some were with wine, others with determination to be victorious.
The Boche had strange ideas of how war should be fought; they considered "marching fire," Marines shooting from the hip as they walked, a violation of the military convention. I guess they wanted us to stand up and be mowed down, like the French coming over the top of the trenches.
Marines often had to use the cheesy French Chauchat machine guns they hated; damn things jammed and shot wildly off target, they complained to American newspaper correspondents. The French kept warning the Marines to get back, to retreat. "Retreat, hell, we just got here," one American officer said.
After six attacks against five German divisions, the Marines lost 1,800 men and suffered over 9,000 casualties but prevailed. "Woods now U.S. Marine Corps entirely," blithely reported the American commander of one of the bloodiest fights of the war.
It was June 26. The German offensive halted. Back home, barrels of mustard oil were now rolling out of the process plant at Woodland. Several tons a day were being made. Rail cars were being loaded for shipment to the Gunpowder Reservation in Maryland. Whether they would ever reach France to be used against the Boche was another question.
About the time the U.S. Marines were preparing for the assault on German positions in Belleau Wood, France, 23 May 1918, the officials at Woodland received a telegram from Col. Walker at the Gunpowder Reservation, now called Edgewood Arsenal, in Maryland.
"WAR GAS PROGRAM HAS BEEN ENTIRELY CHANGED. IT IS NOW IMPERATIVE THAT YOU MANUFACTURE AT BRINEWELL THE LARGEST AMOUNT OF MUSTARD GAS POSSIBLE IN SHORTEST TIME TO BE SENT IN BULK TO FRANCE. WILL ASSIST YOU IN EVERY WAY. WE CAN NOT EXPECT YOU TO FURNISH US SULPHUR MONOCHLORIDE AT EDGEWOOD."
On 27 May, after a massive artillery barrage, 42 German divisions attacked under 53-year-old General Erich Friedrich Wilhelm Ludendorf. The storming Boche horde overwhelmed 16 Allied divisions, a third of them battle-weary British who were being relieved. The Western Front had collapsed. The French and British fleeing in terror left bridges intact and grey waves of the enemy rolled across the Aisne River; the Germans were only 80 miles from Paris.
American troops were enjoying a rare day off for Decoration Day, 30 May. Orders from General Pershing reflecting the new crisis had not yet been received. At five o'clock a French staff car raced to the division headquarters of Gen. Omar Bundy at Chaumont.
Suddenly the holiday was over. The 6th Marines located northwest of Paris had been planning to march to the Cantigny area to relieve the 1st Infantry Division. The immediately packed up kits and bedrolls and prepared to march to Belleau Wood. Col. Frederick May Wise of the 5th Marines, having a quiet dinner in Paris with his wife who was visiting, commandeered a hospital ambulance and rushed into action.
Camions, troop trucks, arrived on the Paris-Metz Road about 4 a.m. The Marines were on the move. Soon, only 56 miles separated the world from German domination.
Reaching the Marne near Chateau Thierry on 3 June, the Germans merely had to sprint unchecked into the French capital to win the war. French government officials prepared to flee the city. Fleeing peasants and French soldiers on the Paris Road were astounded to see a brigade of U.S. Marines. They were going the other way: toward the sound of the guns!
When I got to the aid station, the sergeant major asked me: "What happened to the private who was helping you?" I hadn't noticed, but Steve had slipped away after we had unloaded the wounded on one of my last stops. "He's wanted for stealing guns from the French and selling them to the highest bidder. We're going to ship him back on the next boat, give him a bad conduct discharge."
(EPILOGUE: Pvt. Steve, of course, was Steve Madaj, who on his return to Bay City formed a gang in the South End and launched a series of robberies and murders. After betrayal by his pal for the murder of Franklin Parker on Center Avenue in 1916, he was sentenced to life in prison and spent 41 years behind bars. Ironically, he was pardoned by Gov. John B. Swainson in 1962 on pressure from his former compatriots in the 124th Ambulance Company. His story is documented in Ghosts, Crimes, and Urban Legends, published by Historical Press LLC. Neither Woodland Chemical (Dow) nor Dr. Albert Smith of Case Institute has never been given full recognition for pioneering mustard gas production for the U.S. Army; recent books incorrectly give credit to James B. Conant, later president of Harvard and "father of the atomic bomb.")
###