Rotary Celebrates New Year 2018!
January 2, 2018
By: Stephen Kent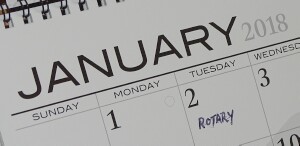 WELCOME 2018!

Rotary held an abbreviated meeting on January 2, 2018. After celebrating the night before it's not certain that everyone was ready for a full meeting with a program.


After a nice meal and a good round of "Happy and Hard Luck Bucks", The club adjourned early.

Next week the schedule gets back to "normal" with a program titled United Way Community Impact to be presented by Rotarian Marybeth Laisure

See you then!
. . .
---
CLUB NEWS and ANNOUNCEMENTS
The board meets this week
January 9 at 11:00 before the regular meeting.
Everyone is welcomed.
Agenda, minutes, treasurers reports and other information
is in the member's area of the club web site.
The club welcomed past President
Rob Clark
back to Bay City and to membership in our club.
Reminder: This year's
Rotary Rocks
concert scheduled for February 8 at the State Theatre. Tickets and program ads on sale now.
Rob Clark
will be home and plans to MC the event.
December birthdays will be celebrated on January 2, 2018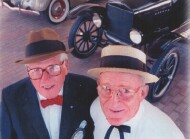 MEMORIES

Dig out your favorite Rotary memory photos and
let Brenda Scramlin use them for the weekly
Club slide show. It'll be fun for everyone!


Next summer's
International Convention
will be in Toronto, an easy trip for many of us. Be sure you sign up with her to attend this life-changing Rotary experience.
Current and past
DISTRICT DISPATCH
newsletters are available on the District site shown in the LINKS section below.
---
---- DATES TO REMEMBER ----
December and January
Dictionary and Thesaurus deliveries.
February 8, 2018 Rotary Rocks Concert
at the State Theatre.
May 4-5, 2018 - District Conference
Frankenmuth
New format and breakout sessions.
1 and a half days rather than two full days.
---
Upcoming Programs
(See the official schedule at RotaryBayCity.org )
January 2, 2018: December Birthdays recognized.
January 9, 2018: United Way Community Impact
Rotarian Marybeth Laisure will speak on how the United Way of Bay County has moved from a traditional model of funding agencies to a Community Impact Plan. The Impact model will be launched on January 3rd, and grants may be submitted from any non-profit that fits within the new Initiatives and Strategies that were developed to address our changing community.
January 16, 2018: The Boys and Girls Club of the Great Lakes Bay Region
Dorothy Dean, Director of Resource Development, will present a brief overview of upcoming projects and what the Club is focusing on for 2018.
January 23, 2018:
Rotarian Cherry Burzynski will talk about her recent
Africa Adventure
.

Rotary
is an intimate affiliation of carefully selected business and professional people,
having as its objective the promotion of high ethical standards in private, commercial
and civic life, and dedicated to the ideal that the basis of all worthy endeavor is unselfish service.
---
Current and past
DISTRICT DISPATCH
newsletters are available on the District site shown in the LINKS section below.


Rotary Bay City on Facebook!
Click on the Blue Facebook to visit us there.

Remember! Check attendance sheets at the front desk.
---
LINKS